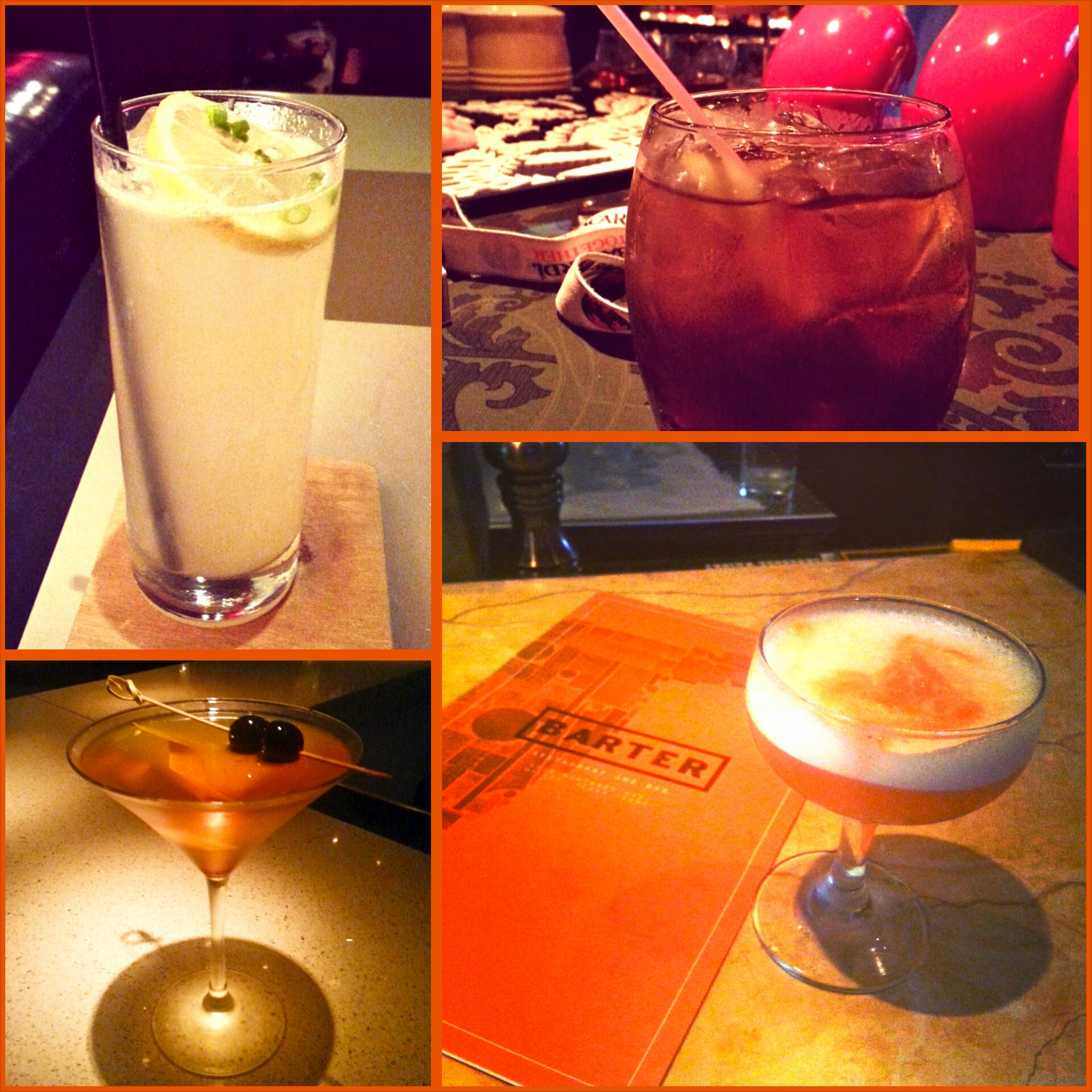 I see you, 2014. You didn't have it easy. Not only did you have much to live up to after a year that saw DFW's craft-cocktail scene garner national attention, but you had to do so on the heels of events that threatened to knock the wheels off the whole thing.
A year later, DFW's mojo is back. Because beyond all the drama, a critical mass of cocktail ninjas just kept doing their thing, widespread seeds of creativity that found new places to grow and blossom, while others were enriched by the newfound talent beside them.
It was a banner year for veggies: At Victor Tango's, former bar chief Alex Fletcher used pea-infused Old Tom gin prepared sous-vide-style for his refreshing Swee'Pea, while over at The Ranch at Las Colinas, Robin Milton's Maverick combined roasted corn with tequila and spicy Ancho Reyes liqueur for a nice salsa-in-a-glass effect. At LARK on the Park, Matt Orth's Hanging in the Garden served up a nom-nom liquid salad of mint, basil and cherry tomato, while Anthony Polo's Scallywag was a scallion-laced standout at The People's Last Stand.
Other highlights included Jason Long's apricot-tamed Summer in Manhattan at Abacus, which appealed to both genders by giving the classic cocktail a luscious fruity smoothness. At Meddlesome Moth, bar manager Lauren Loiselle kicked another classic up a notch with her barrel-aged Negroni. And Charlie Papaceno, formerly of the Windmill Lounge, juiced up bourbon with coffee to make his energizing Kentucky Eye Opener.
I could go on. A few of these drinks are still available; some, being seasonal or dependent on a limited supply of house-made ingredients, are not; some were bartender's creations built totally off-menu. And at least one place, regrettably, has closed (at least temporarily). But that's the nature of the biz: Sands shift, talent moves on. As always, it's the people who make the scene: Follow them and you won't go wrong.
With that, here are my favorite 15 cocktails of 2014.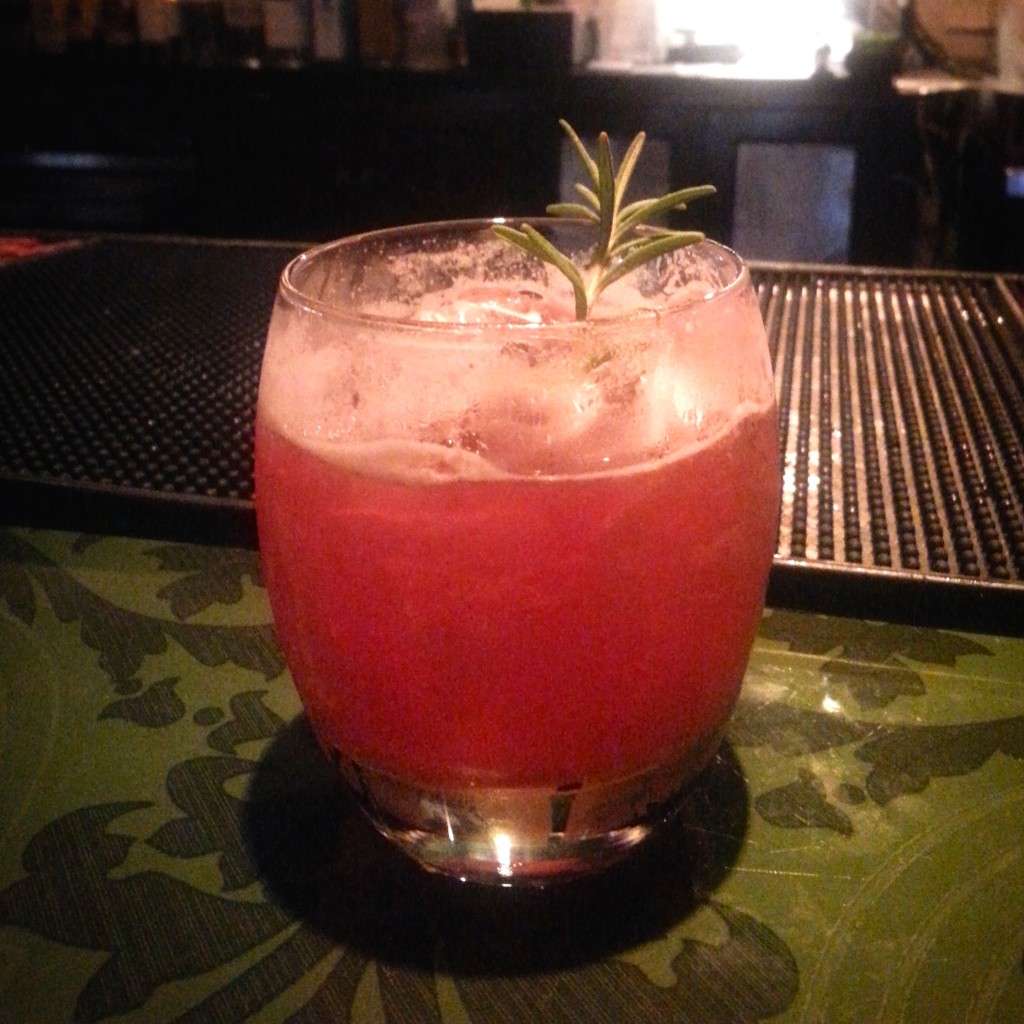 15. WHAT ABOUT BOB?, Michael Reith (Windmill Lounge, Oak Lawn)
Here's a drink that's easy to fall for, playing as it does on seasonal flavors. To be more exact, Reith's radiant refresher at Oak Lawn's Windmill Lounge pairs bourbon with the holiday's New England influences: "I get a lot of people who come in here from Boston, or New Hampshire," he says, "so I was thinking, what could I make them?" Maple and cranberry came to mind – "I was trying to evoke cranberry sauce, but in a good way," he says – as did the spices of mulled cider.  The result, named for the Bill Murray/Richard Dreyfuss comedy set in New Hampshire, supplements Angel's Envy bourbon with lemon, cranberry juice and maple syrup, plus nutmeg, clove and cinnamon, topped with a fragrant sprig of rosemary.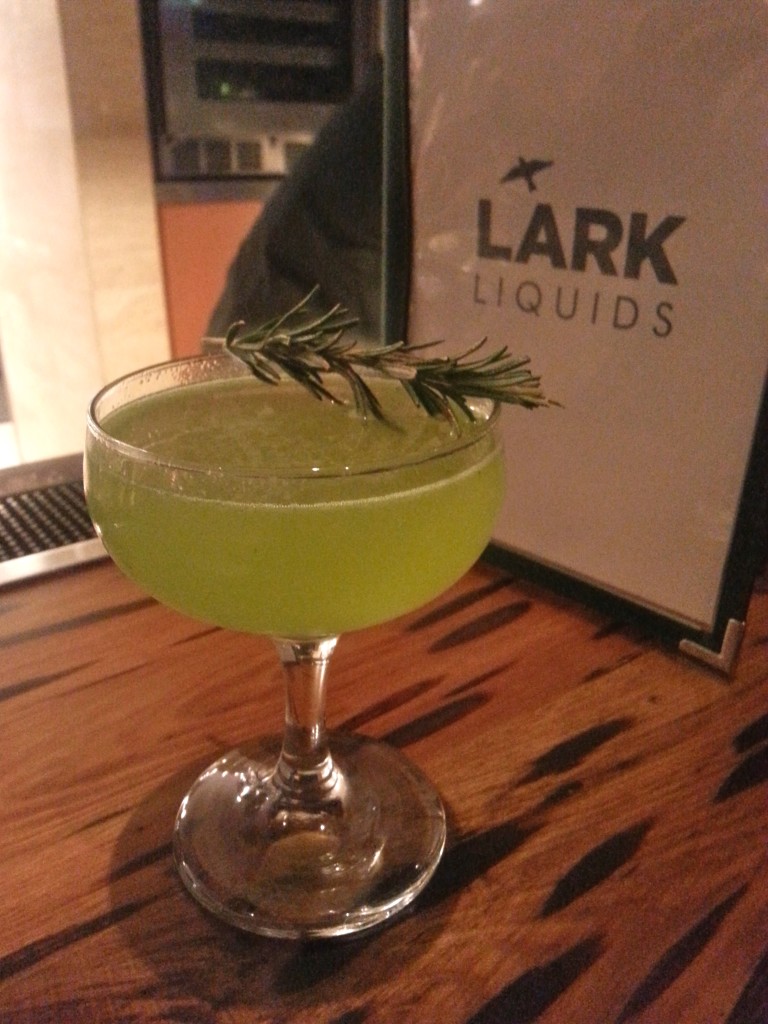 14. SMOKING GARDEN, Matt Orth (LARK on the Park, downtown)
Matt Orth likes his herbs. This beauty appeared way back in January, when Orth had some house-made Thai-chili-infused St. Germain (an elderflower liqueur) on his hands. He shook that with basil, lime, slightly aged tequila, ginger liqueur and herbaceous Green Chartreuse, capping it with a smoked sprig of rosemary to wow the nose. The spicy bouquet offered pleasant heat and a sweet, sweeping floral finish, a garden-fresh treat for the senses.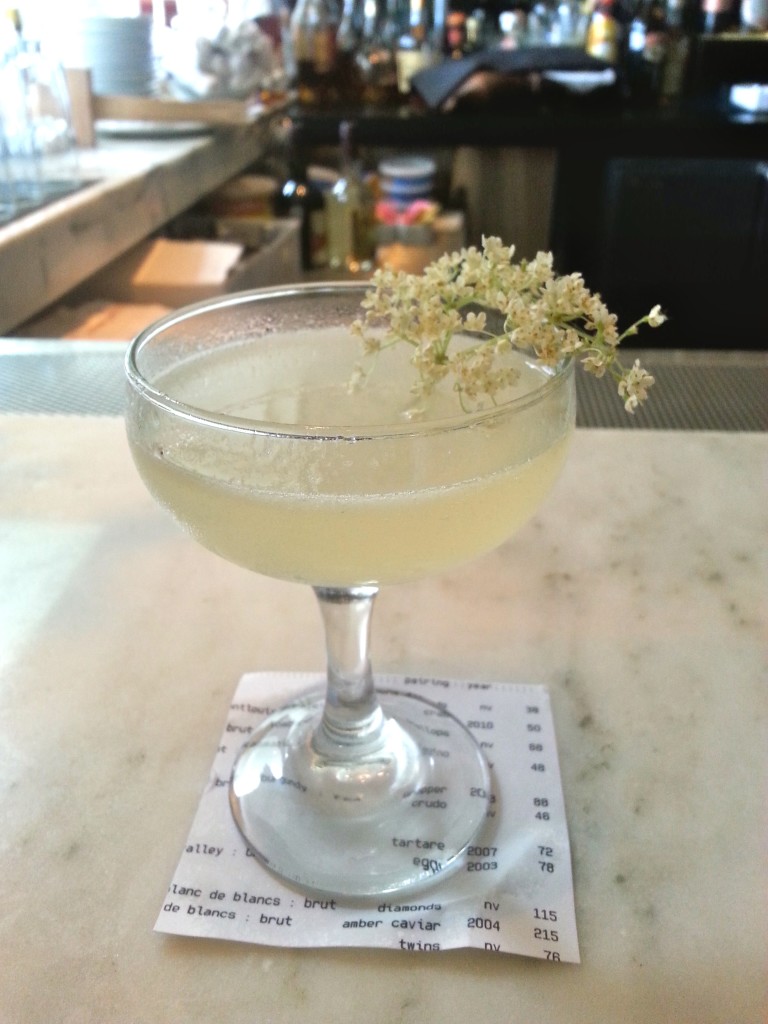 13. COMMON ELDER, Lauren Festa (FT33, Design District)
Yes, I typically avoid vodka, but such is the legerdemain of Lauren Festa, who before she moved on to helm the bar program at The Mansion at Turtle Creek was making magic at FT33 in the Design District. Festa grew up watching the Food Network instead of cartoons, so maybe that explains this deceptively tame mix of Hophead vodka, elderflower syrup, ginger liqueur, ginger and lemon – a drink that started out delicately tart and sweet and then, just as it seemed about to fade, unveiled a hoppy ending all dolled up in elderflower. And with a gorgeous elderflower garnish, it was a treat to look at, too.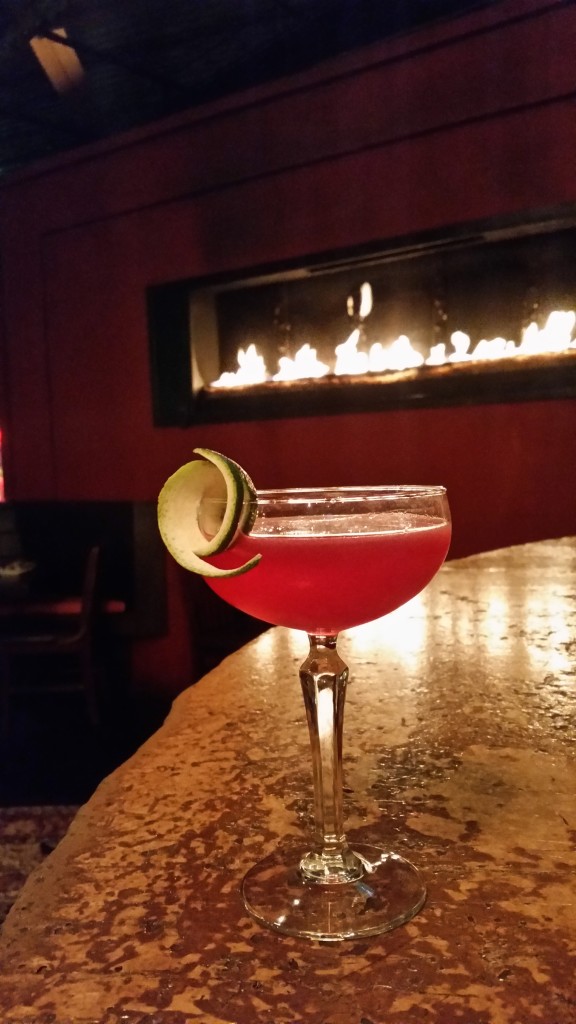 12. SEVENTH SAMURAI, Armando Guillen (The Standard Pour, Uptown)
Last summer, Bombay Sapphire hosted a DFW regional competition at Uptown's Nickel & Rye, part of its annual nationwide hunt for "GQ's Most Imaginative Bartender." After the contest, won by FrontBurner's Bonnie Wilson, the festivities moved on to The Standard Pour down the street, where Guillen whipped up this little number that could have easily held its own at the event. Featuring his house-made hibiscus-lemongrass cordial – which he's just replenished, so you can still enjoy this one – it's a play on the classic Last Word's mix of gin, sweet, citrus and Chartreuse. Its floral and citrus medley of Bombay Sapphire, Yellow Chartreuse and Asian yuzu juice, along with the cranberry-sauce-scented cordial and a shake of lavender bitters made a tantalizing statement that gave Guillen the last word after all.
11. BLUE MOON, James Slater (Spoon Bar & Kitchen, North Dallas)
The bar at Spoon – which closed this week, at least temporarily – was not as well stocked as its other craft-cocktail siblings, but luckily James Slater, who took over the program around mid-year, had license to play. One day, exploring a Korean grocery store, he found a jar of pulpy blueberry preserves. "You could see the blueberry skins inside," he says. He bought a jar and experimented; lighter spirits failed aesthetically, creating a dirty water effect. This is where it gets Reese's-Peanut-Butter-Cup-good: Right around the time that Slater was noodling something dark to cloak the pulp, I walked into Spoon seeking something dark and bitter. Slater mixed the blueberries with lemon and the only two bitter amari he had on hand, Averna and Fernet, to amazing effect; the end result, garnished with aromatic mint, tamed Fernet's aggressive bitterness with velvety sweetness and just the right hint of tart.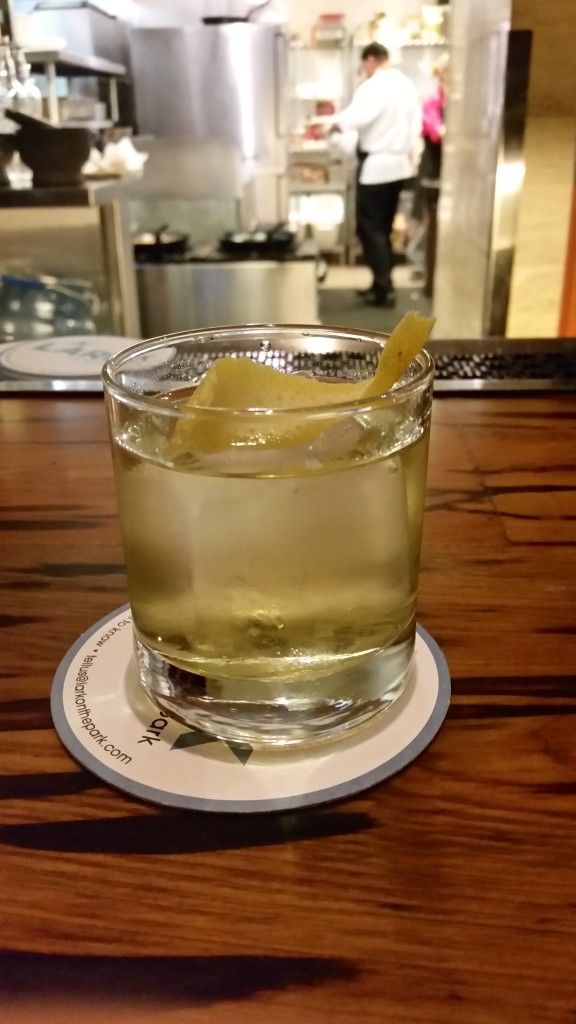 10. HOUSE OF FRIENDS, Matt Orth (LARK on the Park, downtown)
You get the sense that if Matt Orth weren't busy making your bar experience all better at LARK that he'd be perfectly at home on the farm, tending to his herbs and vegetables and berries, pruning and snipping and tilling and picking and all that. From his Hanging In The Garden (noted above) to the blackberry-infused whiskey masterpiece he conceived for a Jameson competition a few months ago, he's handy with the fruits of the earth. No wonder, then, that this delicately complex mix of tequila blanco, cilantro-infused dry vermouth, pear liqueur and sweetly herbaceous Yellow Chartreuse unfolds across the palate like a breeze on Sunnybrook Farm. Garnished with a bit of grapefruit zest, its initial agave flavor melds into cilantro, then embraces the sweet pear before waltzing away into the flowers.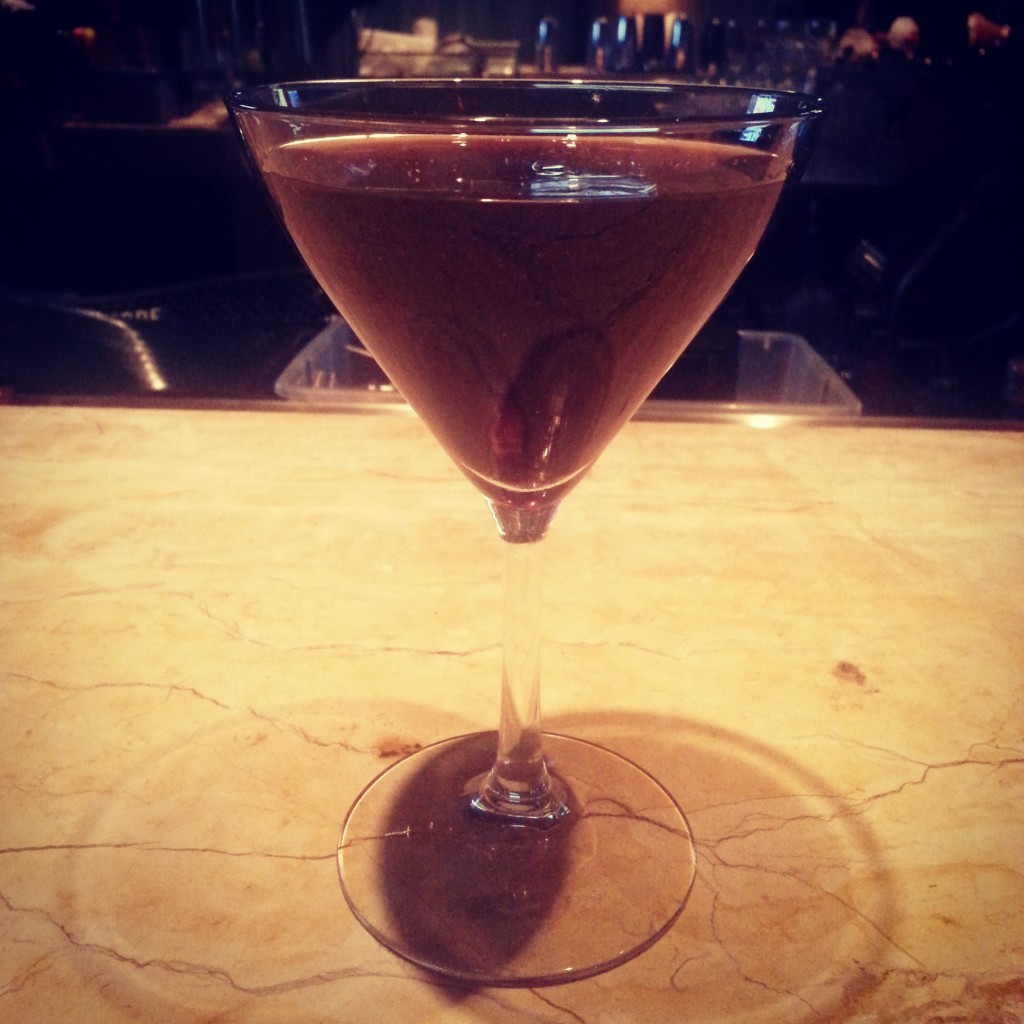 9. NOGAHOLIC, Juli Naida (Barter, Uptown)
With barman extraordinaire Rocco Milano as her sensei, Juli Naida – on her way to join Mate Hartai at Remedy, officially opening today on Lower Greenville – has come a long way since her drink-slinging days at the Mason Bar. Responsible for a good portion of Barter's current cocktail menu, she embraced Milano's offhand suggestion of a seasonal eggnog-themed "flight" and created a series of killer cocktails to roll out in mini form. Her Nogaholic was the least dessert-y of the bunch, and to me the most delicious, evoking the flavors of eggnog sans dairy, eggs or cream: Naida dialed down Cruzan's potent Black Strap rum with simple syrup and a tincture made with vanilla, cinnamon, clove and nutmeg. The result is wintry and belly-warming, nog without the density — or the animal products. As my friend Rachel described it: "It's a vegan's Christmas wish come true."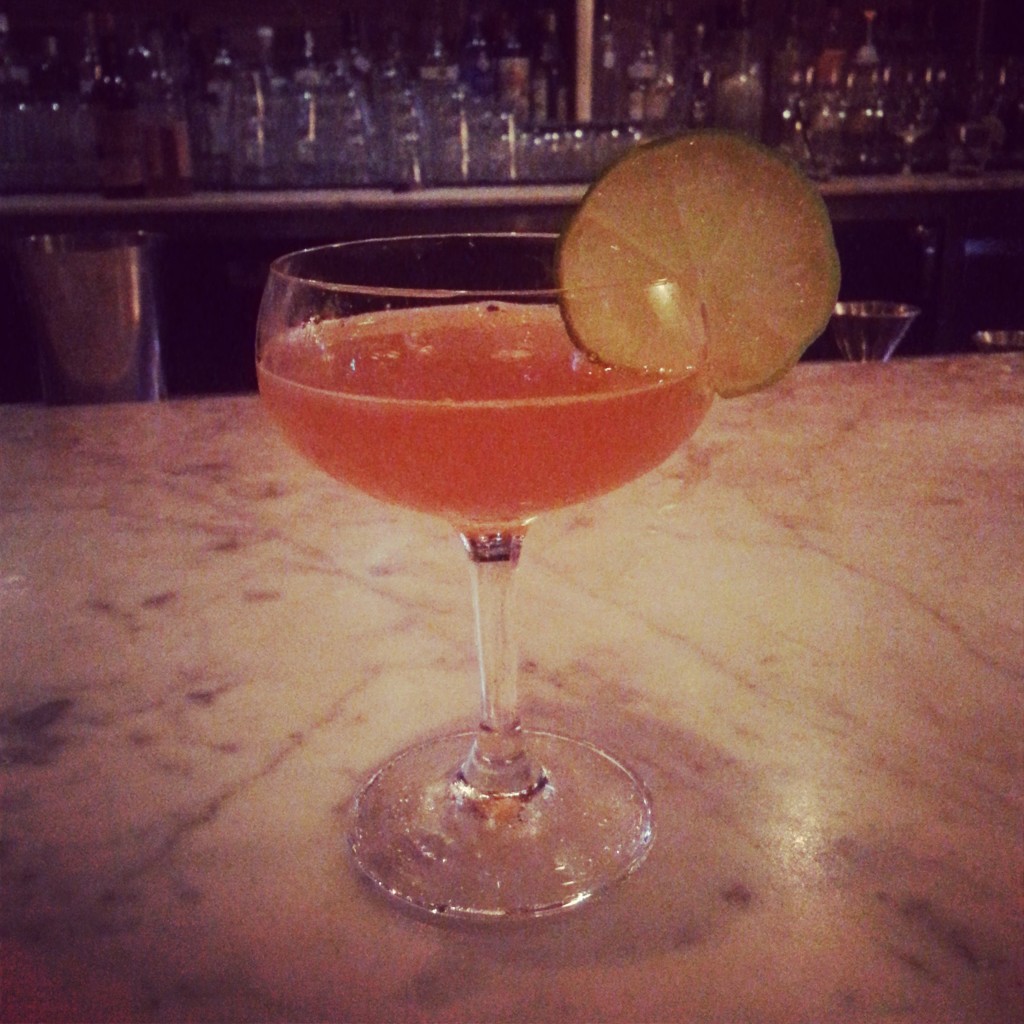 8. SMOKY DAIQUIRI, Alex Fletcher (Victor Tango's, Knox-Henderson)
Smoked beer. It's a thing. A pretty funky thing, if you ask me, at least judging by the whiff I got of the German-made Aecht Schlenkerla Rauchbier, a neutral grain spirit that wormed its way into the primo lineup of beers that Victor Tango's piled up in 2014. On its own, the malty rauchbier was earthy and harsh, almost nasty like a bad vegetable; the smell called to mind a college laundry room. So of course cocktail master Alex Fletcher – who has since taken over the bar at Henry's Majestic – had to make a cocktail with it. "That's what you'd want in that, though," he said of his clever Smoky Daiquiri, which incorporated the beer into a simply presented daiquiri mix of Blackwell rum, sugar, lime and a pinch of salt. "That salty, spicy funk." In the drink, the beer's more off-putting traits vanished; what hit the palate instead was full-bodied lime and tamarind with a sweet tang that got even better as it warmed.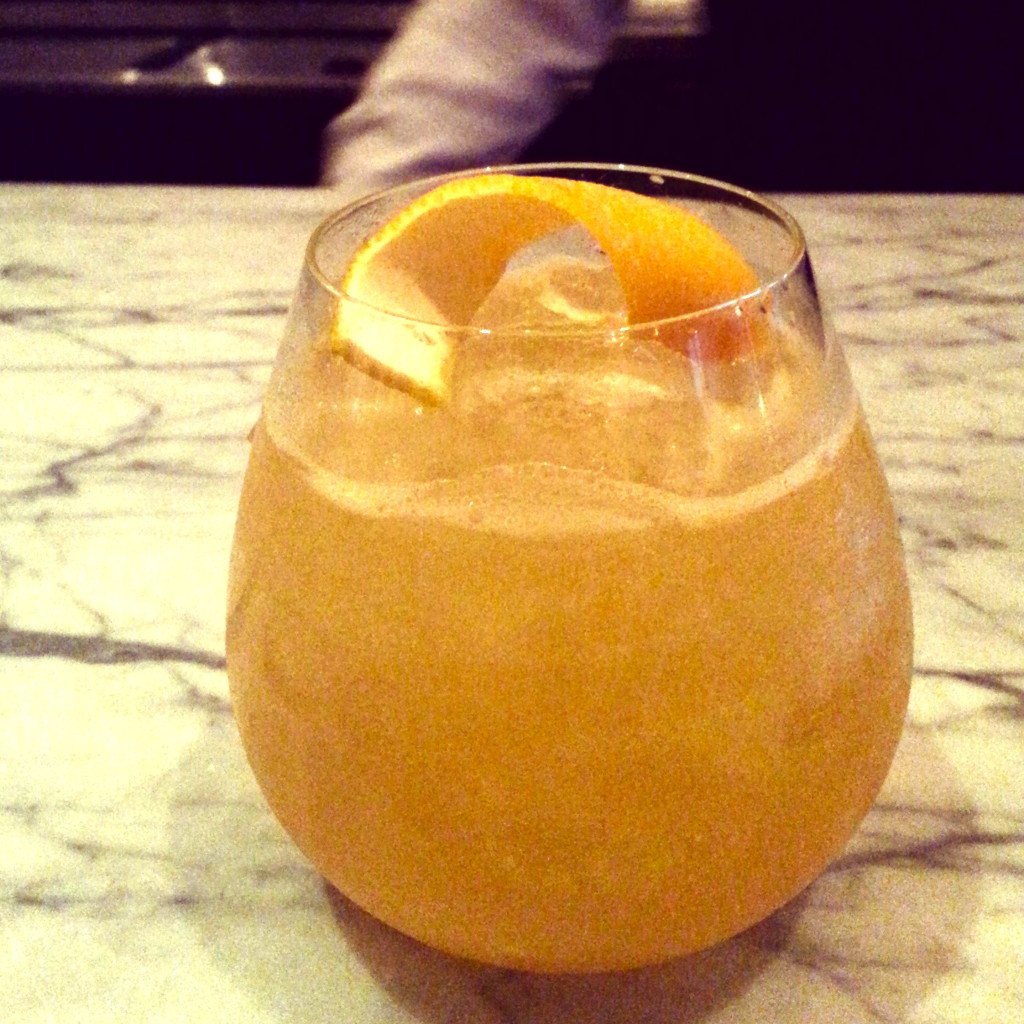 7. BENGAL LILY, Kevin Trevino (Spoon Bar & Kitchen, North Dallas)
It was the marvelous Madras curry syrup that really shone in this Indian-influenced creation from Kevin Trevino, Spoon's former bar manager. One day Trevino – now a wine sales rep – saw the curry powder on Spoon's kitchen shelf and decided to see what he could pull off. He combined his curry syrup with Tru Organic gin, some Fruitlab ginger liqueur and lemon; the gorgeously blonde cocktail welcomed with a zesty garam masala aroma, then smooth, lemony flavor with hints of ginger and an upper-lip-tingling curry heat. The Bengal refers to its Indian notes; Lily refers to a friend. "It's got that beautiful Indian curry smell and a little bit of spiciness that burns on the back," Trevino says. "Especially that ginger." Tru dat.
6. TOP DOWN, Jordan Gantenbein (Abacus, Knox-Henderson)
Driving around with the top down – that's what I thought summer was all about until I discovered Gantenbein's wonderful play on the classic Sidecar. He tricked out cherry-wood-infused Cognac with seasonal Meyer lemon syrup, plus a bit of candied Meyer lemon and a Luxardo cherry garnish in a sugarcoated glass. The drink's luscious lemon/cherry mouthfeel batted the two flavors around the tongue like a game of air hockey, with cherry emerging victorious. The result was a libation that singlehandedly redefined summer.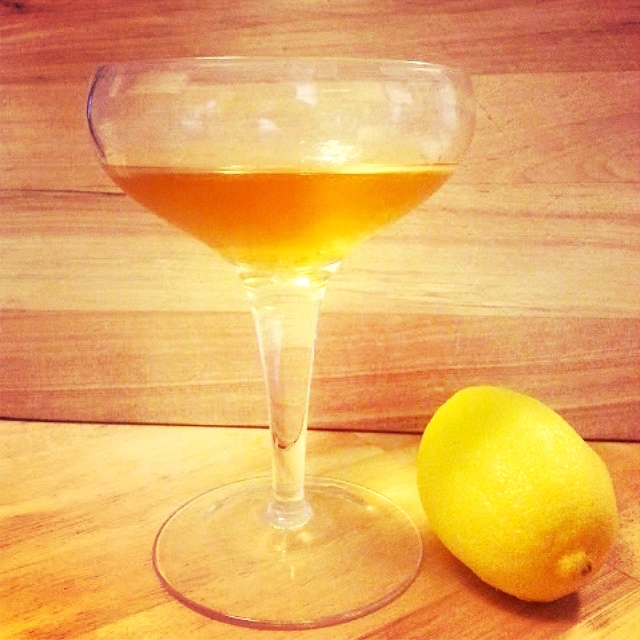 5. ONE MILLION IN UNMARKED BILLS, Pam Moncrief (The Usual, Fort Worth)
One evening at The Usual, I asked for my usual. Which was basically anything using a bitter liqueur. Moncrief – now at Fort Worth's American F&B, had been working on a little something of her own off-menu, something motivated by a desire to appeal to cocktail newbies and broaden their tastes. But her blend of Ransom Old Tom gin, bitter-smooth Hungarian Zwack liqueur, Dolin Blanc vermouth and Benedictine honey liqueur can please even the heartiest cocktail fan with its well-rounded spicy depths – floral and grape giving way to a honey-bitter finish and a tang that lingers like nightclub ear. A dose of lemon oils atop gives it a nice citrus nose. "I just really enjoy herbaceousness," Moncrief says. "Zwack and all those amaros are so herbaceous, and I feel like they don't show up in cocktails enough." And on that we would agree.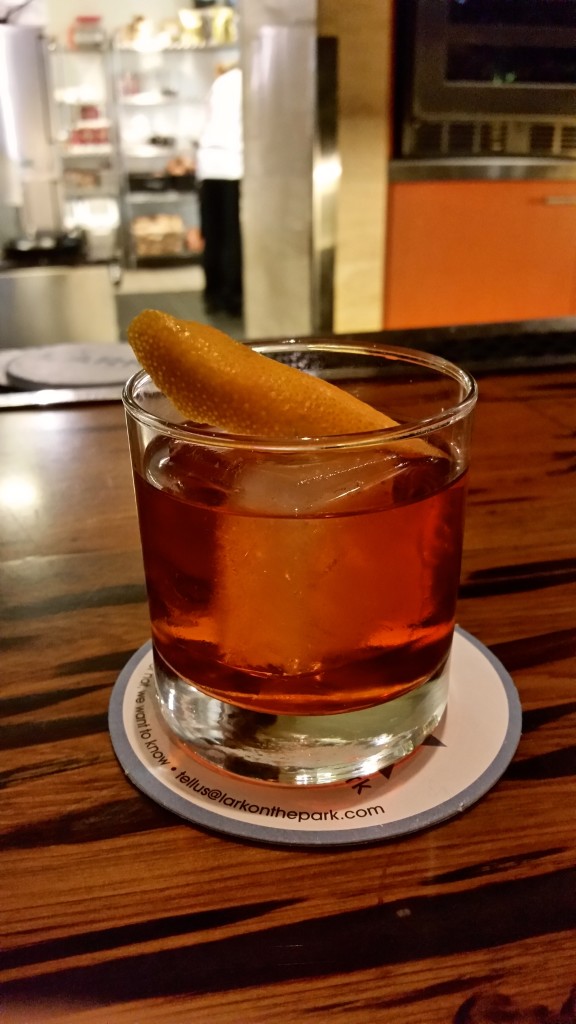 4. CAMARA LENTE, Damon Bird (LARK on the Park, downtown)
Take a sip of bartender Damon Bird's barrel-aged concoction and you may find that your world has slowed to a Matrix-like sensory crawl. Maybe that's because camara lente is sometimes interpreted as "slow motion," or maybe it's because this beautiful blend of mezcal, orange-y curacao, orange bitters and the bitter liqueurs Aperol and Fernet is just that good. Its mix of mellowed smoke and floral hints finish usher in a second wave of smoke and bittersweet, doused in a tobacco-leaf farewell. Bird first made it one night when he was slammed and somebody asked for "something with mezcal." "The original version included simple syrup," he says," but with the barrel-aging, you don't need it. It's one of my few babies."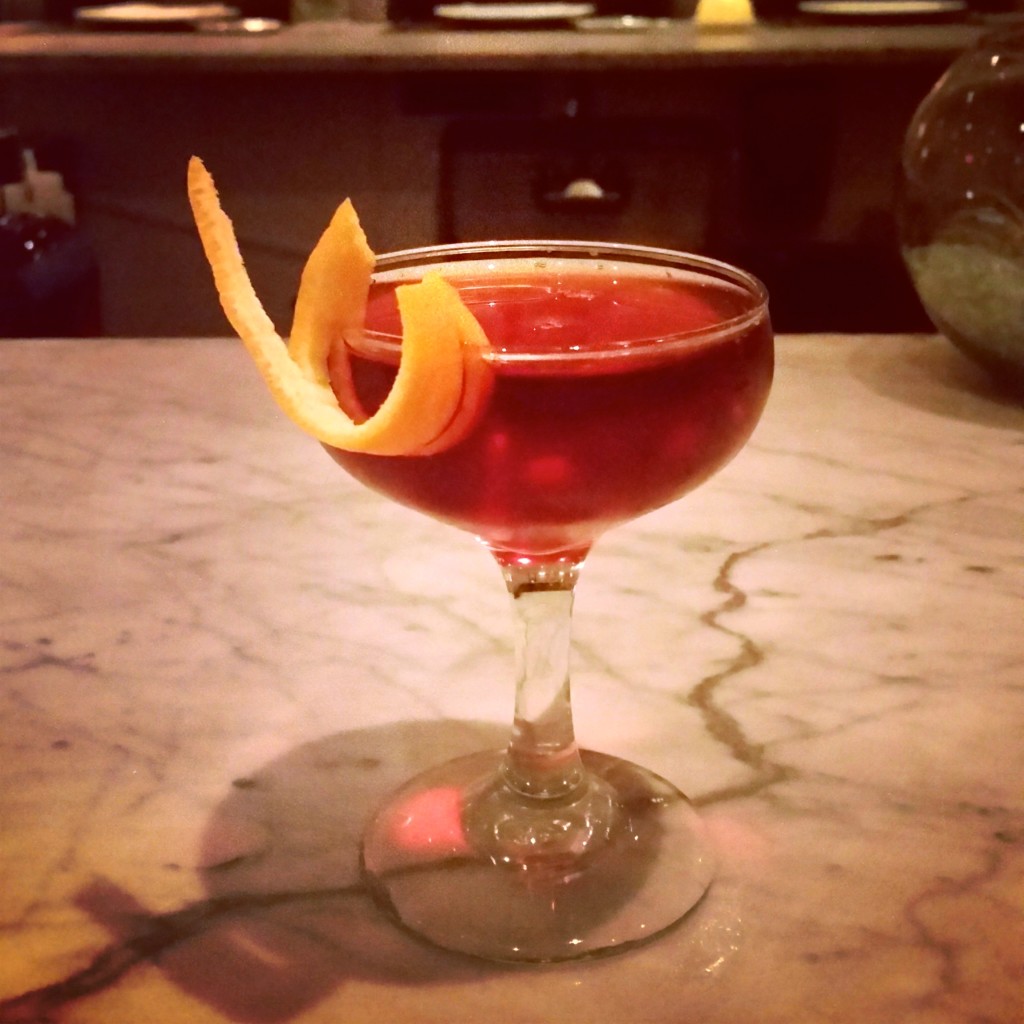 3. ENIGMA, James Slater (Spoon Bar & Kitchen, North Dallas)
Oh Spoon, we hardly knew ye. While chef John Tesar hopes to reopen the recently shuttered place in another location soon, Dallas' fickle relationship with seafood casts more doubts than fishing lines. Its demise would be a shame, because under the guidance of Slater and former bar manager Trevino (see Nos. 7 and 11 above), the restaurant's bar program quietly cranked out some of the area's more creative and well-balanced drinks in 2014. Slater's Enigma emerged as my favorite. Noticing that a pair of Angel's Envy bourbons were finished in port barrels, Slater was intrigued by the combo: He mixed Rittenhouse rye and port with bittersweet Aperol; the result charts a path between two classics, the Manhattan and the Boulevardier, with hints of raisin and honey. A float of orange blossom adds both a perfume-y aroma and a softly sweet, linen finish. There's no riddle or mystery here: It's simply delicious.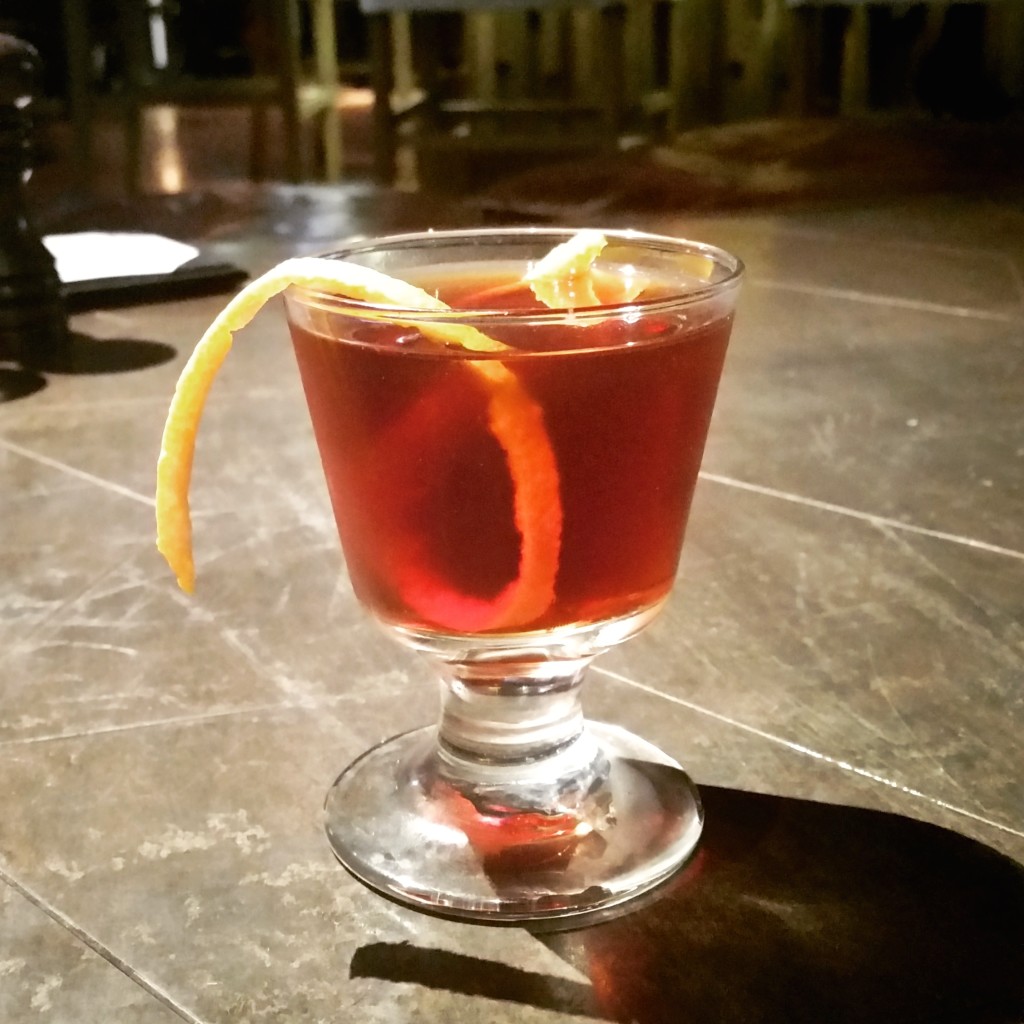 2. BLACK MONK, Creighten Brown (Barter, Uptown)
Speaking of mysteries, I pretty much went bonkers trying to figure out the enigmatic flavor in this fine cocktail. Many a sip later, I still don't know the answer: It's a smoky-flavored drink that's tricky to pin down, greater than the sum of its parts: Brown took a tincture that bar manager Rocco Milano made with tonka bean, vanilla bean and lemongrass and added it to Jameson Black Barrel Reserve Irish Whiskey, bittersweet Averna, the honey-ish Benedictine and a bit of rye-and-sarsaparilla-flavored basement bitters. Every time I tried it, the image of shoe leather popped into my head, but in a most comforting way: The flavors dancing across my tongue included molasses, root beer, pecan pie, cooked honey, even smoky flan. It's not for everyone – one taster described it as Chloraseptic – but if you enjoy a good cigar, this one is a winner.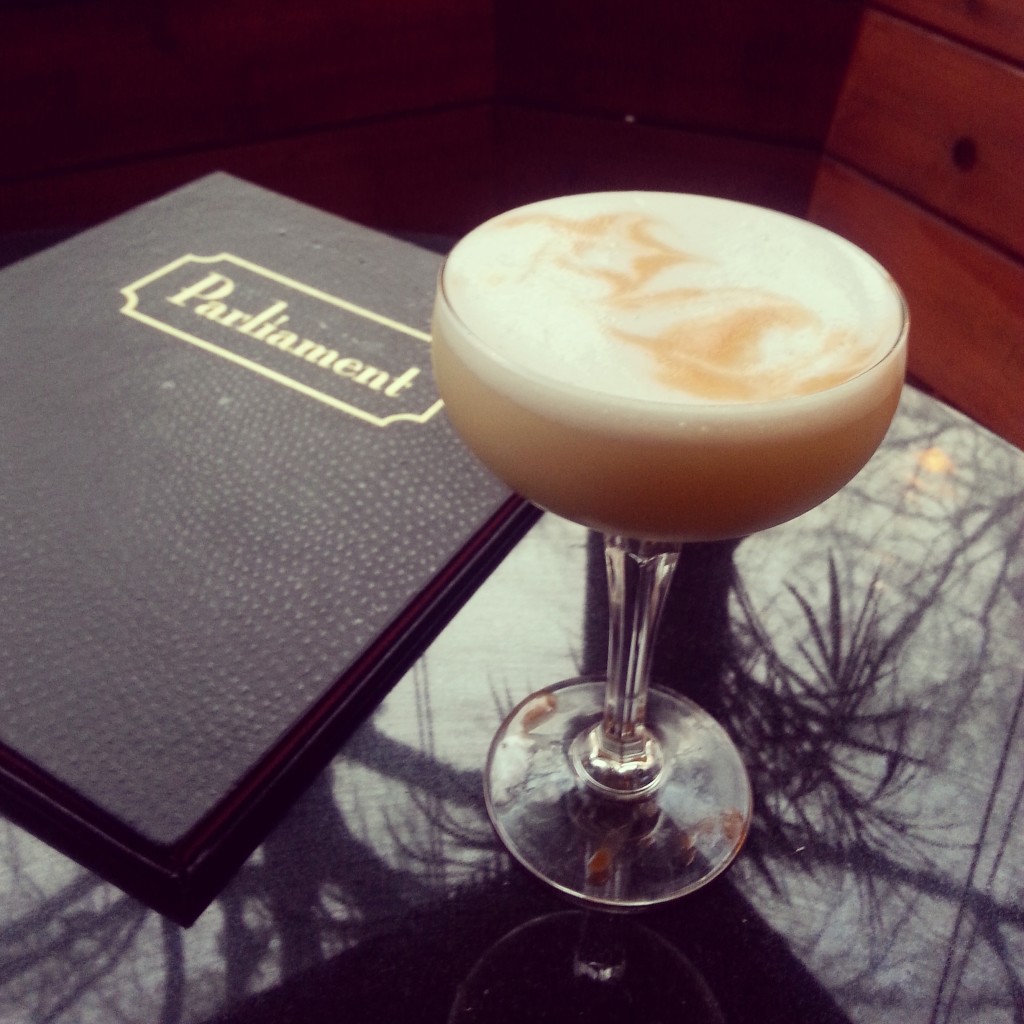 1. DAMNED AND DETERMINED, Brad Bowden (Parliament, Uptown)
Bowden, formerly of Barter and The People's Last Stand, was never much for Ancho Reyes, the ancho-chile-flavored liqueur that became my crush of 2014, following in the footsteps of botanical Hum and bitter Suze. But when the slightly spicy, vanilla-tinged blend became a Best New Product finalist at last summer's Tales of the Cocktail festival in New Orleans, Bowden knew he had to do something. Damned and determined was he: Ancho's bite made it a natural fit for tequila or mezcal, "but that's what everyone else was doing," he says (accurately). Instead, Bowden looked to his preferred spirit, rum, and what he devised is essentially a tiki drink, adding sweetly vegetal Green Chartreuse to Papa's Pilar blonde – "Rum and Green Chartreuse go together like nobody's business," he says – along with egg white and a tropical pineapple-vanilla syrup. The egg white gives the ancho a soft bed to lie on; the syrup binds it all together. A last flourish of Angostura bitters atop and you've got yourself a magic carpet ride, frothy and floral with a sweet and spicy descent. While he also does a mezcal variation that he calls Aztec Brutality, the original rum version, held aloft on Pilar blonde's creamy-smooth texture, is a year-topping keeper.
***
HONORABLE MENTIONS NOT NOTED ABOVE: 1874 (Erikah Lushaj, Bowen House); 1919 (Josh Uecker, Blind Butcher); Apples and Oranges (Eddie Eakin, Boulevardier); Ascension Hook (Matt Orth, LARK); El Guapo (Brian Williams, The Establishment); High Ryse (John Campbell, Abacus); Imenta (Marcos Hernandez, Bolsa); Nicaraguan Breakfast (Carlo Duncan, Parliament); Peach Pisco Sour (Creighten Brown, Barter); Soul Clap (Chad Solomon and Christy Pope, Midnight Rambler); Velvet Smoke (Juli Naida, Barter);   .
And of course, a hearty thank you to those who accompanied me on my outings, without whom I could never have sampled this many cocktails.