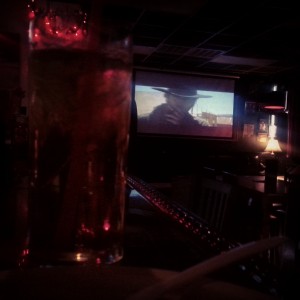 "I'm just a simple man of God."
"Well, it's time we unsimplify you, Reverend."
The mysterious man rode in from the West, and before long the townsfolk would be looking to him to save their wretched lives. But that's what happens when you're packing whiskey, and Chris Furtado, Texas state manager for Utah-based High West Distillery, rose to the occasion.
On Monday, Furtado pardnered up with Dallas' Windmill Lounge to present Spaghetti + Western Night, a "pasta and pistols" event they hope to make a regular occurrence. For $10 – barely a fistful of dollars, let's face it – you'll score a plate of pasta and an accompanying High West spirit-based cocktail to go along with the night's chosen Western flick.
This week's inaugural outing featured "High Plains Drifter," the 1973 Clint Eastwood classic with dialogue like the above and a frontierswoman disparaging Eastwood's character with the line: "From a distance you'd almost pass for a man." The hearty, homey pasta was bowtie, the cocktail a theme-conscious, bitter and refreshing "Sergio" made with High West's Double Rye whiskey, Ramazotti amaro and sparkling cider. The Windmill's Charlie Papaceno even wore an apron. "This is a real Texas pasta because it's got beans in it," he said in his best Lee Van Cleef scowl.
If you want to ride in and hitch your horse for the next showing, "The Outlaw Josey Wales (another Eastwood vehicle) will hit the screen at 8 p.m. Monday, May 5. You might even run into a few of your favorite bartenders.
WINDMILL LOUNGE, 5320 Maple Ave., Dallas. 214-443-7818.