The spirits scene is fluid. People move around, and maybe you've lost track of a few. Barmoire is here to help you out.
Last month came the official news that bartender extraordinaire Michael Martensen planned to open Proof + Pantry at One Arts Plaza; that's still on track, with the space – formerly the Commissary – opening hopefully before summer. But while Martensen had hoped to reassemble the fine crew of bar talent that had formerly held sway at The Cedars Social and Bar Smyth, it appears at least one band member won't be joining the reunion: Omar YeeFoon, who is joining Jason Kosmas' The 86 Co. as Texas brand ambassador.
"I'll be working with friends," YeeFoon said last week over pasta and cocktails at the Windmill Lounge's inaugural Spaghetti + Western night. "And it's a product and a brand I believe in."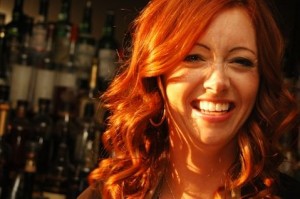 Meanwhile, Bonnie Wilson, the bartender who helped put Whiskey Cake on the cocktails map in Plano before taking over the bar program at The Ranch at Las Colinas, is now bar programs director for the entire group of Fork It Over Restaurants, which includes Mexican Sugar and Velvet Taco. Fork It Over has already expanded the Whiskey Cake brand to Oklahoma City and will soon open one in San Antonio.
We've also missed the upbeat presence of Amber West, former lead bartender at Central 214 at the Hotel Palomar whose garden-to-bar enthusiasm never failed to mesmerize. West is now Texas brand ambassador for Caledonia Spirits, the Vermont-based company that produces honey-tinged Barr Hill Gin and other liquid goodies soon to appear in bars and restaurants around the state. She and her new portfolio were behind the cocktails at last Saturday's
Polo On the Lawn fundraiser
in Oak Point.
She'd met Caledonia founder Todd Hardie through former Central 214 chef Graham Dodds; their similar views forged a connection. "Caledonia Spirits is all about his connection with the land, beekeeping and farming," she said. "It's beautiful."
Meanwhile, for those who've been wondering whatever happened to bartender Michael Reith, the man whose drinks once shone at Lower Greenville's Nora, the low-key barman has resurfaced at the esteemed Windmill Lounge on Maple Avenue, where he was last seen firing up cider-y accompaniments for the divey spot's just-launched, above-mentioned Spaghetti + Western dinners on Mondays.