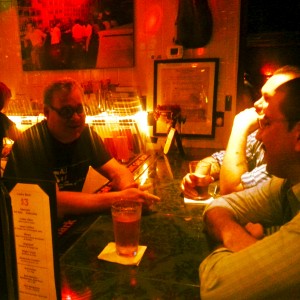 Sometimes the little guys really do get the glory. While Dallas' cocktail culture has gone from practically zero to 60 in a little over two years, a few enthusiastic souls were already out there revving up the engine before the whole thing even went into drive.
For the most part, those people are unsung pioneers. That's why it was nice to see this month's issue of Esquire packing a nice surprise for Charlie Papaceno and Louise Owens, owners of the veritable Windmill Lounge, the decidedly unfancy cocktail bar along a decidedly unfancy patch of Dallas' Maple Avenue.
Some time earlier, someone at the magazine had asked the two to send a high-resolution photo of the place, and at most they figured (excitedly) that esteemed cocktail scribe David Wondrich was going to somehow slide in a brief mention of the Windmill in his column.
But when a patron came in and said that Wondrich had ranked the place as one of the best bars in America, Charlie and Louise were absolutely stunned.
Wondrich's introductory article laments the loss of dive bars, the vanishing crop of juke joints low on pretension and high on quality drinks. The accompanying list cites bars that are, if not actually dives, at least those that Wondrich figures have a chance to become long-lasting institutions. Most are fairly new, and the two I've actually been to – Bellocq in New Orleans, and Cambridge's Brick and Mortar – are far from divey; instead they're polished and popular, with excellent drinks and food beyond your standard bar snacks. The vibe at Bellocq was sleek and effortlessly New York cool, and I especially loved Brick and Mortar's Whale Song, a plaintive splash of Jamaican rum, Amaro Montenegro, spiced cranberry and lime..
You would never find something called a Whale Song at the Windmill. What you will find are some of the best classic cocktails in town – solid Manhattans and fabulous Negronis, dished up by a pair of bartenders who have been at it for longer than most craft-cocktailers have been in DFW. You'll also find, as Wondrich notes, a punk-heavy jukebox, crusty regulars and all-day $3 highball specials. Nothing fancy here, as I noted in a previous post on the city's overall lack of pretension: No fuss, no frills, no fireworks ("The idea of fire in my bar scares me," Papaceno says): Just your basic watering hole, a place to hang with your homies and drink the classics the way they were meant to be.
This is good timing for the Windmill, which tonight marks its 8th anniversary (has it been that long? seriously?) with a bash starting at 9:30 p.m., complete with DJ. Stop by, have a little rum or somesuch, and offer Charlie and Louise the congratulations they deserve. (Note: Parking will be tight, and surrounding lots are mostly off-limits: Papaceno suggests trying the Rio Grande Supermarket parking area.) You may find yourself tilting before long.
WINDMILL LOUNGE, 5320 Maple Ave., Dallas. 214-443-7818