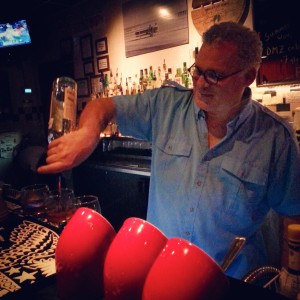 Charlie Papaceno has officially left the venerable Windmill Lounge to launch a new project, marking an end to one of the craft-cocktail scene's longest-running tenures.
The bespectacled barman will be missed, having been a droll and steady presence at the landmark lounge he co-founded nine years ago with then-wife Louise Owens. Though the two eventually divorced, they continued to operate the bar as business partners, a relationship they managed to negotiate for some time.
Papaceno, who has a new bar in the works in Dallas' Cedars neighborhood, had effectively paved the way for his departure with the hiring earlier this year of Nora's Michael Reith at the Windmill. But his exit earlier this week came to pass without fanfare or farewell.
That's fine with the under-the-radar Papaceno, who has fond memories of the dive-y Dallas institution named among Esquire magazine's best bars in 2013. "The Windmill's great," he says. "Look what it's become. I feel like we cut a new path in this town that wasn't there before."
And they did: Papaceno and Owens opened the Windmill in 2005 on a dingy stretch of Maple Avenue after Papaceno was laid off from a corporate gig, freeing him up to pursue a longtime dream. His classic-drink know-how would help make the unassuming lounge essentially Dallas' first craft-cocktail establishment, even though it never promoted itself as much more than your basic watering hole. It became a mainstay and occasional playground for those scattered upstarts who would eventually lead the city out of its craft-cocktail wasteland toward the vibrant scene it has now become – people like Parliament's Eddie "Lucky" Campbell; Proof + Pantry's Michael Martensen; and The 86 Co.'s Jason Kosmas, co-founder of Manhattan's famous Employees Only, freshly arrived from New York.
The no-frills bar, with its angry jukebox and come-as-you-are regulars, has remained a favored hangout for local craft bartenders, but whether that status continues in Papaceno's absence remains to be seen.
Papaceno says his new place, whose name has yet to be finalized, will hopefully open by year's end. "It'll be funky and homey," he says. In other words, just like the Windmill. "Hopefully people will feel comfortable there."