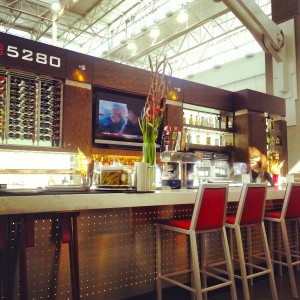 I've got time to spare, so as I've been known to do on lazy afternoons, I'm sitting at a bar having a classic Negroni, and not a bad one at that: This mix of Old Raj gin, Carpano Antica sweet vermouth and Campari is just the tonic to get me through the rest of my day.
The drink menu is admirable, with two dozen decent cocktails to enjoy on its granite-countertopped bar – including a Sazerac, Pisco Sour, Caipirinha, Pimm's Cup, Moscow Mule, a Daiquiri laced with Strega and 10 drinks featuring Colorado-based spirits like Leopold's gin or Stranahan's whiskey. But here's where it gets weird: The ceiling is a hundred feet overhead, and in the distance, monitors flash the details of arriving and departing flights. No, it's not your typical cocktail joint, and it's in one of the last places you'd look for such a thing – on the upper level of Denver International Airport's Concourse B.
Lounge 5280 is a traveling cocktail fan's dream come true, one of the country's few authentic craft-cocktail bars actually based in an airport. Naturally, the menu features the classic Aviation, while behind the bar spirits like Averna and Nolet's gin offer promise. There's even a rotating barrel-aged cocktail. Did I mention this is at an airport? "Nobody makes drinks like we do at the airport," bartender Jony Castaneda told me during my visit last October. "We're the only one who muddles and does things like that."
And yet: Does this not make so much sense? Think about it: You're finally through security. The car is parked, the shuttle taken, the last-minute worries dealt with: Where did you put your ID? What's your flight number again? You've endured the humorless cattle-herd gauntlet of shoes-off, laptops-out, liquids-gone, everything-out-of-your-pockets mayhem, and if there's one thing you could use right now, dammit, it's a decent drink.
But unless you've got access to an exclusive club like American Express' Centurion Lounge, good luck finding one at an airport. "It's almost the last frontier," said Jacob Briars, Bacardi Rum's education director, at a workshop dedicated to the topic at last summer's Tales of the Cocktail (TOTC) conference in New Orleans. (The panelists also listed their top 10 airport bars worldwide: See their list at the end of this post.)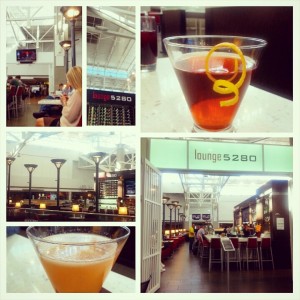 Things weren't always that bad. Back in the days of Pan Am and such, airports and airplanes were posh places to be. The idea of air travel was exciting and glamorous, the relaxing and service-oriented prelude to the destinations that waited. Not everybody could do it: Air travel was linked with affluence and passengers pampered by fashion-model stewardesses. "No wonder people dressed up to fly," said Charlotte Voisey, portfolio ambassador for liquor giant William Grant & Sons USA, at the same workshop. "They were used to that kind of thing on the ground."
But as airlines and airports tussled for business and as realities of global instability prompted restrictive security measures, that culture gradually devolved.  Getting from one's car to the boarding gate is now an obstacle course of stress, and concourse options — including liquor — typically hover near lowest common denominator. "Part of the problem is that expectations are so low," says Dallas' Chris Furtado, Texas manager for Utah-based High West distillery, recalling his own air-travel experiences. "You just find the least obnoxious thing you can (on the shelf), and that's what you're going to order…. It's a shame, because if there's ever a time you need a good drink, it's at the airport."
Until recently the best you could say about an airport cocktail was, "It was pretty good – for an airport bar." Last year, when Esquire published a guide on "How To Navigate the Airport Bar," the magazine offered this instruction: "You're ordering a beer; maybe a Scotch, neat. Airport bartenders are not mixologists. They're barely bartenders." (The magazine also said: "There will be no ordering of poppers, jalapeno or otherwise." Wise words, indeed.)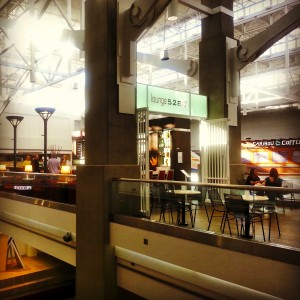 But as the taste for craft cocktails grows, spots like Denver's Lounge 5280 are flying in the face of such perceptions. Not so much yet in Texas, where Bloody Marys, mimosas, sweet-and-sour-mix Margarita variations and fruity vodka concoctions are still the rule. (And demand for those pales next to mixed drinks like rum-and-cokes or plain old brew. "Beer is still the mother lode," says spokeswoman Cynthia Vega of Dallas-Fort Worth International.)
This fall, however, will bring the opening of Wild Bleu Martini Bar at DFW's revamped Terminal A, while last year, both DFW and Love Field welcomed Stephan Pyles' Sky Canyon, a restaurant whose cocktail list is at least a baby step in the right direction. "People are sophisticated about their drinking now," Sky Canyon bartender Jeff Landesberg told me as he built a drink with bourbon, Dr. Pepper and Benedictine, a honey-flavored liqueur. "You have to carry a lot more (stock) than you did before – like Benedictine."
In choosing Wild Bleu, DFW's Vega says, airport officials specifically eyed a cocktail bar, and while it remains to be seen whether the site will lean classic or cheesy, it does seem to signal that concessions directors have evolving tastes on their radars. "This is just the beginning of our efforts to offer a whole new category of drinks for our passengers," said Zenola Campbell, the airport's vice president for concessions.
Bassam Odeh, Wild Bleu's co-owner, says the restaurant/bar will feature Mediterranean food to soak up its mixologist-designed martini selection. His business partner is former NFL player Ray Mickens; the two run other airport fast-food mainstays like Qdoba. When they told a few NFL wives about the martini lounge idea, Odeh said, "they were so excited. They said, `It's about time someone opened an elegant bar in the airport.' "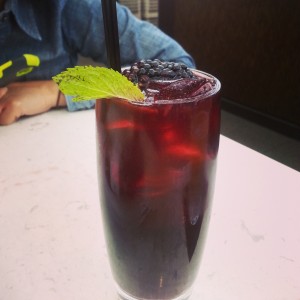 So while American airport bars have a long way to go to rival places like Sweden's Casa Bacardi, London-Heathrow's Grey Goose Loft or the iconic Jet's Bar in Belize, things are starting to take off.  It might be too early to envision fresh-squeezed juices at DFW airports, but there's light at the end of the runway.
"There's just this recognition," says DFW's Vega, "that people value their time in the airport."
*
TOP 10 AIRPORT BARS IN THE WORLD
Not every airport bar can be St. Maarten's Island's Sunset Bar & Grill., where topless women drink for free. And to be fair, the bar isn't actually at Princess Juliana International Airport but on a white-sand beach at the end of the runway with landing jets passing just overhead.
But there's no question that the quality of airport-based bars is on the rise. At last year's Tales of the Cocktail festival in New Orleans, dressed-for-the-part panelists Jacob Briars, education director for Bacardi Rum, Charlotte Voisey, portfolio ambassador for William Grant & Sons USA, and Doug Draper, director of adult beverage and bar development for HMS Host, concluded their seminar on airport bars with a list of their Top 10 airport craft-cocktail bars worldwide.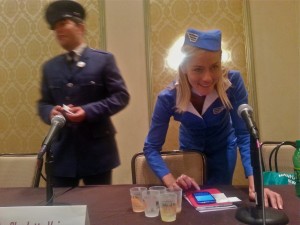 10. Buena Vista Cafe, SFO – at San Francisco International's Terminal 3, "where you can get the one drink San Francisco is justifiably famous for," Briars said, referring to the Irish Coffee.
9. Café Rembrandt, AMS – another reason to fly to Amsterdam.
8. Tortas Frontera, ORD – Rick Bayless' Chicago restaurant has three outlets at O'Hare International Airport, featuring what the panelists called "an extraordinary selection of mescal."
7. Little Ludlow, MEL – At Melbourne's International Terminal, with a view of airplanes on the tarmac. "It's quite comforting," Briars said. "There's a sense of motion. There's (also) a weird mix of espresso martinis and classic cocktails."
6. Blanco, PHX – at Terminal 4 of Phoenix's Sky Harbor International Airport. A local chain whose great Mexican food is supplemented with a terrific tequila selection.
5. 5280 Lounge, DEN – The panelists praised 5280 for ambience and its natural skylight.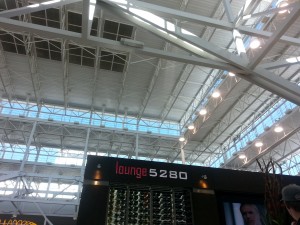 4. Center Bar, ZRH – Another bar with a tarmac view, this beautifully designed bar in Zurich, Switzerland, features a standout whiskey selection.
3. Eyecon, CPH – In addition to cocktails featuring Aquavit, the Scandinavian caraway-flavored spirit, Copenhagen's cocktail gem also offers Scandinavian small bites.
2. Virgin Atlantic Clubhouse, LHR – it's a little unfair to include this on the list since it's only open to Virgin business-class passengers or other premium card holders, "but to me, it's the best airport bar in world," Briars said. "They have an amazing staff, and fresh ingredients."
1. One Flew South, ATL – the top spot is an oasis among Atlanta's sprawling dump of an airport, the panelists said: With a modest and well-executed cocktail menu leaning toward brown spirits, "it's actually a reason to go to Atlanta," they said.