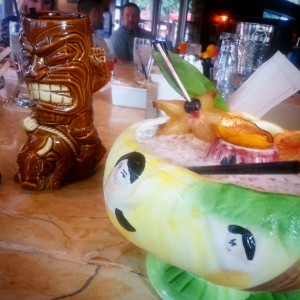 Texas Tiki Week has been stomping through town, and if you want to get your boozy coconut on, there's still two days left to go.
Already the week has brought a Mount Gay Rum-sponsored tiki dinner at Victor Tango's, an Uptown tiki bar crawl and a Papa's Pilar Rum-sponsored party at the Windmill Lounge – which not only featured the tropical-style drinks associated with the California-born genre but the meaty handiwork of barman Charlie Papaceno, who produced for the peckish late-night masses (in the words of bartender Trina Nishimura) an eye-popping "deconstructed, reconstructed Spam-ham."
Thursday's Uptown tiki crawl breezed through five McKinney Avenue-area destinations – Barter, Nickel & Rye, Bowen House, Tate's and The Standard Pour –with each featuring their own umbrella- and flower-topped tiki spins (all of which should be available through the weekend). My favorites: Erikah Lushaj's "1874" cocktail at Bowen House, a smoky-sweet mix of Brugal silver, Galliano, vanilla and smoked pineapple puree; and Mike Hamilton's Timebomb at Nickel & Rye, which paired Brugal 1888 aged rum with peach liqueur and Hum, a botanical spirit for which I've been known to carry a tiki torch from time to time.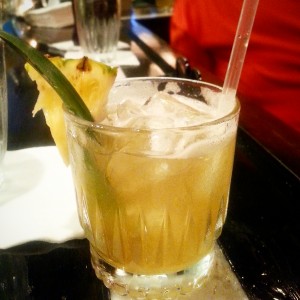 But wait, you say. What good does this do me, the thirsty reader, who also wishes to partake in such tropical revelry?
Simmer down: Here is your remedy. Friday night brings tiki revelry to Knife, where Omar YeeFoon and Michael Martensen will be doing it up with The 86 Co.'s Cana Brava rum.
This weekend, you've got two tiki brunches to choose from – Standard Pour will host one on Saturday from 11:30 am to 1:30 pm, while Barter will offer another on Sunday from 11:30 am to 2 pm. If you want to make a full night of it, there's still a few seats left for Saturday's Tiki Bus Tour, which will rumble to destinations including Bolsa, Driftwood and Dallas' first renaissance-age tiki bar, Sunset Lounge. Tickets are $65 and can be reserved by emailing Steven Doyle at steven@cravedfw.com.
The week will culminate with a tiki luau at The Standard Pour, which knows a thing or two about throwing a party. Sponsored by Utah's High West Distillery, the event will run from 6:30 to midnight. Price is $20 and includes roast pig and a cocktail.
Tiki on.