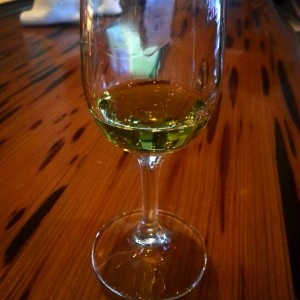 Stand back: The green genie is having her moment. Her radiance is typically loosed in increments — too much and she overwhelms with her blossomy, 110-proof lushness. You know her as Green Chartreuse – a crucial player in such classics as the Bijou and the Last Word, but never, ever the star (though she manages to steal the show anyway with her presence alone). Her true identity has been kept secret for more than 400 years, closely guarded by the French Carthusian monks who've been crafting this gem, and her milder yellow sister, for nearly three centuries.
But now. Now. The emerald tiger is running free. At least four Dallas-area bartenders have thrust this mystery mix of 130 herbs, plants and flowers into the spotlight. The seeds were planted last year when Victor Tango's' Alex Fletcher – then bar manager at The People's Last Stand – gave us the luscious One Smashed Monk, among my favorite cocktails of 2013, accessorizing Chartreuse with lime, simple syrup and Thai basil.
The Chartreuse-based cocktails that have sprung up around town since early this year are similarly paired with citrus and sweetener in succulent variations that play well with the liqueur's flowery, vegetal essence, one a friend described "like wonderful, toasted hay, with the freshness of grass." All are worth trying – and it's worth asking for a solo audience with the queen herself, or if you can find it, Green Chartreuse's extra-aged VEP version.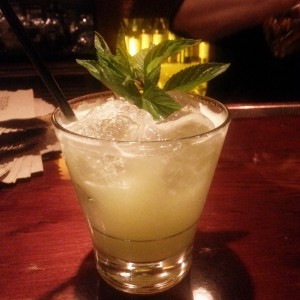 THE FRUITS OF CONTEMPLATION – Hibiscus
With spring in the air, Grant Parker, lead barman at this Henderson Avenue mainstay, wanted to put a tiki drink on the menu. Rum, however, was out of the question; it's just not something his clientele goes for. He considered doing a swizzle, some crushed-ice thing with lime and pineapple; then he added a boost of falernum, a rum-based syrup. All of a sudden, Green Chartreuse seemed like a natural fit. "These ingredients go together perfectly," he says, and he's not kidding. It's big, boozy and beautiful, just like the liqueur.
The name refers to the lifestyle of the Carthusian monks themselves, who after being twice expelled now manage a peaceful existence at France's Grande Chartreuse monastery despite the proximity of one of the world's finest liqueurs. Or perhaps because of it. "Their whole lives are run by contemplation," Parker says.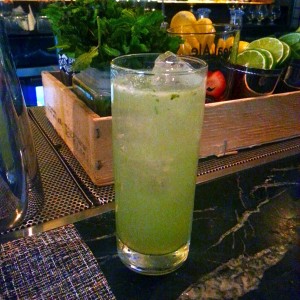 GREEN DRANK – The Establishment
This one is sweet and light on its feet, as Green Chartreuse meets lime and simple syrup, accompanied by muddled mint and a float of soda for effervescence. "It's built exactly like a mojito," says creator Sean Conner, the former Whiskey Cake bar man who consulted on some of the Knox-Henderson restaurant's drinks and whose new pizzeria, P1.E 3.14, debuts this week in Lewisville. "I've been making that for years, but I've never put it on the menu." Though the drink just dashed off the Establishment's cocktail menu, it's still available by request.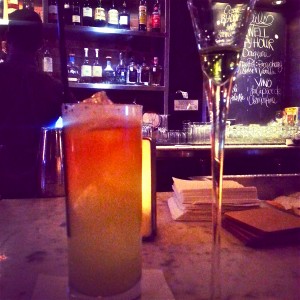 THE NUN AND THE NYMPH – Victor Tango's
General manager and beer nerd Matt Ragan says he woke up one morning with a burst of inspiration: "Oh! A Green Chartreuse Shandy. I want to drink one of those right now."
He was referring to the summery libation that mixes a light beer with lemonade or ginger ale, a concept bartenders have run with by further adding gin and other ingredients. He immediately scrambled out of bed and over to Victor Tango's on Henderson, where he started playing with the idea. His final version outfits Green Chartreuse with lemon, honey, some ginger for bite and a nice Belgian Wit beer spiced with coriander and orange peel.
The name is a play on the accompanying beer — Adelbert's Naked Nun — and the "green fairy" nickname usually linked with absinthe.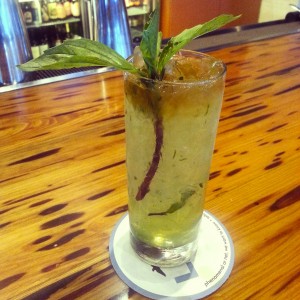 CHARTREUSE AND TONIC – LARK on the Park
A simple gin and tonic is the drink of choice for Matt Orth, LARK's bar manager, when he's out on the town. Well, maybe that with a bit of Green Chartreuse on the side. The Chartreuse and tonic has been done before, but let's be honest: It hasn't been done enough, and in Dallas, it's hardly been done at all. Orth is ready to change that with his viridescent, swizzle-esque mix of Green Chartreuse, tonic, lime and Thai basil (or even better, bay leaf), sprinkled with a few dashes of excellent lime and molasses bitters made in-house at the downtown restaurant. "I like to use crushed ice," Orth says. "Because Green Chartreuse is just so big."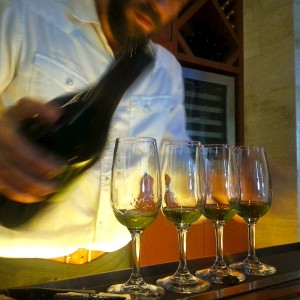 You can find Chartreuse VEP (Vieillissement Exceptionnellement Prolongé) at Boulevardier, Hibiscus, LARK on the Park and other clever establishments.