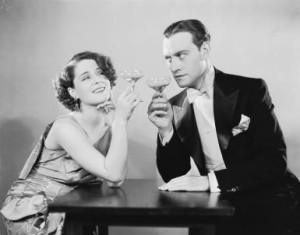 If you're looking for a starring role in whatever Oscars watching party you're headed to on Sunday, you could do worse than to come armed with cocktails.
Need direction? Maybe you're a do-it-yourselfie, determined to devise a cocktail menu that plays off this year's Best Picture nominees. Here are some modest tongue-in-cheek suggestions:
THE BIRDMAN: A play on the Aviation, but with a handlebar mustache garnish. Like the film's title character, this once famous star built his legend around flight – then, years later, fights in vain to achieve misguided respectability.
THE GRAND BUDAPEST HOTEL: A swig of Zwack, the Hungarian herbal liqueur, poured through an ice luge into the drinker's mouth, which in honor of Wisconsin-born Willem Dafoe – is furiously chased by a beer.
THE FLIPLASH: A tequila flip with a tiny cymbal garnish – and in deference to the subject of the film Whiplash, a smattering of beets to help keep rhythm.
THE ROB-ROY-HOOD: This take on the classic Rob Roy isn't meant to be consumed. Instead, like the subject of Boyhood, it's meant to be watched, getting progressively older before your very eyes.
THE AMERICAN SNIPER: A lethal shot of overproof rum, of course.
OK, maybe not.
Plenty of other nominees abound, from the classic Los Angeles cocktail to the actor-inspired list of drinks recently featured by Liquor.com from beverage consultant Brian Van Flandern's book, Celebrity Cocktails.
The best way to show your achievement in sound mixing, though, might be to whip up the cocktail served to the stars themselves at the Governor's Ball following the star-studded awards ceremony. That would be the Scot's Pear, among the items featured this week at a sampling of the annual feast's menu conducted by various Wolfgang Puck Catering operations around the U.S., including Dallas.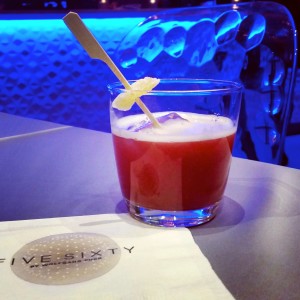 Wolfgang Puck Catering is marking its 21st year planning the annual post-Oscars feast, and the preview spread, held at Reunion Tower's Cloud Nine, featured the drink alongside treats like mini Wagyu beef burgers and chicken pot pie.
A winning blend of premium Johnnie Walker Platinum Label whiskey, tawny port, ginger syrup, pear/lemongrass puree and lemon, the Scot's Pear's apple-like sweetness, tinged with hints of citrus and spice, nicely balanced the whiskey and kept it from going all Robert Benigni over everything.
SCOT'S PEAR
1.5oz Johnnie Walker Platinum Label
.25oz Tawny Port
1oz Pear Juice
.75oz Ginger Syrup
.75oz Lemon Juice
Shake and strain into a double Old Fashioned glass. Garnish with a piece of candied ginger.
Liquor.com's list includes the most intriguing House of Friends, a nod to actor George Clooney and his partnership in Casamigos tequila – a mix of tequila, Yellow Chartreuse, Cointreau, agave and lime. (Coincidentally, Matt Orth at Dallas' LARK on the Park last year crafted an excellent, similarly named drink that also featured Casamigos, an approximation of the Spanish words for the same phrase.)
Courvoisier cognac has also thrown together a few cocktails to recommend for the occasion. The most interesting of them is probably The Talented Mr. Cooper, a nod to Bradley Cooper's Best Actor nomination for American Sniper.

THE TALENTED MR. COOPER
1 ½ oz Courvoisier VSOP
½ oz Cherry Heering
6 black cherries
Dash of gomme (you can use simple syrup)
Soda water
Mint garnish
Muddle five cherries in a shaker, then add the Courvoisier, Cherry Heering and syrup. Shake well and strain into an ice-filled rocks glass. Top with soda and garnish with a sprig of mint and a single cherry.
Happy Oscar'ing.