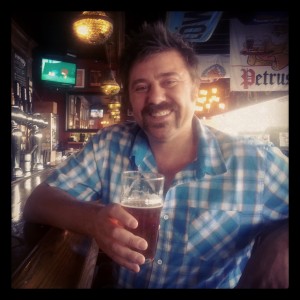 Bolsa, in Oak Cliff, was among the pioneers of Dallas' early cocktail scene, and Standard Pour's Eddie Campbell, who headed Bolsa's bar program at the time, remembers the first Friday he ever worked there with a new guy from New York named Jason Kosmas.
It was 2011. Fridays were ridiculously busy, and that night was no different: people were shouting orders from three or four deep, and Campbell and his regular sidekick Johnny were getting killed. "Hey, should we check on the new guy?" Johnny asked.
Campbell had forgotten all about Kosmas amid the flurry, so the question threw him into a mild panic. He ran over to the other end of the bar and asked what he could do. Without an ounce of stress, Kosmas turned and said, "I think I'm okay."
"And he was," Campbell recalls. "Everybody on his side of the bar was happy, with a full drink — beautiful colors and garnishes…. every drink looked like a masterpiece. That's when I realized: Jason Kosmas is a total badass."
Kosmas is a total badass, but you would never know it from his demeanor. Co-founder and co-owner of New York City's renowned Employees Only and one of the bartending luminaries behind new spirits line The 86 Co., Kosmas is one of the most humble, upbeat and likeable guys around. But if cocktail culture in Dallas has gone from practically zero to 60 in the last two years (and it has), it's fair to say that Kosmas has been among those at the wheel.
Now Kosmas is taking his talents to Austin, which will no doubt benefit immensely from his arrival.
It's difficult to fully capture the impact that Kosmas has had on Dallas since arriving here with his unflappable, affable scruffiness. You can talk about the places he worked at and helped put on the map early on (Bolsa, Windmill, Neighborhood Services Tavern) and the places he opened (Marquee) and the very many places he's left his mark on (Malai Kitchen, The Greek, etc.), but for many in the scene, it's his ready assistance and mentorship behind the scenes that resonate most powerfully.
"Gonna miss you J," wrote The People's Last Stand's Brad Bowden on Facebook. "Thanks for all the advice and words of wisdom you have given me… meant a lot to me."
Kosmas came to the Dallas area for both family reasons and business opportunities, and that's what's taking him deeper into the heart of Texas: The capital city is more centrally located, putting him in better touch with amped-up drinking cultures in Houston and San Antonio as well. Besides, he's done what he can in Dallas, which has now eclipsed adolescence, a vibrant cocktail city ready to move forward on its own.
"What I can contribute is over," he says. "There's not a lot of challenges left for me here."
Other people have helped make that happen too, and the city's collaborative atmosphere has propelled it forward. Kosmas was instrumental in instilling that sense of teamwork.  "As time went on," says Standard Pour's Campbell, "we all got to know him better and realized what an incredibly nice guy he is, and watched as he offered help to anyone who wanted it. I've constantly been amazed at how easy he makes everything look."
Kosmas, who has already been moving back and forth between the two cities, doesn't plan to be a stranger here once he leaves for good, by week's end.
In his own modest way, he wrote about his departure:  "I have been embraced and am grateful to have been a part of a rapidly growing restaurant community….  It is bittersweet. I feel so fortunate to have been able to watch the city change and play some small role in it."