I first met Eddie Eakin in July 2012 at the Libertine Bar, where he was in the habit of ordering a bun-less burger as part of his gluten-free fitness regimen. At the time, he was readying for his job at bar manager at Boulevardier, which was just about to open in the Bishop Arts area of Dallas' Oak Cliff neighborhood.
Since then he's headed up one of Dallas' better bar programs with quiet aplomb, and now it's paid off with some national recognition: Town & Country Magazine has chosen one of Eakin's as its signature cocktail.
That's right: Town & Country, the high-society lifestyle magazine that's also the longest-running general-interest publication in America.
Well done, Mr. Eakin.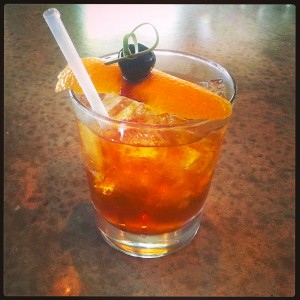 About four months ago, Eakin caught wind of a national competition the magazine — which dates to 1846 — was holding for a signature cocktail to which to lend its name. Editors ultimately chose 20 recipes from bars and restaurants nationwide and submitted them to a judging panel at Harding's restaurant in NYC.
"The only rules were that you had to send in a picture," Eakin said. "That's what piqued my interest. I'm a total Instagrammer. I like it more than Facebook."
And in the end, it was his concoction that grabbed the honors. "I was very happily surprised to hear that I had won," he says.
His now-official Town & Country cocktail ($11) is a melting pot of bourbon, Carpano Antica sweet vermouth, dark amber syrup and apple bitters. The result is very much like an Old Fashioned with an extra smooch of sugar.
Eakin's genius was in the concept: He just wanted to come up with something a reader could replicate at home with readily available traditional American ingredients. No fancy infusions, no juices to squeeze, no syrups to make. And since the publication goes back to the mid-1800s, he wanted his drink to echo American classics and flavors (hence the apple and maple). "If you break it down," he says, "it is really a blend of a little Manhattan and a little Old Fashioned, two of the most quintessential classic cocktails."
RECIPE (as published in Town & County magazine's Aug. 2013 issue)
2 oz Bulleit Bourbon
1/2 Carpano Antica Formula vermouth
1 tsp Crown Maple dark amber syrup
3 dashes Bar Keep apple bitters
Combine all ingredients in a mixing glass and stir with ice. Strain over large ice cubes in a rocks glass and garnish with an orange peel and brandied cherry.
BOULEVARDIER, 408 N. Bishop, Ste. 108, Oak Cliff, Dallas