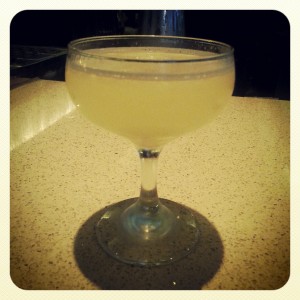 Sad news, homies: There is one less cocktail oasis in Dallas.
Private/Social apparently marked its last night Saturday, and the place where I enjoyed many a first cocktail experience is apparently no more. The news came in a tweet from chef Najat Kaanache Sunday morning: "Last Night At Private/Social Was The Last service We Closed ready for New Adventures within Food Thanks To My Great Team."
Rocco Milano, among the best barmen in Dallas, confirmed the closure to me later that morning. The restaurant had struggled to reinvent itself after chef Tiffany Derry's departure early this year, but with Rocco at the helm, P/S remained one of the more adventurous cocktail spots around: He had spirits on tap (including my beloved Hum botanical spirit, to which Rocco introduced me) soon after the restaurant opened in late 2011; his Fall Into A Glass was my favorite cocktail discovery of 2012; and most recently he'd unveiled a lineup of a half-dozen tap cocktails.
Sitting at the bar, I could always depend on a pleasant experience. It was the kind of place you could share secrets, kindle romance, celebrate birthdays and wind down even as you expanded your cocktail horizons. One mark of a great bar is its consistency, and Milano's staff — including Matt Medling, Creighton Brown, E.J. Wall and Pro Contreras — was always a well-oiled machine. No doubt they'll find new stages on which to showcase their craft, but it was always fun to be a guinea pig in Rocco's lab. On Friday — not realizing it was Private/Social's penultimate day — a friend and I took in one of his most recent and typically improbable off-menu experiments: A riot of rye whiskey, Cointreau, peach and maraschino liqueurs and Hum botanical spirit (swoon) that he called I'll Have One Of Those.
Here, Rocco makes that cocktail for another patron: http://youtu.be/a–bWcleAuQ
Rocco Milano: I'll Have One of Those
I'll update this post as I learn more.
P/S: Thanks for the memories.