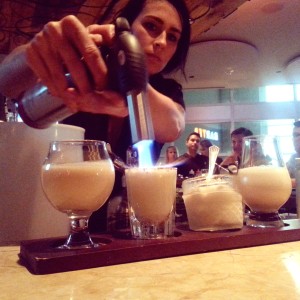 If you're like me, the sight of retailers setting out their Christmas merchandise two weeks before Thanksgiving makes you want to gouge out your eyes. But go figure: The folks at Barter in Uptown have figured out a way to break through my grumpy bah-humbuggery, and they've done it by highlighting the best thing about holiday season: The eggnog.
A few weeks ago, Barter bar manager Rocco Milano approached bartender Juli Naida with a peculiar notion. The results are even more than he'd hoped for. "This is all her," he says.
And what is this? An eggnog flight, my friends. A set of mini-drinks evoking the festive holiday beverage. It's a pre-Christmas miracle!
Best of all, they're delicious, from the awesomely named Sweet Chai of Mine – which blends tequila, chai tea, honey and agave – to the creamy-rich If Elvis Nogged, an explosion of Irish whiskey, peanut butter, banana liqueur and vanilla pudding mix. Another is fashioned after lemon meringue pie, with a limoncello whipped-cream topping that Naida flames like a brulee. All either taste like eggnog or incorporate egg whites for a frothy eggnog texture.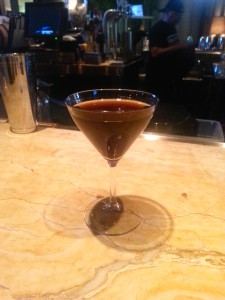 My favorite of the bunch is the Nogaholic, a dark martini-style drink that mirrors eggnog's flavor with no egg or cream whatsoever. Instead there's Cruzan Black Strap rum, simple syrup and a house-made tincture of vanilla, cinnamon, clove and nutmeg. "I wanted something sweet," Naida says. "You can hit the eggnog notes without using any egg."
Under Milano's tutelage, Naida has quickly and quietly grown into a real talent behind the bar, and while he provided her with background on some of the spirits she was considering – for instance, the Black Strap rum in the Nogalicious – the recipes are straight from her own noggin. "She has the vision to do stuff like that," Milano says.
For inspiration, Naida looked around her – to fellow bartender Creighten Brown, for instance, whose favorite smoothie involves peanut butter and banana; and to a non-drinking friend who turned her on to chai. The lemon-meringue one came to her, um, in a dream. "That's where I completely nerded out," she says. "It's embarrassing."
The $15 flight is arranged from lighter to bolder flavors. The drinks are so rich that you might want to consider sharing them with a date. One may even be inspired, after sampling the flight, to order one as a full $12 cocktail. I'm just saying.