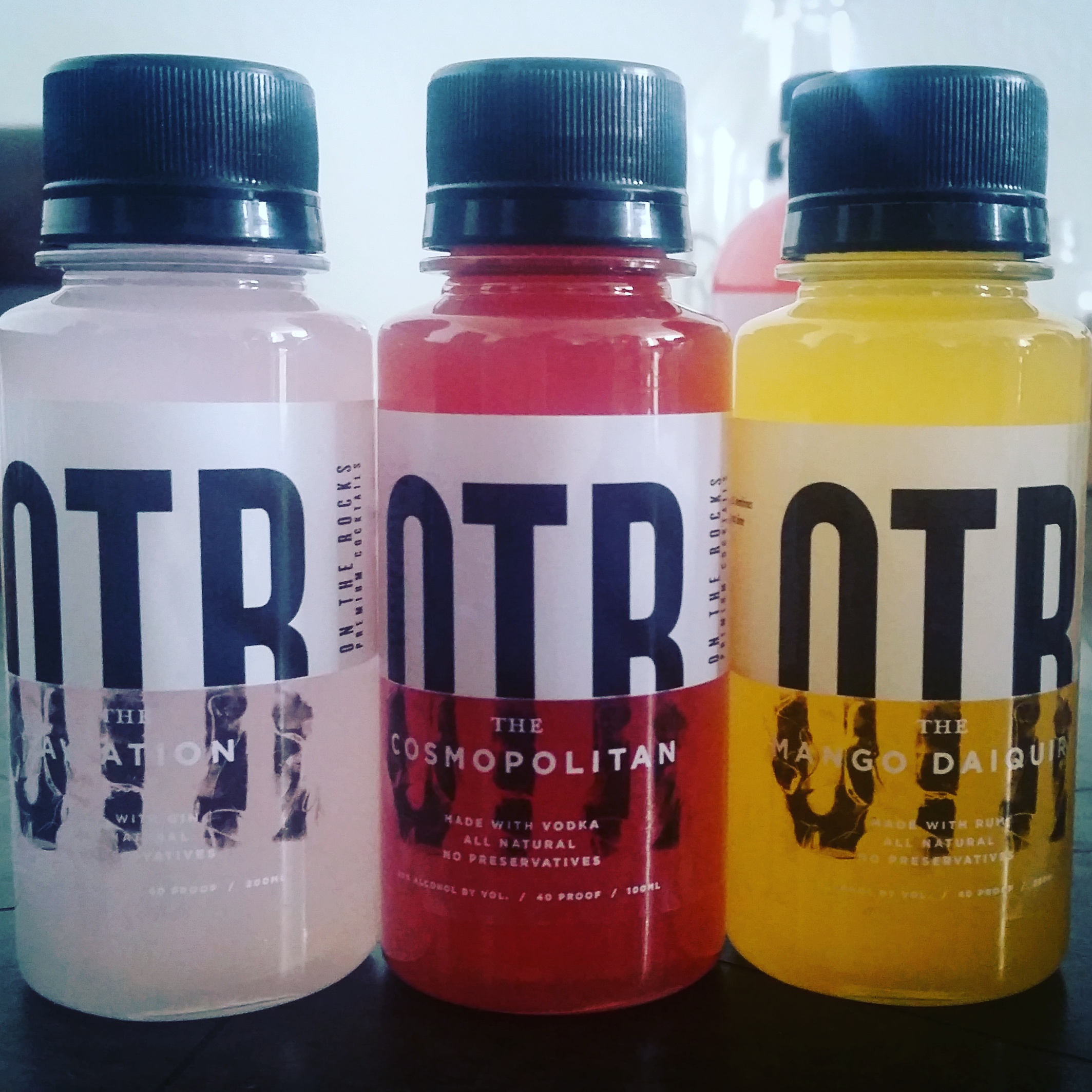 FROM A LOFTY outdoor suite at Frisco's Toyota Stadium, the elusive Rocco Milano is taking in FC Dallas' home opener against Philadelphia. He has a cocktail in hand – and the fact that the venue even sells them says a lot about how far craft-cocktail culture has come.
You remember Rocco. As Dallas' craft-cocktail scene blossomed in the early 2010s, Milano was among its luminaries, emerging from the Mansion at Turtle Creek to preside over well-regarded bar programs at Private/Social and Barter in Uptown. Then, with Barter's sudden closing, he vanished, leaving a trail of mystery. What is Rocco up to, people wondered? Has anyone heard from Rocco?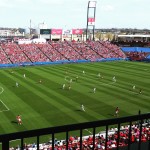 Everyone may be about to. Along with partners Patrick Halbert – owner of P/S and Barter, which operated successively in a space off McKinney Avenue – and Andrew Gill, Halbert's cousin, Milano has been crafting a line of bottled cocktails, hoping to join a growing playing field.
Their venture, called On The Rocks, or OTR, has been building a buzz; FC Dallas is the team's first major client, with four OTR cocktails now sold in the stadium's suite-exclusive Jack Daniels Lounge. (Other, less potent OTR drinks are available on the concourse to general ticket holders.)
This week, On The Rocks scored 11 medals at the esteemed San Francisco World Spirits Competition – including two gold, four silver and five bronze. But OTR's sights are set much higher, with the group sweet-talking several major airlines to get their drinks onboard national and international flights.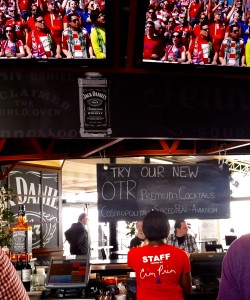 Here in the suite with Milano are partners Halbert and Gill, along with other OTR staffers and people like industry consultant Steve Ousley. "What they're doing is really innovative," Ousley says of OTR. "It's like, how do we execute a crafted cocktail and bring it to consumers really quick? This is in a bottle, and that's about as quick and convenient as we can deliver it."
As the brand name implies, the beverages are meant to be served over ice. But with bottled cocktails a relatively new concept, kinks remain: As the match gets underway, an OTR team member arrives fresh from the lounge, where he's just ordered the bottled Aviation. "They poured it wrong," he tells Milano; the server poured the liquid straight into a glass, he says, with no ice.
Milano's eyes widen. "It's called On The Rocks!" he says, incredulously.
***
IMAGINE THIS: You're on a plane from Dallas to New York. You've ordered a cocktail – not the standard one-and-one mixed drink, like a gin and tonic or a whiskey and coke – but an actual cocktail. Maybe it's a Mai Tai, or a Cosmopolitan. The flight attendant shows up and cracks open a 100-milliliter bottle, drops a napkin on your tray and a cup with a scoop of ice. Then you're handed the bottle, to dispense as you please.
"It's just crack and pour," Milano says. "That's the beauty of OTR, brother."
This is what Rocco Milano has been up to.
While a bottled cocktail can't fully match the punch and zip of one freshly made, OTR's concoctions taste remarkably like the real deal – a threshold the team has worked hard to meet. Though the airline dream is still just that, it's one the OTR team hopes to make a reality, as early as this year, having been in talks, they say, with Hawaiian, Alaska and Virgin Airlines.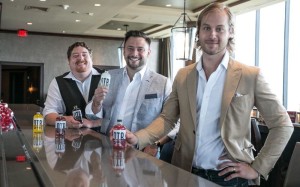 Airline cocktails are no rye-in-the-sky illusion, though it's still relatively uncharted territory: In 2014, Virgin tapped Austin Cocktails' low-cal "Vodka Cucumber Mojito;" more interestingly, Alaska Airlines teamed with Seattle-based Sun Liquor to let passengers make cocktails at their seats using Sun spirits and recipes (a squeeze of lime, a bit of vodka and a pour of ginger ale, and voila! You sort of have a Moscow Mule).
Bottled cocktails are further out of the gate, though quality varies widely. Acclaimed Chicago barman Charles Joly has been producing his Canada-based Crafthouse line – which also scored well in San Francisco – since 2013. There are others sprinkled around the U.S., and around the world. But no other brand in the category did as well in this year's San Francisco competition as OTR, which won a third of all medals given and was the only U.S.-based company to take gold.
The OTR brand features three cocktail lines – a signature line with classics like the Margarita and Cosmo; a tropical line sporting rummy drinks old and new; and a craft line which "is where we get really weird and esoteric," Milano says. That category includes the Smoking Pepper, which fans of Milano might recall from Private/Social as the drink actually served in a hollowed-out bell pepper; Milano has recreated a bottled version.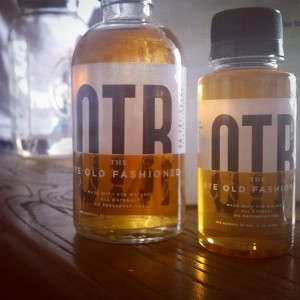 While their ingredients don't necessarily mirror fresh cocktails (to account for items, like juices, with a short shelf life), OTR's drinks are nonetheless all-natural, with no preservatives, additives or artificial flavors. All are either 20 or 35 percent alcohol, using real spirits procured from bulk purveyors, whether whiskey, rum or barrel-aged gin.
Take the Spiced Pear cocktail. "There's some amazing spiced pear in there, and some nice Darjeeling tea," Milano says. "It's done with the barrel-aged London Dry gin, so you're gonna get some cool wood notes, but it's still gin. The acid is Meyer lemon, which just adds a beautiful pop to it, and then a little bit of allspice."
The Rye Old Fashioned is a standout – "pretty much our crowd-pleaser," Halbert says. There's a Moscow Mule, and a Daiquiri; a Mai Tai and a Blackberry Bramble.
The bottle's logo design is a nod to its ice intentions, with the lower half of "OTR" submerged in illustrated cubes.
"And it's the same regardless of who pours it," Milano says. "Everything you need is in this drink."
**
IT WASN'T SUPPOSED to be this way. The three had originally planned to focus on a fledgling distillery operation once Barter had closed. But as Virgin Airlines made its debut at Love Field in late 2014, a handful of Virgin execs came to Barter to celebrate. One of them, Milano says, told him something to the effect of, "These drinks are so good, I wish we could have them on our planes."
"And Pat was like, `Well, shit – let's put them in a bottle,'" Milano says. Not knowing how serious the execs were, they didn't get their hopes up. "People say a lot of things," Milano says.
Months later, he says, the Virgin guys called to check in. That led to more serious talks, then intros to other airlines and a crash course in bottled-cocktail science. By last year's end they'd invested half a million into the venture, mostly on inventory and legal and consultant fees, and crafted close to 40 different cocktails.
At the time, they had 90,000 200-milliliter bottles sitting in a warehouse, with 300,000 half that size on the way. The bottles conform to federally approved sizes for alcohol sales; meanwhile, some cocktails had to contain particular ingredients to fit official government definitions. For example, according to the feds, a Margarita must include triple sec, and OTR's Rye Old-Fashioned is described as such because the government's definition of the classic drink calls for bourbon.
The group's office, near Love Field, evokes a cohabitation of chemistry grad students who inherited their parents' excess furniture. Remnants of Private/Social and Barter comprise the minimal décor or lie strewn throughout – the hanging wicker chairs, the randy sofa pillows, the curtain of metal string that once separated P/S' bar from the dining area. "We obviously didn't spend any money on the finish-out," Halbert laughs.
On a typical day, the heavy-duty table at center is slathered with bottles, beakers, notebooks and vintage cocktail tomes. "We have graduated cylinders, pipettes, even scales that measure to 1/16 of a gram," Milano says.
And the nearby fridge is filled not with beer and lunchmeats but scores of bottles spanning a range of concentrated flavors. "You can get flavors of anything," Milano says. There's butter, truffle, lemon zest, even something called cloud. Not all of it is good. They went through 60 flavors of lime before finding one they liked.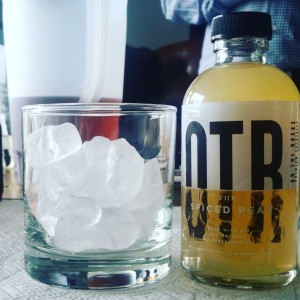 Their bottled Margarita was the most challenging in terms of achieving the right balance of spirit, acidity and sweetness. It took a month to perfect. Whenever they thought they had it down, they'd run to Albertson's, buy some limes and fire up a fresh drink for comparison's sake.
"That was the standard," Milano says. "I didn't even have a juicer; I had an elbow. I wasn't even gonna get pith off the lime, just boom – squeeze it in there. And if it didn't compare to that, then we just started over."
In the end, their bottled version turned out to be a mix of aged tequila, lime, orange and agave.
On the other hand, their Aviation took them all of 15 minutes. "That had everything to do with the violet extract," Milano says. "But just like with a real Aviation, you can easily add too much and screw it up."
Their experience with bars and restaurants has proved valuable. "We're not guys in lab coats," Milano says. "We know what a Margarita should taste like."
Still, a guy in a lab coat comes in handy. To that end, OTR hired Illinois-based food science consultant Dave Wengerhof to assist them with the chemistry of it all. Their aim is to make the drinks taste freshly made even after sitting on a shelf for a year. They test their wares against heat and cold. "It's not how it tastes when we make it," Milano says. "It's how it tastes when you drink it."
Late last year, they took some of their bottled cocktails to Portland's Clyde Common, base of renowned bartender Jeffrey Morgenthaler, and ordered the actual versions to see how they measured up. They were especially pleased with their Aviation, and along with Milano's Smoking Pepper, the drink was among OTR's two gold-medal winners this week.
Their 11-medal showing was not necessarily what they expected so early on. When the results were announced, "the room just erupted," Milano says. And they're just getting started.
For OTR, it seems, the sky really may be the limit.