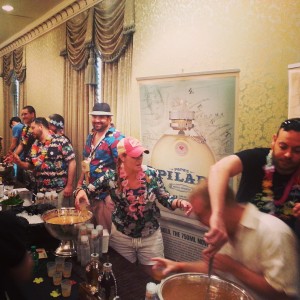 NEW ORLEANS — They came, they saw, they cocktailed. Never mind that it was 10:30 in the morning: That's how Tales of the Cocktail rolls.
Naturally, no state was better qualified to kick things off than Texas, which launched the annual spirits industry's opening salvo for the third straight year. The Texas Tiki Throwdown and its lively contingent of bar peeps representing Dallas, Houston, Austin and San Antonio had transformed the chandeliered conference room of New Orleans' stately Hotel Monteleone into a little tiki paradise, with thatched-roof huts, Hawaiian shirts and a makeshift parrot perched on the shoulder of Dallas ice master Mate Hartai.
It was the kind of atmosphere in which a woman with blue-green hair could tell you her name was Christa Monster and get away with it. The bartender from Houston's Bar Boheme had won a Bacardi-sponsored competition to earn the trip to Tales, and her clever, crowd-pleasing Lady of Lake Laguna did not disappoint – a frozen blend of aged rum, coconut, orange soda, blue curacao and a spiced-peach-and-Sriracha puree that alternately offered ice and heat. "It's like, not taking tiki too seriously," she said.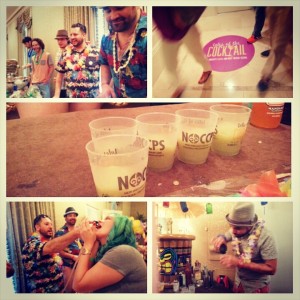 Dallas was well represented, with seven bartenders stationed behind three tables knocking out drinks in all manner of tropical style. Along with Hartai, there was Brian McCullough of The Standard Pour, Bonnie Wilson of Fork It Over restaurants, Knife's Charlie Moore and the soon-to-be crew of Michael Martensen's Proof + Pantry: Julian Pagan, Trina Nishimura and the two Joshes, Hendrix and MacEachern.
"There's too much to try this early in the morning," said conference attendee Teddy Bucher, though that didn't dissuade the Houston engineer, friends Laura Villafranca and Michelle Mata and the dozens of others mobbing the room from making a valiant effort.
Over in the Austin corner, David Alan, aka the Tipsy Texan, mined his own cocktail book for the Flor De Pina, a tequila concoction pairing tequila with St. Germain, while Houston's Ricardo Guzman of the bar Trinity planted "KISS" cocktails on anyone lucky enough to try the mix of Veev, cinnamon syrup, lemon and pineapple.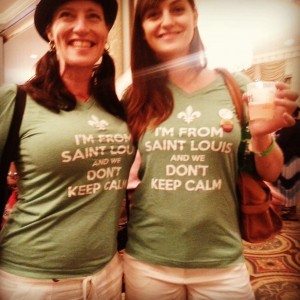 Houston Eaves of the always reliable Esquire Tavern was among those representing San Antonio, churning out an intriguing Tiki Tejano with tequila, carrot juice and crème de cacao, plus the pleasantly sweet Coyote's Den, made with aquavit, acai-based Veev, orgeat, grapefruit, lemon, simple and Peychaud's bitters.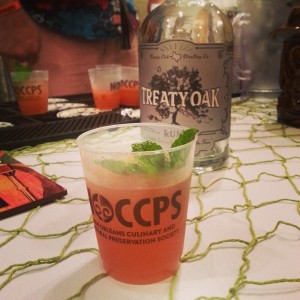 McCullough's standout cocktail, which he called simply The Western, gave Treaty Oak rum a little giddy-up with orgeat, yuzu juice, mint and Angostura bitters. One attendee, having made the rounds, walked up and proclaimed McCullough's drink the best. That prompted some friendly joshing of the Joshes, Hendrix and Maceachern, who were serving up their drinks from a punchbowl at the next table.
"You're gonna trust that palate?" countered Hendrix, whose Flashy Slang – a cherry-infused blend of Sailor Jerry spiced rum and citrus, would get support from another attendee, Dallas underground-dinner chef David Anthony Temple.
But it was all in fun anyway, a means to kick off the first of the festival's five days of workshops, tasting rooms, trainings, dinners, parties and general mayhem.
"I've been coming to this (festival) for years," said Houston's Villafranca, a high school counselor who got into craft cocktails when the pioneering bar Anvil opened near her home. "I went in there, and it was like – oh my god. I trust them completely."
Between the three friends, they'd been able to sample most of the four Texas cities' creations.
"Houston was great," Mata said. Then she whispered: "But I'm leaning toward Dallas."