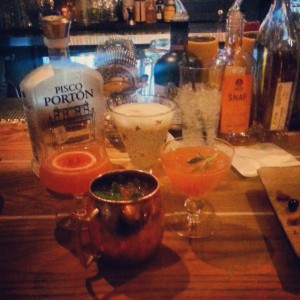 UPDATE, April 30: Barter has postponed its pisco dinner until late May. Stay tuned for updates.
Posted April 29: Hump Day is coming and the pantry is empty. What's a person to do? A pair of drink-paired dinners on the schedule might help you make your decision.
First up, in Lower Greenville, is the Libertine Bar's monthly beer dinner, which this month showcases the brews of Central Texas.  The five-course menu features items like Texas sturgeon and venison blood sausage, complemented by a beer lineup that includes Adelbert's Flying Monk (Austin) and Rogness Rook (Pflugerville). Price is $60 and the full menu is available here.
If Peruvian brandy is more your thing, Barter in Uptown is offering a three-course meal paired with cocktails featuring Pisco Porton, which thanks to a big marketing push seems to be everywhere these days.  For $30, you'll start with a welcome punch before noshing on drink-supplemented goodies like tuna crudo and banana-ginger empanadas.
Bar manager Rocco Milano knows the first thing — and probably the only thing — people think of when they hear pisco is a Pisco Sour and so he promises a Pisco-Sour-free drink lineup. "It's a fun spirit that has totally been pigeonholed," he says.
Reservations are required for both events.
LIBERTINE BAR, 2101 Greenville Ave., Dallas. 214-824-7900.
BARTER, 3232 McKinney Ave., Dallas. 214-969-6898.