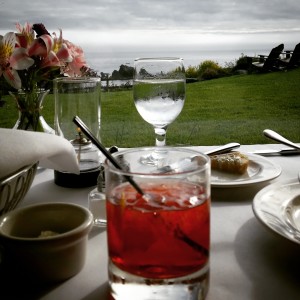 The Negroni is among the most perfect of cocktails, a happy triumvirate of gin, sweet vermouth and the Italian bitter liqueur Campari that appeals to the bittersweet lover in you. It works as a handy aperitif or a dependable go-to, and it's got some legs: The recipe dates back to at least the 1950s, though its rumored origins trace back to 1919, when the Italian Count Negroni asked for a variation on the Americano to be made with gin instead of club soda.
As consummate bar man Rocco Milano once said, "It's a drink that's greater than the sum of its parts, because they have an amplifying effect."
That they do. Master bartender Gary Regan calls the Negroni one of the world's finest drinks. "The balance is of primary importance in a Negroni," he writes in The Joy of Mixology. "Using equal parts of each ingredient is absolutely necessary to achieve perfection."
It's also a drink that oh so willingly lends itself to multiple variations. Sub mezcal for gin and you've got a smoky Negroni; use bourbon and you've got a Boulevardier. Fancy up your sweet vermouth with Carpano Antica for some extra zing. And so on. It's a versatile vehicle for your whims.
Which is all the more reason to celebrate the currently ongoing National Negroni Week, as proclaimed by Imbibe magazine. And it's for a good cause – participating bars are offering the classic drink at special prices this week, with the proceeds benefiting the charity or cause of their choice: At Dallas' Black Swan Saloon, it's the ALS Association's Texas chapter; at Henry's Majestic, it's Texas Scottish Rite Hospital for Children. Other participating bars include Proof + Pantry, Dish Preston Hollow, Twenty Seven, Victor Tango's, Nickel and Rye, Libertine Bar and HG Sply Co.
Get over there and try the Negroni or some variation therein. (At Henry's Majestic, cocktail guru Alex Fletcher cooked up a Campari infused with dried currant and golden raisin, for example.)  Personally, I recommend having one on the rocks with an orange twist and a dash of Pacific Ocean.
Salut!