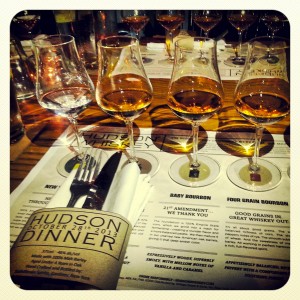 More than three years later, the memories linger. Five courses at one of the city's best restaurants, each paired with cocktails made by five of the city's best bartenders, and all featuring Maker's Mark whiskey.
The scene was Seattle's Spur Gastropub, and the chefs were rocking it as usual. (Example: sous vide pork belly with sunchokes and Bing cherries – whut whut?) The all-star bartender lineup cranked out an assembly line of original cocktails like the Pine Box, with its grilled-pineapple garnish. There was even some Maker's 46, which was about to hit the market in summer 2010. We were a happy bunch.
I moved to Dallas soon afterward, and since then I've been to barely a handful of spirit or cocktail-themed dinners, though not for lack of want. Last month some friends and I hit a Hudson Whiskey-themed dinner at Whiskey Cake in Plano. And as I do every time I go to one of these events, I wondered: Why doesn't this happen more often?
Wine and beer dinners have long been a thing, but bartenders like J.W. Tate – formerly of Tate's Dallas – at first faced resistance to the notion of making a one-stop night of cocktails and food. That's starting to change as DFW's cocktail culture comes of age – a welcome and logical step in the scene's continuing evolution.
Tate's offered two spirits-paired dinners before J.W. left Dallas earlier this year to head up a company venture in Winston-Salem, N.C., and places like Dallas' Libertine Bar and La Duni have experimented with the idea too. "People are trying it," says Libertine's Mate Hartai. "It's just going to take a while for the wheels to hit the ground."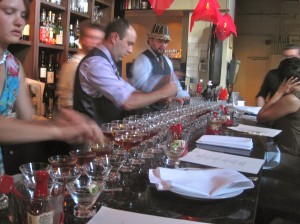 One reason for the slow going is that these dinners — which generally run from $35 to $100 — aren't easy to pull off. Cocktails are time-intensive and demand smaller groups; achieving drink consistency can be difficult when produced in a bunch. And the kind of patron who embraces the idea of a cocktail dinner isn't going to tolerate pre-batched drinks.
On the other hand, the ever-broadening assortment of quality spirits, cordials and apertifs give bartenders a grand palette to work from.
"It's rewarding when you do it right," Hartai says. "But it's much more difficult than people think."
***
The glasses are set, pretty orbs in a row, when a legion of Sazeracs appear in our midst. The classic cocktail is the evening's first volley at last month's Hudson-themed dinner at Whiskey Cake. The Plano restaurant's dinner showcased the Hudson line's various incarnations, from its New York Corn Whiskey, well paired with chef Brent Hammer's charred octopus; and Four Grain Bourbon, solidly supporting an extraordinary, In-N-Out-inspired dry-aged-sirloin burger; and more.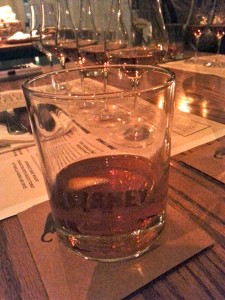 Sean Conner, Whiskey Cake's beverage director, tackles pairings the way he does cocktails, dissecting courses' flavor profiles to match. "Certain things go with blackberry or cinnamon or basil," he says. "It takes six weeks to plan out four or five different cocktails and make them really special."
Pairing cocktails with food offers some of the same challenges that went into creating, say, sweet-and-sour chicken, with its mix of sweet and savory. "You try to figure out how someone else solved that puzzle," says Libertine's Hartai. "To me, that's really fun. It takes a lot of out-of-the-box thinking."
Last year, when Tate's offered a cocktail-paired dinner with chef DAT (David Anthony Temple), "DAT sent over a menu, and I riffed on that," Tate says. "We talked a bit, and I threw out a cocktail menu, and we each made changes as it got closer…. It's a lot like making music, with two people jamming – you throw something out there and the other person runs with it, and five weeks later you've got something."
When Temple said he was doing garlic soup, Tate immediately thought of Campari and came up with a drink called the Italian Resistance. On its own, the drink's various elements struggled to mingle, but fared much better as a pairing. Similarly, a chanterelle-and-pink-peppercorn-infused vodka drink went nicely with Temple's speck and arugula salad but its savory character made it less pleasurable as a stand-alone cocktail.
The bar's whiskey-themed dinner in April was a treat, pairing peppery Buffalo Trace Single Oak Barrel whiskey, for instance, with corn soup with fried pig ear, parsley crème fraiche and house-made hot sauce.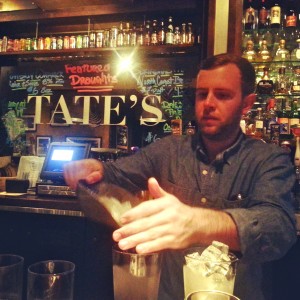 And last year, at Libertine's whiskey-and-beer-paired dinner featuring three Scotches and two hefty beers, Hartai wanted to echo the flavors of Lagavulin. "I sat down with the chef and said, `I need smoke, earth and some kind of heat.' He did a mushroom compote with this awesome smoked-pork thing and some vinegary thing for a kick. It took the whiskey apart into its larger flavor components."
More recently he did what he called an Italian dinner, but by dinner's end he had unveiled it more precisely as a vermouth-paired dinner. "The whole point was to change people's minds about vermouth," he says. "By the end, people were drinking straight glasses of vermouth and saying, `This is great!' Well, yeah, it is."
Hartai likes to save a palate-testing curve ball for the last course. "I want to jar people, give them a reason to talk," he says. "If you realize you're putting together an experience aimed at creating lasting memories and challenging palates, you can make an awesome dinner."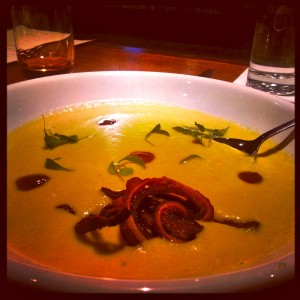 Looking for a cocktail or spirits-themed dinner? Contact these spots and see what's on the schedule, or follow them on Facebook.
WHISKEY CAKE KITCHEN AND BAR, 3601 Dallas Parkway, Plano. 972-993-2253. Offers quarterly alcohol-paired dinners.
LIBERTINE BAR, 2101 Greenville Ave., Dallas. 214-824-7900. Does dinners monthly, generally beer.
LA DUNI LATIN KITCHEN, four locations in Dallas/Fairview. Offers cocktail-paired, three-course dinners. Join the restaurant's "inner circle" at one of its locations or at www.laduni.com to advance notice of such events.
KOMALI, 4152 Cole Ave., Dallas. 214-252-0200. Offers occasional tequila- and mezcal-paired dinners.