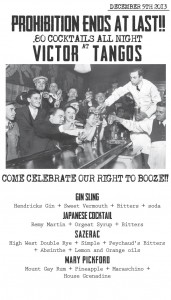 In many ways, Prohibition was the best thing to happen to U.S. drinking culture. The Dry Movement's successful forging of the Eighteenth Amendment in 1920 left imbibers with nowhere to drink legally except in foreign lands, which they did while visiting Europe, Cuba or the Caribbean. America's suddenly employment-challenged bartenders went where the work was, resettling in places like Paris or Havana where their cocktail knowledge was infused with the riches of local ingredients, concoctions and sensibilities.
They say that that which does not kill you makes you stronger, and except for a nasty batch of bathtub gin, that may be true. When Prohibition was repealed on Dec. 5, 1933, many of those newly enriched bar peeps returned with their worldly cocktail know-how (and a penchant for rum or Champagne), and those that stayed in the U.S. now had new tricks up their sleeves for enhancing inferior booze. Plus we got speakeasies.
Thursday marks the 80th anniversary of the 21st Amendment, which 86'd the 18th for good. For those of you inclined to celebrate, options abound, some of which might have you rubbing your eyes in disbelief.
First, there's Victor Tango's on Henderson, where classic cocktails like the Sazerac or Mary Pickford can be had from 5 pm and onward this evening for the Depression-Era price of just 80 cents apiece.  A fancy drank for less than the price of an iTunes song: crazy, no? Make sure you're sitting down, because here's some absolutely off-the-charts insanity: From 3 to 7 pm at Plano's Whiskey Cake, you can responsibly indulge in your choice of five classic cocktails — like the French 75 or the Moscow Mule — for just a nickel apiece. Yes, you may need to be pinched right about now.
Uncharacteristically, tonight's least lunatic Repeal Day gathering will be at Dallas' Windmill Lounge, where authors Jeffrey Yarbrough and Rita Cook will be signing their book, "Prohibition in Dallas and Fort Worth: Blind Tigers, Bootleggers and Bathtub Gin," all while presumably having cocktails.  That event runs from 5 to 7 p.m.
Additionally, a number of cocktail artists formerly of Smyth and Cedars Social will be behind the bar tonight at Bolsa from 9 p.m. onward.
So remember, while the repeal of the 18th Amendment might be to blame for Cinnabon-flavored vodka, it's also the reason you can publicly enjoy a decent Old Fashioned all year long, and that's one civics lesson worth remembering, at least for a night. As Alex Fletcher, Victor Tango's bar manager, put it: "We're celebrating our right to mix, stir, and shake up some serious libations."
Power to the people.
VICTOR TANGO'S, 3001 N. Henderson, Dallas. 214-252-8595.
WHISKEY CAKE, 3601 Dallas Parkway, Plano. 972-993-2253.
WINDMILL LOUNGE, 5320 Maple Avenue, Dallas. 214-443-7818.
BOLSA, 614 W. Davis, Dallas. 214-943-1883.