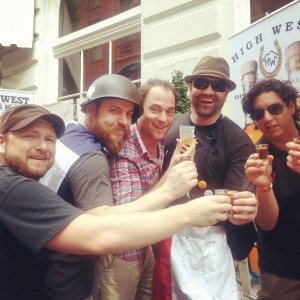 NEW ORLEANS — It's that time again – time to let the good times roll, time to learn about agricole, time to sip some Aperol. You know what I mean: It's time for Tales of the Cocktail 2014.
The nation's most ginormous industry event for bartenders, bar owners, spirits makers, liquor reps, enthusiasts and the wretched chroniclers of said shenanigans is upon us for its 12th year in that most perfect of cities, New Orleans.
Oh, New Orleans: You complete me. You are the primordial jambalaya from whose loins sprang the mighty Sazerac, the sultry Vieux Carre', the demanding Ramos Gin Fizz, the insufferable Hurricane.
We know her as NOLA, and she is among America's craft-cocktail matrons, with heralded institutions like Arnaud's French 75, Antoine's Hermes Bar and the Court of Two Sisters evidencing craft culture before its modern renaissance; it's not for nothing that the Museum of the American Cocktail is based here. That's not to say there aren't some great new cocktail bars in NOLA: Cure, Bellocq and Cane and Table have earned much national acclaim.
I'll hope to visit them if I can find the time. That's because this five-day festival can be grueling, chock full as it is with workshops, happy hours, competitions, spirit-paired dinners, tastings, Bloody-Mary breakfast stations, new product unveilings, cocktail tours, chance wee-hour reunions, huge parties and… even huger parties. A smorgasbord of delights, for sure; but also a test of one's resolve; there are opportunities to be missed if you aren't careful – including "whiskey dialogues," seminars about how to launch a spirits line or about the Chinese spirit baijiu, tips for bartenders charged with making drinks in front of TV cameras and advanced bartender trainings.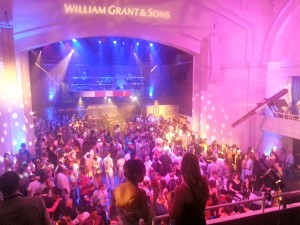 This is my third year at Tales and I'll be bringing you dispatches from the front lines where members of Texas' bartending community are representing the Lone Star State, many for the first time – including Alex Fletcher of Victor Tango's, Barter's Stephen Halpin, The Standard Pour's Christian Armando, Absolut Vodka rep Ashley Williams (formerly behind the bar at Boulevardier) and Sissy's Southern Kitchen's Chase Streitz, whose victory in a recent Jefferson Bourbon competition earned him the trip here (I was among the contest's judges). Most of the action will be going down at the veritable Hotel Monteleone on Royal Street, home to the revolving Carousel Bar.
The festival kicks off with Wednesday morning's Texas Tiki Throwdown, because obviously nobody knows how to throw a party like Texas, and the ensuing days will feature other Texas bar peeps along the way: Former Dallas luminary Jason Kosmas will wax proud about his popular new line of spirits; Bonnie Wilson – here with her flock of Fork It Over Restaurants staffers – will churn out cocktails for an Anchor Distilling Co. shindig; Austin's Chris Bostick will compete at Wednesday's Battle of the Sexes bartender competition. Also, because this is New Orleans, there will be beignets.
I asked a few TOTC veterans to offer tips for festival first-timers and for their can't-miss destinations while in New Orleans.
BRIAN McCULLOUGH, The Standard Pour – 6th time at Tales
SURVIVAL TIPS: One, eat when you see food. Two, drink when you see water. Three, sleep when you can. And four, you don't have to finish that.
MUST-DO'S: You'll do yourself a disservice if you don't go to Frenchman Street.  Café Le Monde, for sure. Port of Call for a cheeseburger. And the alligator cheesecake at Jackamo's – the tables are all uneven, but the food is absolutely astounding.
BONNIE WILSON, Fork It Over Restaurants (Whiskey Cake, Mexican Sugar, et al.) — 4th time at Tales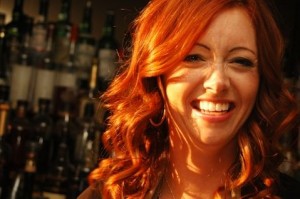 SURVIVAL TIPS: Everything in moderation. You can go down and have things be crazy, or you can go down and have it be a fun educational event. Be moderate about it. Do everything you want to do, but just control yourself.
MUST-DO'S: I always go to Mother's for the Ferdy's special. That's 100 percent a must. They do this stuff called debris. It's a ham and roast beef sandwich with basically the juices, the pan drippings, all the goodness, spices and fat and everything.
MATE HARTAI, The Cold Standard – 3rd time at Tales
SURVIVAL TIPS: Lots of (dehydration preventative) Pedialyte. And cardio.
MUST-DO'S: Get out of the French Quarter. Check out the architecture. I'm from Hungary, and this place reminds me of Europe. I've been to New York and San Francisco, all the supposed European cities, and this city makes me more homesick to be in than anywhere else.
BRAD BOWDEN, Barter – 3rd time at Tales
SURVIVAL TIP: Nothing good happens after 5 AM.
MUST-DO'S: Mad Hatter. I always try to stop in and get myself a hat. And the Erin Rose – I always go there and get one of those Bailey's drinks they have there. (Erin Rose is renowned for their frozen Irish Coffee.)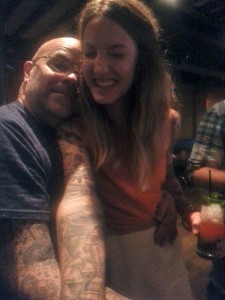 EMILY PERKINS, Remy Cointreau brand rep, Dallas – 2nd time at Tales
SURVIVAL TIPS: Just let it wash over you. But be responsible. And be careful; it's easy to forget that New Orleans can be a dangerous place.
MUST-DO'S: Domelise's, for the po-boy sandwich.
CHRIS FURTADO, Texas rep for Utah's High West Distillery
SURVIVAL TIPS:
* Hydrate, hydrate, hydrate.
• Take time to eat. Often.  When dashing from seminar to event to party, sometimes meals fall to the side.  You are doing yourself a disservice both physically and culturally.
• Don't book yourself solid; leave some time free.  A lot of cool stuff will come up that you didn't know about.
• Be ready for rain. It's New Orleans, it's the summer.  It's not a question of if but when.
MUST-DO'S:
* The U.S. Bartenders Guild toast at The Old Absinthe House – Thursday at midnight.  There's something cool about seeing the street packed with bartenders raising their glasses in the air and yelling cheers.
* Have a Lucky Dog. Get a slice of pizza also.  Skip the Hand Grenade (drink) though.
* The Alibi is a great late-night spot.  It's where local service industry peeps go to unwind.