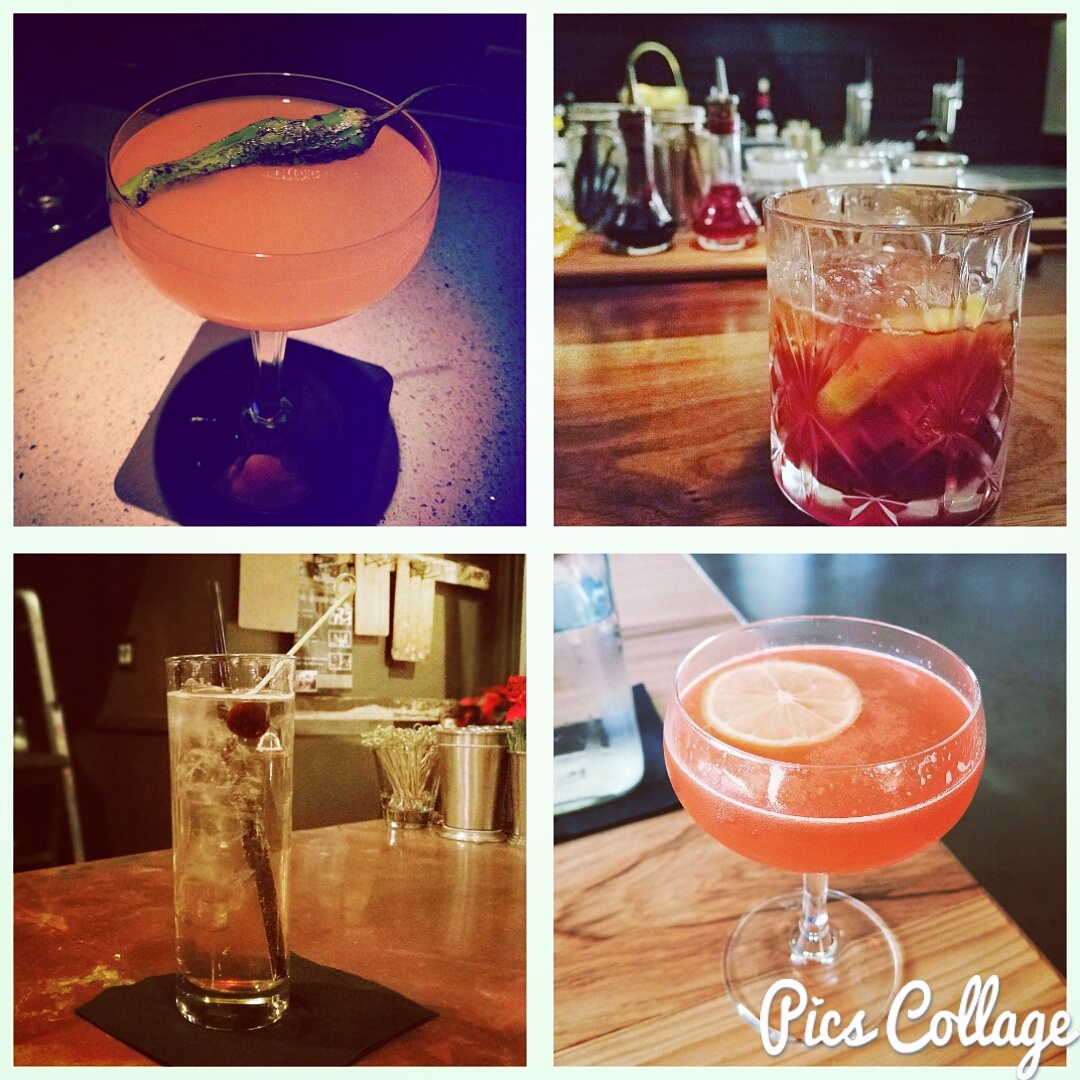 The demands of the local craft-cocktail scene are too much for one country to handle, and the luckier we all are for that: 2016 was the year that Mexico, Spain and Italy came to the rescue. You could almost sense the year's cocktail vibes being garnished with a neat little Luxardo cherry as north Oak Cliff's Jettison opened in October, capping a year in which mezcal tilted even more mainstream, bitter liqueurs took center stage and sherry quietly earned a place at the table.
All three claimed territory on cocktail menus as bartenders became not only more versatile with each but confident that their patrons would drink them, too. Sherry popped up in drinks from heavyweights Knox-Henderson's Victor Tangos, Abacus and Atwater Alley to newcomers like Oak Lawn's Sprezza, Uptown's Next Door and Flora Street Café, in the Arts District. Nowhere, though, was the Spanish fortified wine wielded more freely than in the dark confines of Jettison, where George Kaiho's cocktail list spotlights sherry and mezcal – and occasionally coffee, as in his wonderful Good Morning Jerez. Spirits writer Warren Bobrow, who blogs at The Cocktail Whisperer, predicts sherry cocktails will be a national trend in 2017 – so way to go, DFW. You're ahead of the game.
That wasn't all 2016 had in store: Cachaca, the national spirit of Brazil, had a starring role in at least half a dozen spring menu highlights around town; banana, typically maligned and eschewed as a flavor in cocktails, enjoyed a solid summer run (as in the Magilla Gorilla at Deep Ellum's Brick and Bones, made with banana-infused rye); and cognac, typically relegated to Sidecar status, tried on some new outfits  – as in Andrew Stofko's tasty Cobra Kai at Victor Tangos, which put cognac front and center backed by sherry(!), dry vermouth, fuji apple syrup and bitter amaro.
Some of the year's strongest overall drink lineups lay in typical strongholds like Midnight Rambler, Parliament and The People's Last Stand, but the bar team at Knox-Henderson's Abacus quietly made noise while The Cedars Social, the landmark lounge just south of downtown, showed solid signs of returning to top-tier status.
Among the year's highlights: At Henry's Majestic, Alex Fletcher's Salt Lake Suburb – rye, apple shrub and soda – was a feat of simplicity; at Italian restaurant Sprezza, Daniel Zapata's Aperrat Sour mined Aperol's citrus-floral radiance. At Sissy's Southern Kitchen, former lead barman Michael Reith smashed a home run with his strawberries-and-bourbon Louisville Slugger; and at Deep Ellum's Armoury D.E., Chad Yarbrough's Bow Street Bouncer elegantly echoed a classic Boulevardier with Irish whiskey, Lillet Blanc, aperitif wine and bitter Suze.
My tastes are my own, of course. I love the juniper of gin and the smoke of mezcal, the warm comfort of whiskey and the bittersweet beauty of Italian amaros; I'm drawn to flavor combinations that lure me down rabbit holes I haven't been before and favor any drink offering a mouthful of an experience, where every ingredient, down to the garnish, is discernible or enhancing in some way.
Here were my favorite 15 craft cocktails of 2015.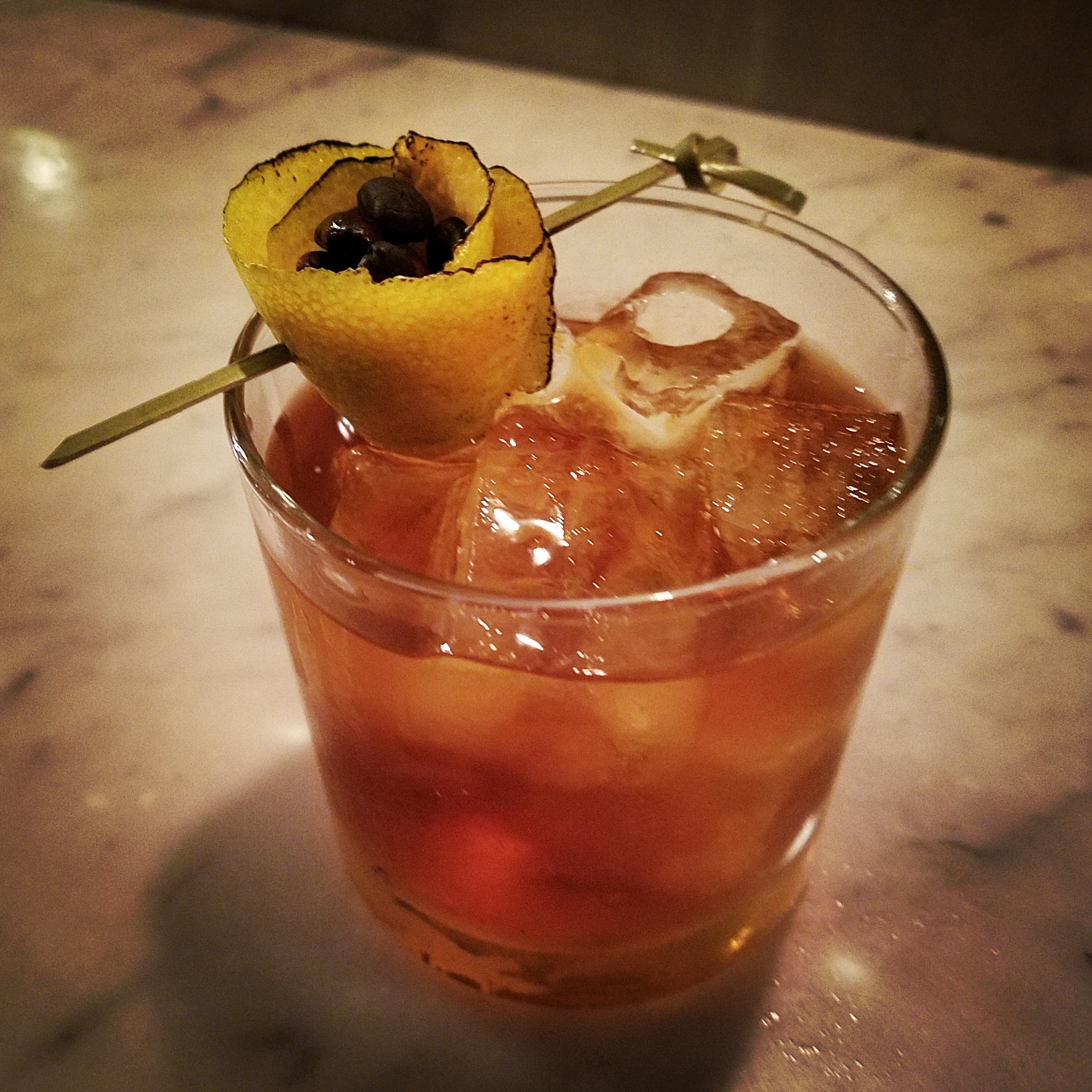 15. TEN MINUTES TILL MIDNIGHT (Mike Sturdivant, The Cedars Social)
Sheep's Dip Scotch, Cynar, vanilla syrup, Suze, burnt coffee bean
This is dessert in a glass for people who love Old Fashioneds. As a craft bartender, one is practically required to go through a Cynar phase, and as Sturdivant, Cedars Social's bar manager, went through his, he knew how well the Italian bitter played with coffee. Challenged by a European guest's veteran palate, Sturdivant devised this drink late one evening; you can guess the time. He mixed bitter Cynar with vanilla syrup, Suze and bourbon-y Sheep's Dip Scotch, garnishing it with a rolled lemon peel filled with burnt coffee beans that sit right up in your nose as you sip. The result evokes chocolate cake with a slight bitter finish and almost clings to your tongue, the beans guiding your senses. "The chocolate versus bitter versus strong Old-Fashioned-style drink kind of goes in and out as you smell the coffee," Sturdivant says. "I like drinks that change flavors as they sit."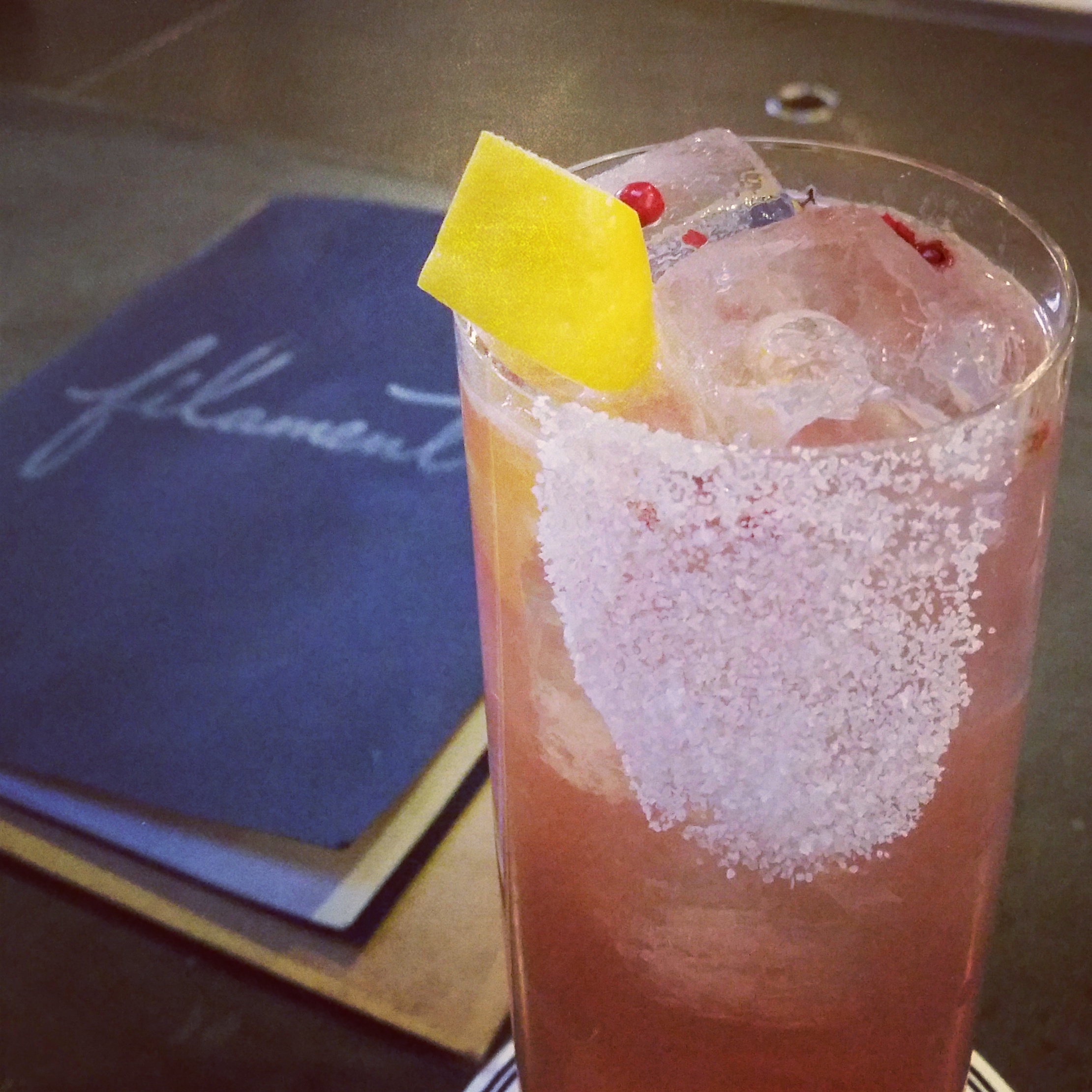 14. PUSH IT (Seth Brammer, Filament)
Gin, Cocchi Rosa, lemon, pink peppercorn, sea salt
As I wrote in March, Cocchi Rosa, the lush and rosy vermouth variation from the fine folks at Cocchi, is one of the best things you'll ever put in your mouth. Flowery and fruity with the slightest hint of bitter, it's a sensational sipper on its own, but beverage manager Brammer's creation subtly backed it with gin's botanical notes and a splash of lemon to round it out. Served in a Collins glass with floating peppercorns and a rim of fine sea salt, it was playful and beautiful to look at – but those little pink globules were more than decorative, adding a floral pop of their own. If Tom Collins and sangria had a little garden rendezvous, this would be the result.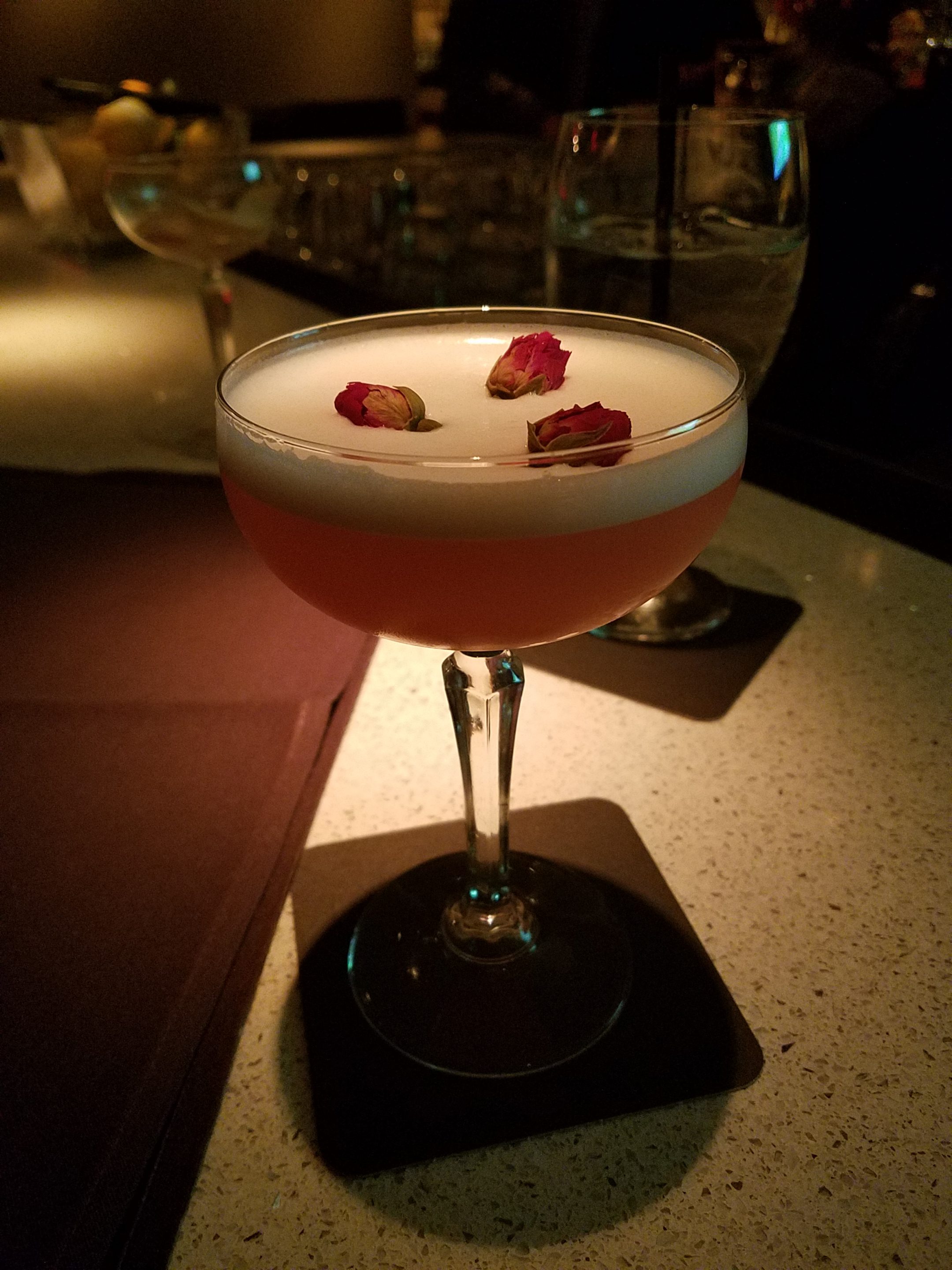 13. SCARLET GAEL (Jordan Gantenbein, Abacus)
Ardbeg 10-year Scotch, hibiscus tea syrup, honey, lime, vanilla tincture, egg white
The constantly evolving menu at Abacus featured a number of hits from Gantenbein, from Smoke On The Water, his shishito-infused tequila gem, to the whimsical Apple Of My Eye (featuring gelatinized apple pucker) and beautifully seasonal Rosemary Wreath. The Scarlet Gael emerged as my favorite, a drink he initially made for a Scotch-paired dinner and then put on the menu. Smoky and light with a soft citrus finish, it's a marriage of Ardbeg's peatiness and the soft sweetness of honey, hibiscus and vanilla, a trio of tiny rosebuds atop the froth.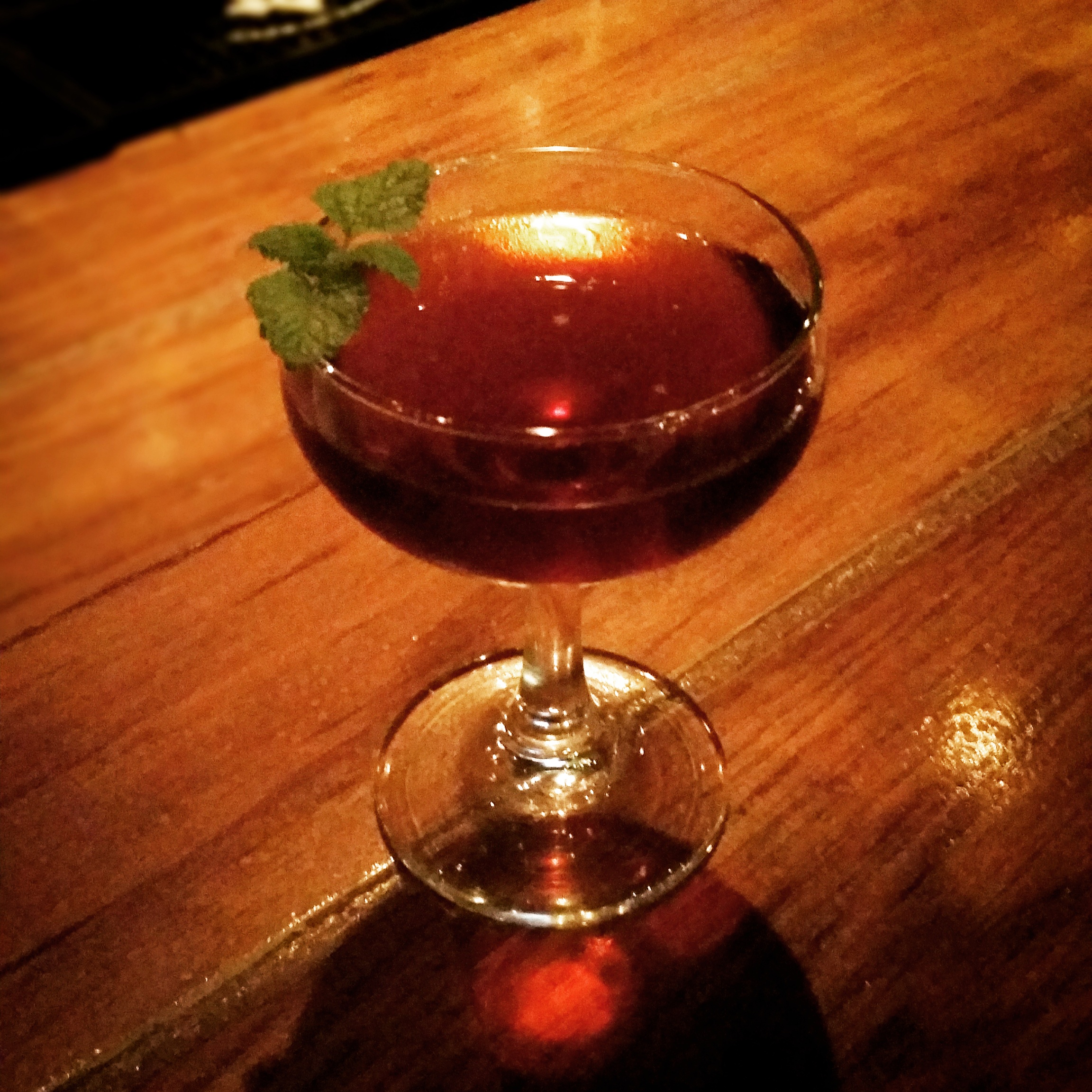 12. RIO JULEP (Spencer Shelton, Bolsa)
Aged cachaca, Cynar, grapefruit bitters, salt dash
A sudden influx of Avua cachaca graced Dallas early in the year, and no one embraced the Brazilian sugar-cane spirit more enthusiastically than Bolsa's Shelton. Inspired by local bartender Daniel Guillen's Cynar Julep and notions of Southern monkey bread, he crafted a Boulevardier riff subbing Amburana, Avua's aged cachaca, for bourbon; Cynar for Campari; and grapefruit bitters and mint for sweet vermouth, to accent the herbaceousness. His creation earned him a nod in Saveur magazine. As I noted in April, Shelton wanted to show how bready, nutty Amburana could shine despite its seemingly delicate character. "The first time I tasted this, I thought it would get lost in a cocktail," he says. "But no – it has this really interesting way of sitting on top and being predominant."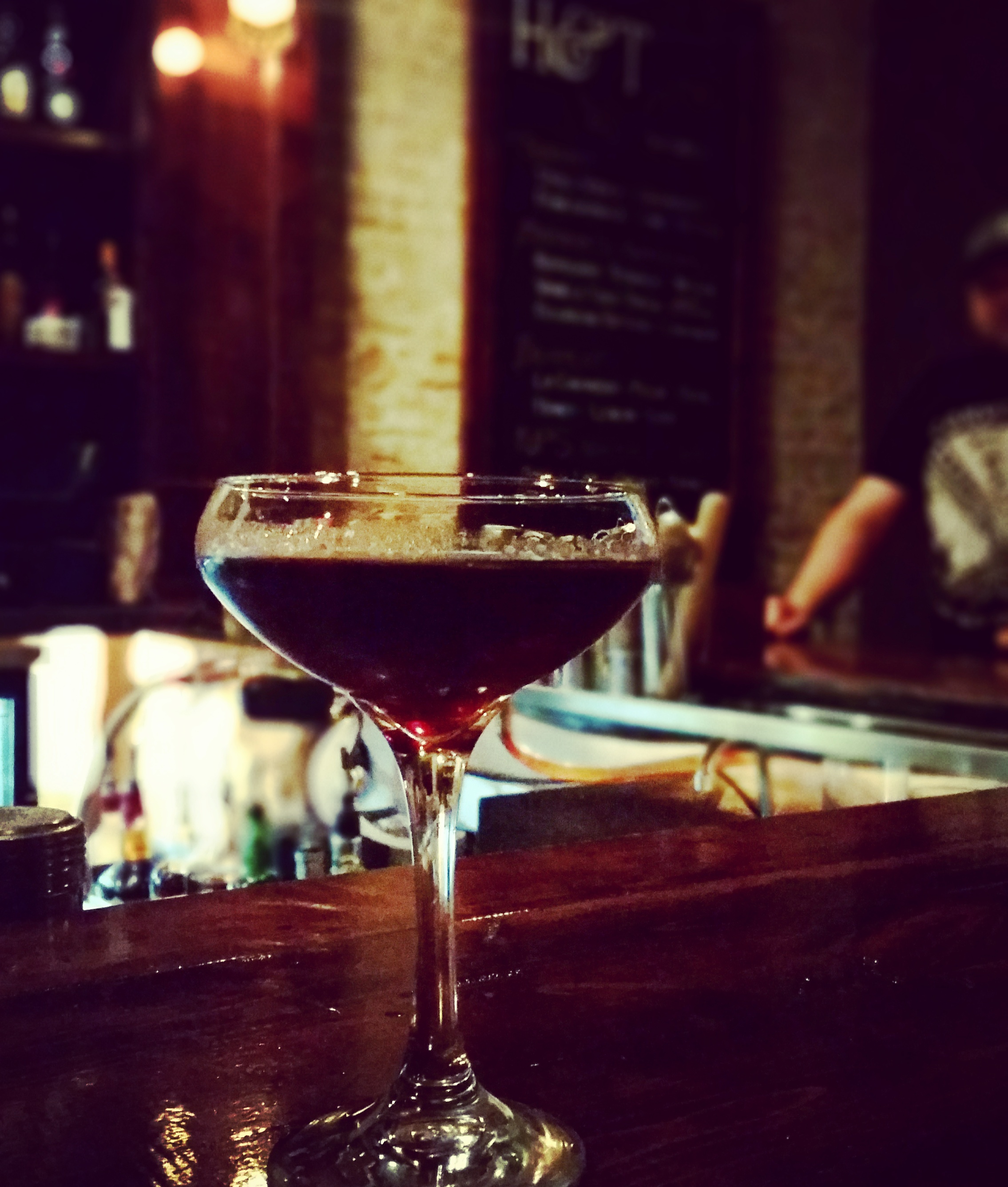 11. MAYAHUEL'S AWAKENING (Austin Gurley, High and Tight)
Tequila, mezcal, cold-brew vanilla coffee, brown sugar, cinnamon
Fans of Mexican café de olla know the belly-warming sweetness that comes with every sip. This was not that drink – but as I wrote in May, it could have been its boozy cousin. "It pretty much came from my love for Mexican coffees," says Gurley, who blended concentrated Madagascar cold-brew vanilla coffee with fruity reposado tequila, smoky mezcal and rich brown-sugar simple syrup, completing the salute to its stovetop Mexican relative with a dash of Fee Brothers' Bourbon Barrel bitters, with its notes of cinnamon and vanilla. Served in a coupe half-rimmed with cinnamon-vanilla sugar, it was a perfect nightcap of comforting café de olla flavor and agave-spirit brawn, whose name (say it "ma-ya-WELL)" recalls the Aztec goddess of fertility and agave, from which mezcal and tequila are born.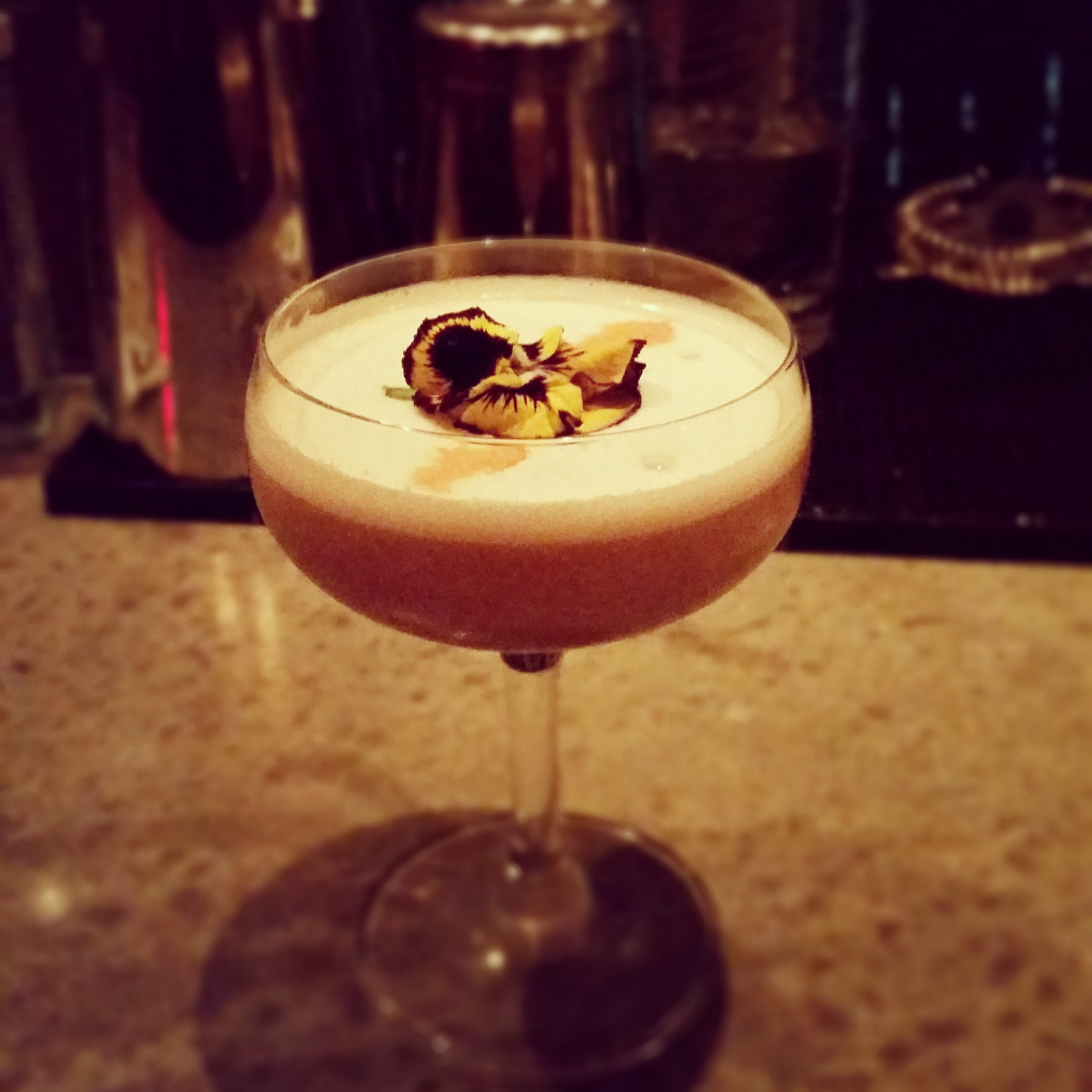 10. SAVE THE DATE (Ashley Williams, Boulevardier)
Aged cachaca, tamarind concentrate, amaro, egg white, lemon, Angostura bitters
As cachaca danced its way through Dallas last spring, it was Avua's aged Amburana that shone brightest with its full-bodied cinnamon grape-y-ness. Williams, now at Filament, mixed the nutty, bready spirit with savory tamarind concentrate, bittersweet Meletti amaro, egg white, lemon and Angostura bitters for a wonderfully balanced variation on a Pisco Sour. The cachaca refused to be buried, dominating the finish with a hint of bitter Meletti. Lavishly presented with a radiant and aromatic flower resting atop the foam amid swirls of Angostura, it was one I could have enjoyed all night.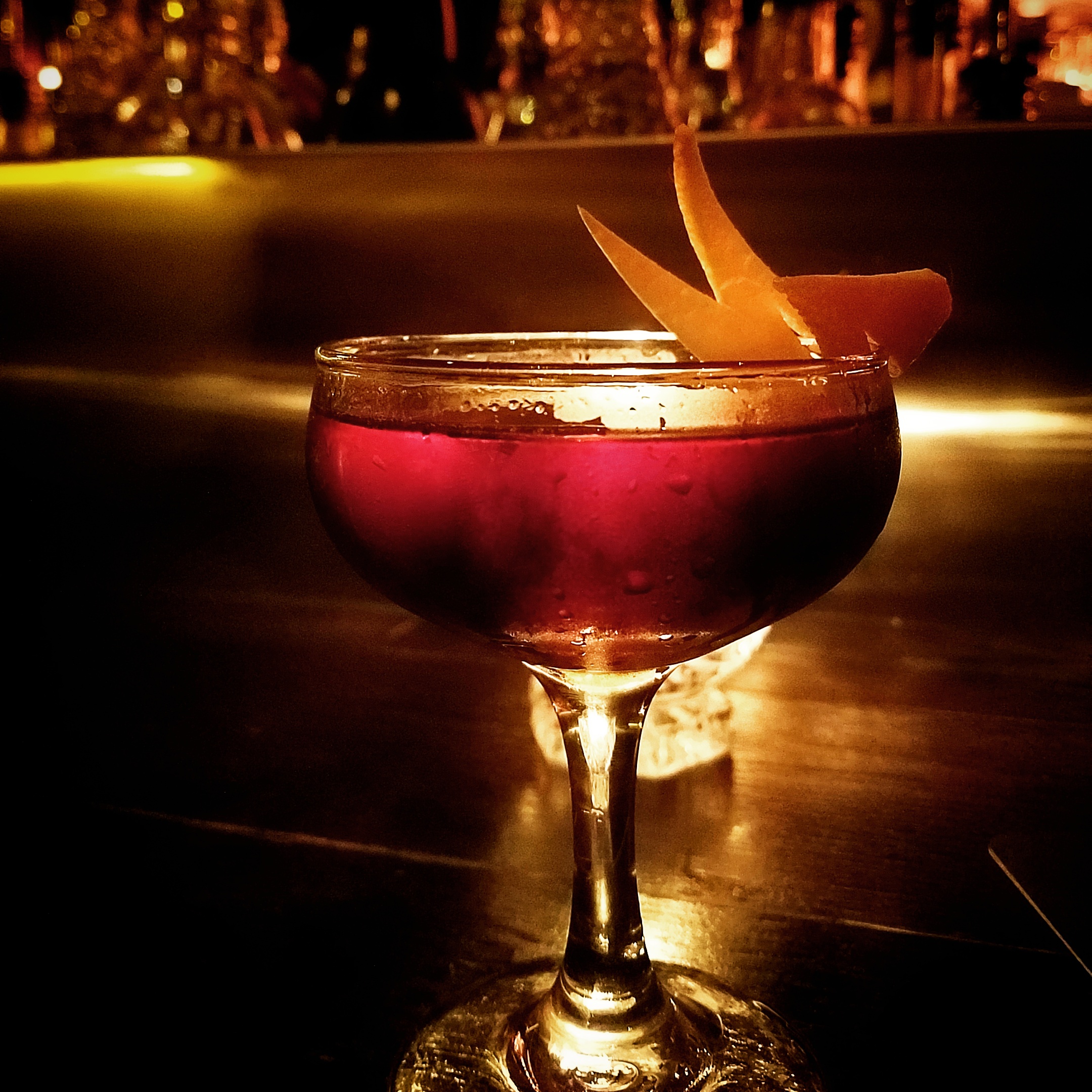 9. NOTATORONTO (Jesse Powell, Parliament)
Rye, banana liqueur, Fernet Vallet
Powell, a crowd favorite at busy Parliament, is used to pouring shots of whiskey or bitter Fernet for visiting bartenders, but as he briefly obsessed over Giffard's lovely Banane du Bresil liqueur, he decided to try something different. "I thought – what do I like to drink, cocktail-wise, with Fernet?" he says, and the answer was a Toronto, a mix of Canadian whiskey, Fernet, simple syrup and bitters. Eventually he came up with this blend of Tennessee's Dickel rye, Banane du Bresil and Mexican Fernet. Perfectly calibrated to meld whiskey power with banana sweet, it's like a Toronto – but not.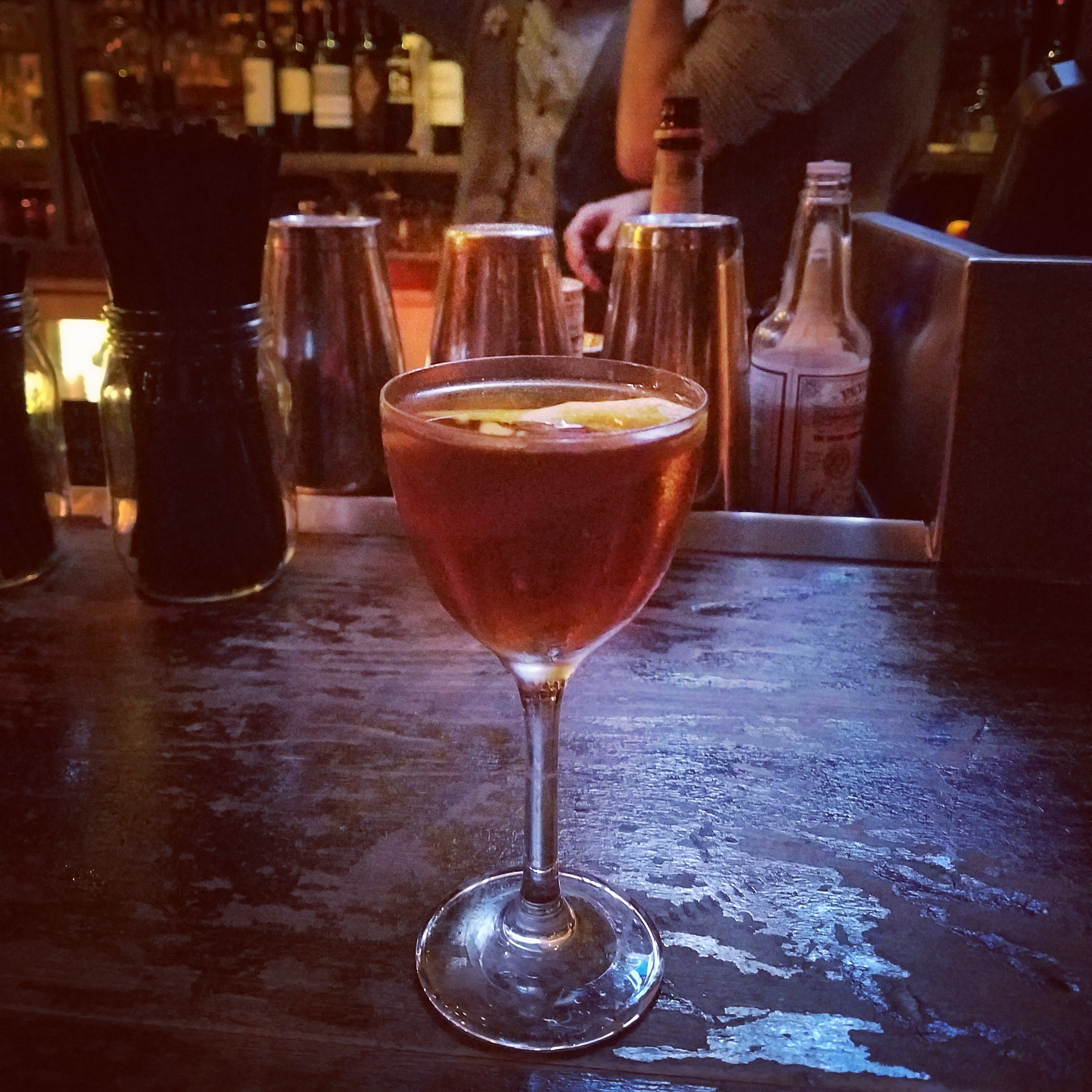 8. COGNAC BIJOU (Austin Millspaugh, The Standard Pour)
Cognac, sweet vermouth, Green Chartreuse, root beer bitters, black truffle salt
Millspaugh is a cocktail explorer's bartender, thoughtful and learned with something new always up his sleeve to drop on bold palates. Some of his finest 2016 creations were ultimately too adventurous to make it onto menus in original form, while others – like the one incorporating cuttlefish ink – were just too exotic for their own good. But when Millspaugh hits, it's a thing of beauty – as in his Cure What Ails Ya, a cross between a classic Penicillin and a sangrita, on Standard Pour's current menu. My favorite of his creations was this play on the classic Bijou, which subbed Cognac for gin and rounded it out with a well-conceived touch of earthy sarsaparilla flavor.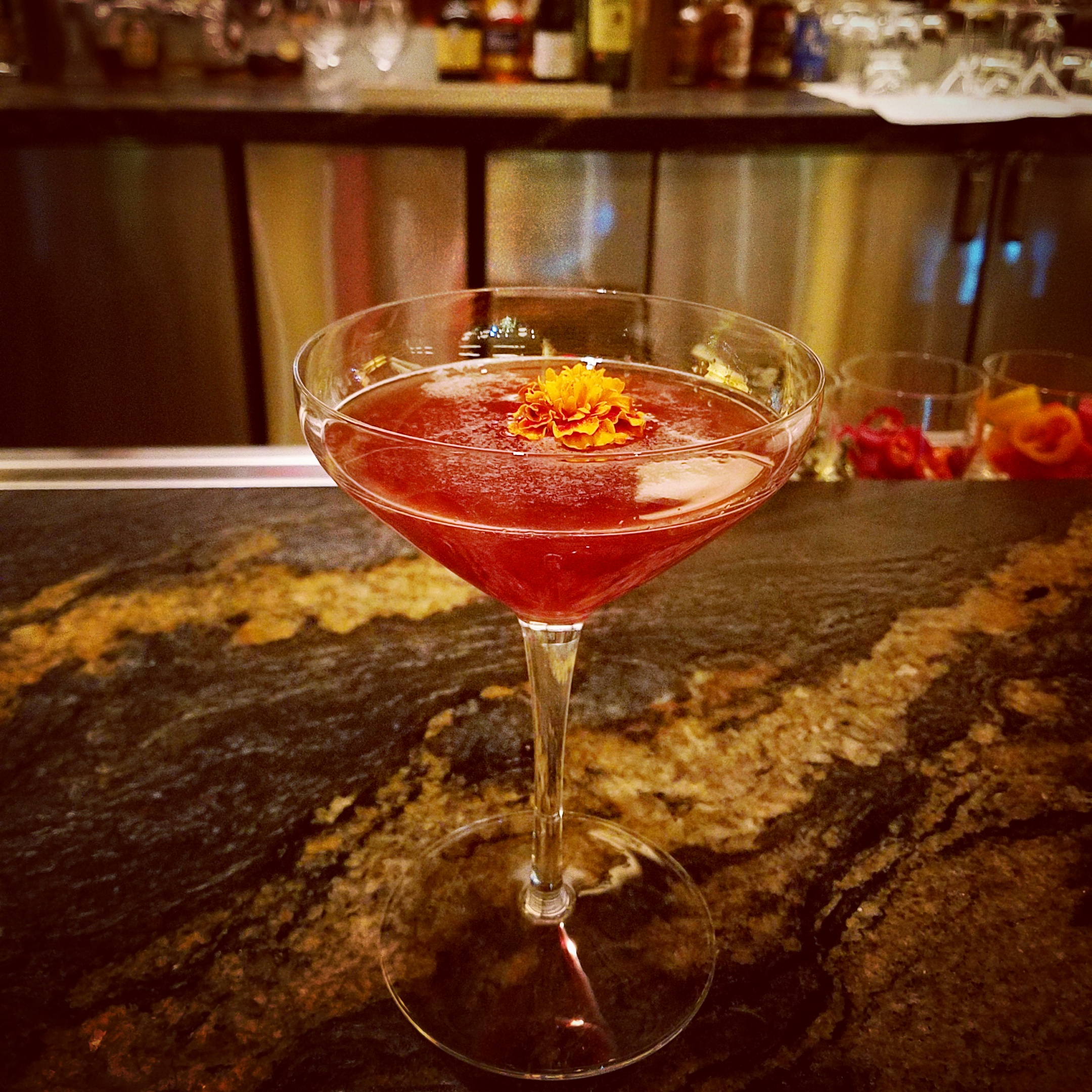 7. MADAME HUMMINGBIRD (Lauren Festa, Flora Street Café)
Vodka, Hum, honey-piquillo syrup
Way back when Rocco Milano helmed the bar at Private/Social, may it rest in peace, he introduced me to Hum, a remarkably profuse hibiscus cordial offering notes of cardamom, clove, ginger and kaffir lime. A love affair was born; I couldn't get enough of the stuff, and though the fling finally ran its course, it's always good to see an old flame. That's how the crafty Festa, at Stephen Pyles' new downtown restaurant, lured me in; her flower-garnished cocktail lets sturdy Absolut Elyx act as handler, reining in Hum's exuberance, but the real dash of brilliance is the chili syrup, which adds a welcome jolt of heat. "Hum and heat go well together," Festa says. "It brings out the spices." Or as my buddy Tim said after trying it: "You don't even remember what it is that you're experiencing. All you know is that there's a perfect storm."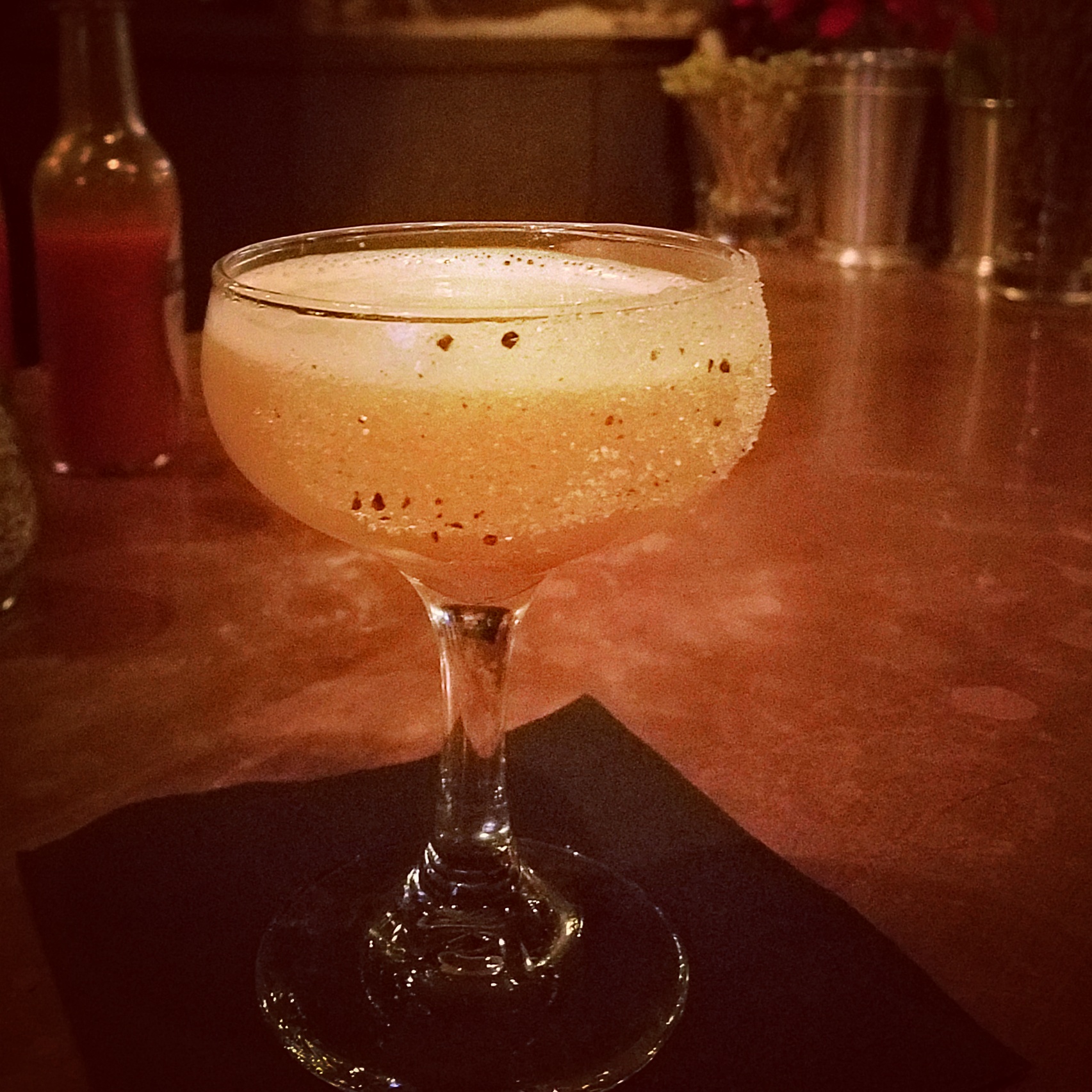 6. SOUTHPAW STREETCAR (Alex Fletcher, Henry's Majestic)
Cognac, persimmon shrub, citrus, clove dust
What do you do when your chef hauls in 80 pounds' worth of foraged persimmons? Well, if you're Alex Fletcher, you think on it a bit, make a shrub and craft my favorite Sidecar variation ever. Fletcher's Southpaw Streetcar lets you roll along in tangy persimmon sweetness when suddenly, BAM! A burst of clove hits your tongue to bathe you in winter-fire goodness. Sugar-plum visions dance in your head; in the distance, you hear the jingling of sleigh bells and the sound of muffled hoofbeats in snow – and wait, is that Nana calling? Are the tamales steamed and ready? Oh wait – that's just Fletcher, asking if everything's OK and why your eyes have been closed for the last 10 minutes.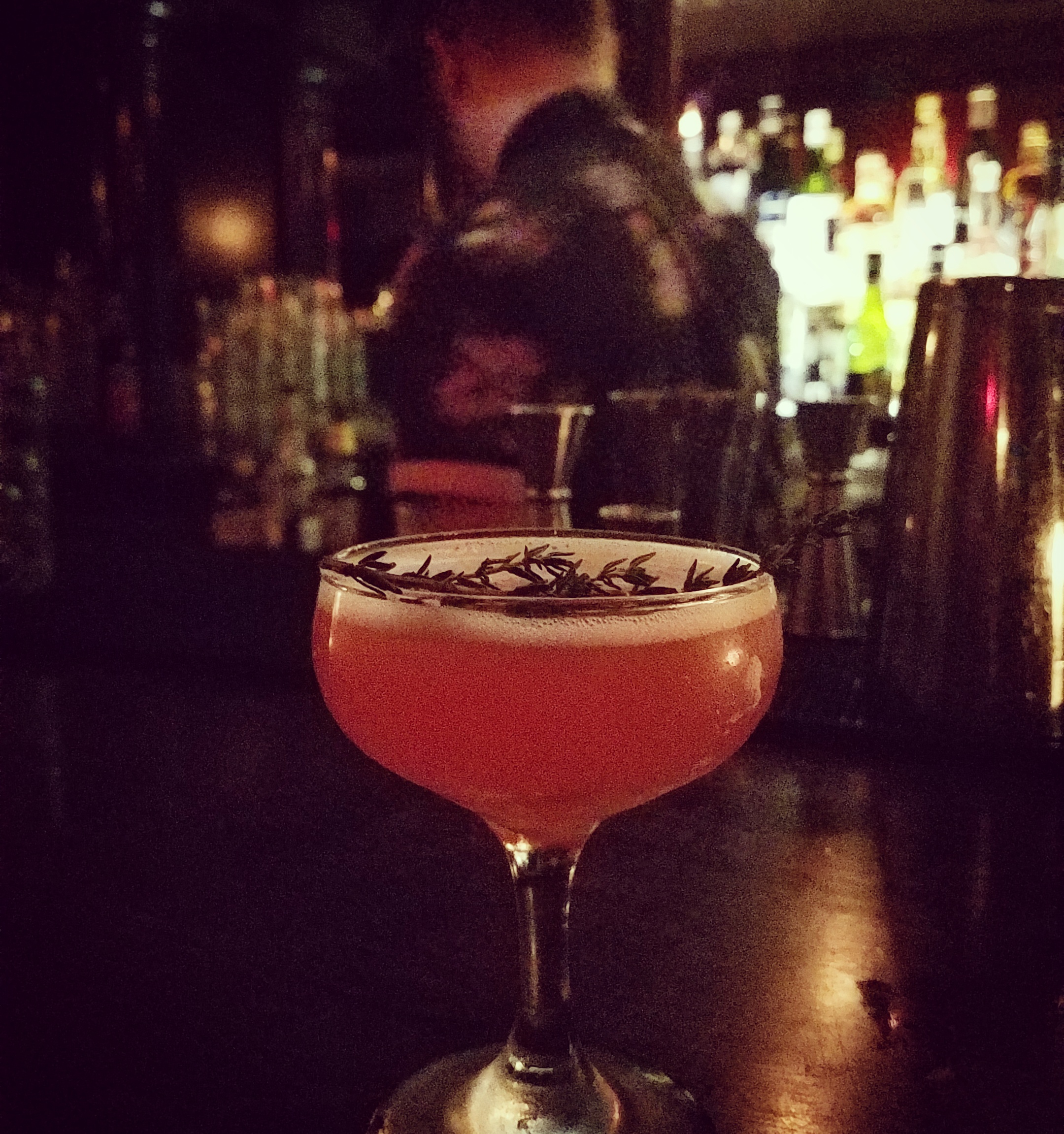 5. AGAVE TEMPTRESS (Ricky Cleva, Atwater Alley)
Mezcal, cognac, cinnamon, lemon, strawberry, Campari, thyme
Cleva was on fire in 2016; his Montenegro-fronted Before The Devil Knows You're Dead and Japanese-Scotch-based Drunken Angel could easily have made this list. His Agave Temptress was my favorite of all; as winter headed into spring, he'd already been making wintery cognac and spring-evocative mezcal cocktails each featuring cinnamon and lemon, and he figured, why not combine the two spirits? As he quickly found out, it's because they don't easily play well together, but as he toyed with adding other ingredients he gradually hit upon a perfect mix, adding muddled strawberry for sweetness and a bit of bitter Campari to dry it out. The result? Tamed smoke and bitter, anchored by caramel-apple cognac; a sprig of slapped thyme atop the drink added a defining touch of spring fragrance.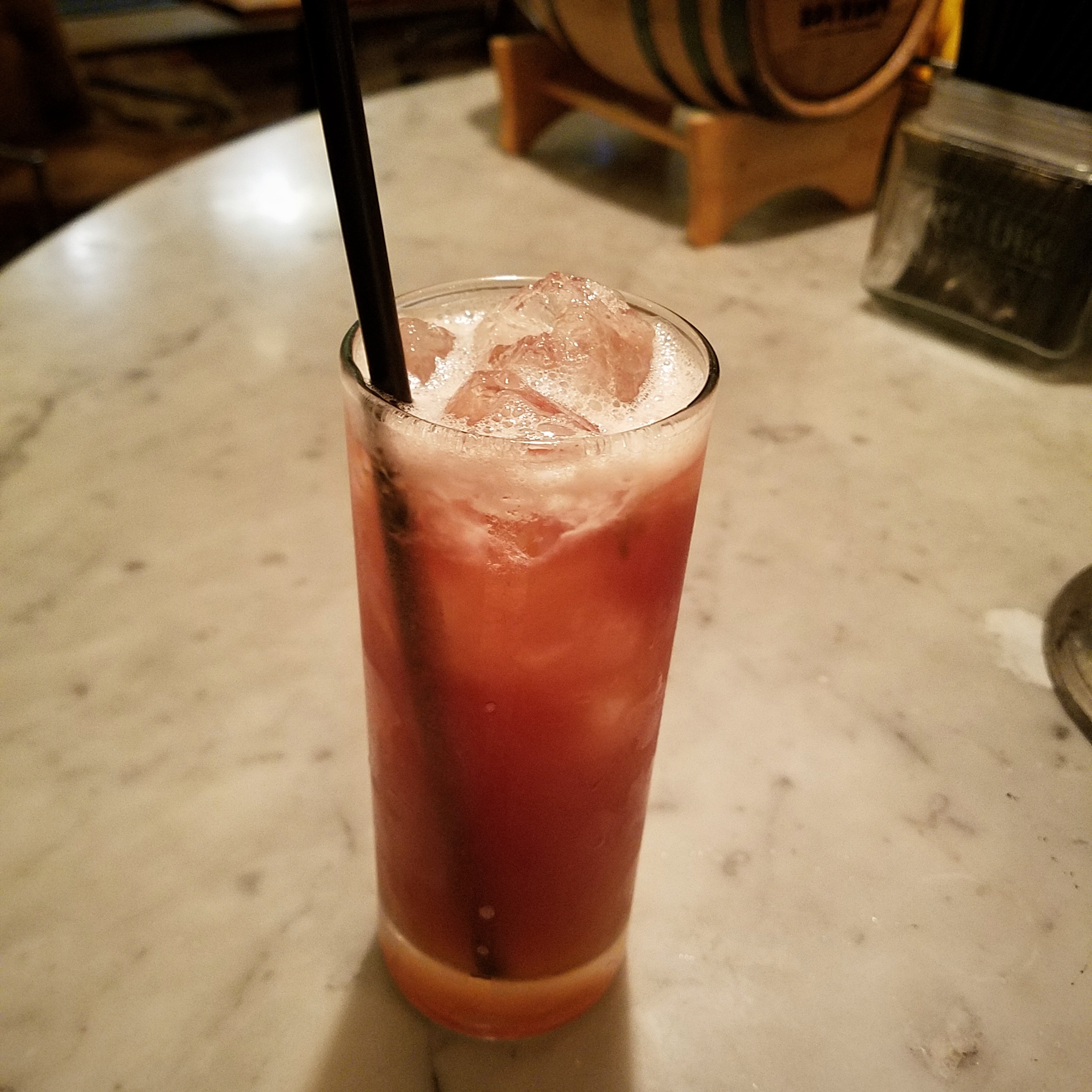 4. GRAPES THREE WAYS (Annika Loureiro, The Cedars Social)
Pisco, genever, grilled-grape syrup, lemon, port
Put a crafty bartender and a talented pastry chef together and you've got magic. (See Rocco Milano and Matt Medling, Private/Social, c. 2011.) Last summer, pastry chef Loureiro, in whose dream world the dessert and cocktail stations would exist side by side, had already paired grape-y Pisco Porton with malty Bols genever when, inspired by bar manager Mike Sturdivant, she amped up the grape with a patio-ready spritzer in mind. First she reflected the distilled grape by grilling fresh Concords and making a syrup – then, after adding some lemon to accentuate the sweetness topped it off with raisin-y tawny port. "We wanted those tannins in there, so you really got the full flavor of grape," she says. The drink is a wave of tangy, smoky grape, a hefty sangria with the hue of strawberry tea; if grapes you like, this is your drink.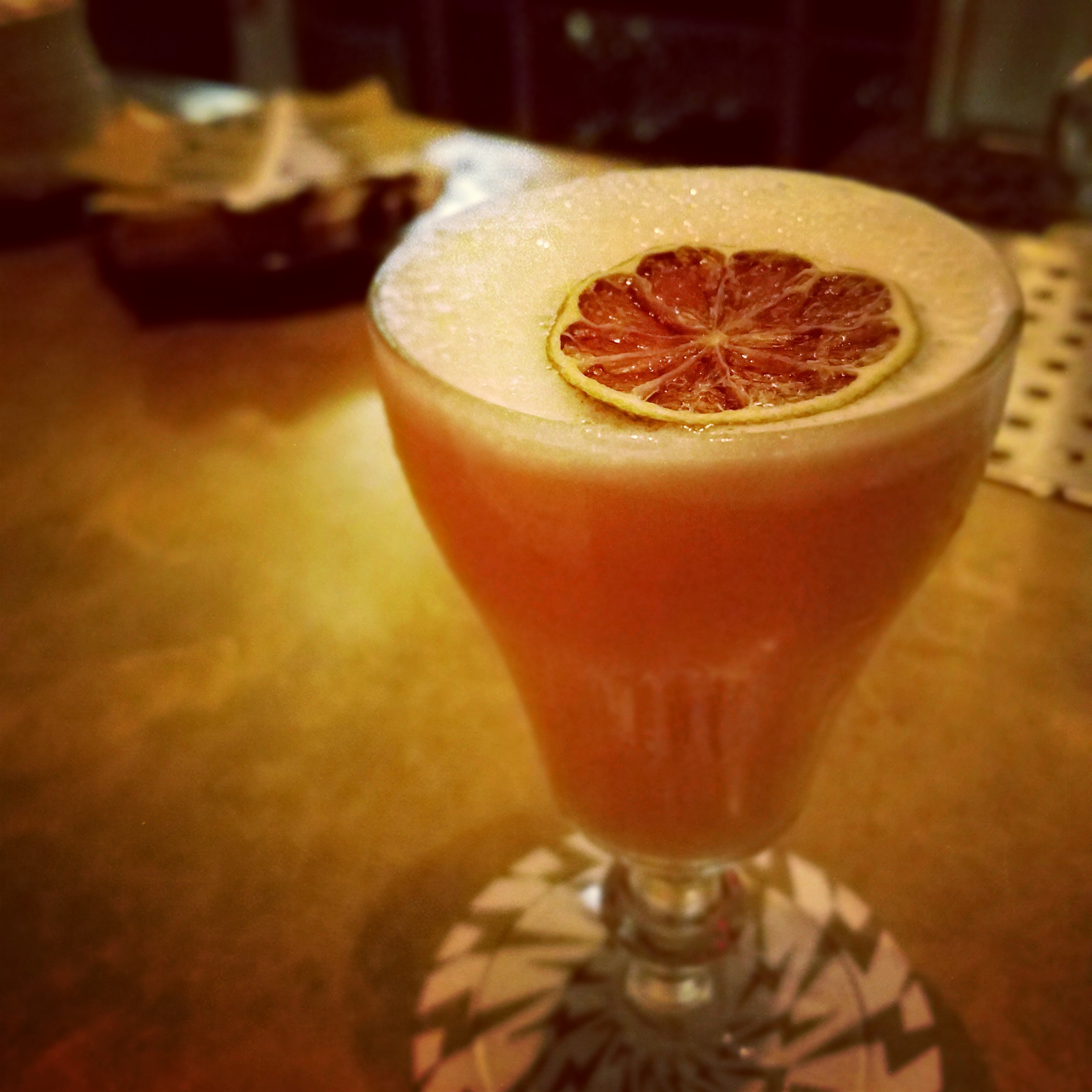 3. TIGER STYLE (Chad Solomon, Midnight Rambler)
Batavia Arrack, calamansi, palm sugar, pippali, egg white, cassia aromatics
Chad Solomon's seasonal drink menus are thoughtfully thematic and often exotic, and he was on fire this year; his Coconut Cooler, a gin-and-sherry blend sweetened with Southeast Asian pandan, was a spring highlight and offered a small preview of what was to come – a powerhouse summer menu of "gritty tiki" drinks reflecting Asian, African and South American influences. The Filipino-Indonesian-accented Tiger Style was my favorite, a seemingly light mix of Batavia Arrack (an Asian-style rum), passionfruit-y calamansi, palm sugar and Indonesian pippali that nonetheless packed a punch. A spritz of Indonesian cassia aromatics atop a dehydrated lime pulled you into the drink's creamy orange-spice lushness, countered by the peppery pippali tincture's gradual trail of heat. "The more you drink it, the more your lips tingle," Solomon said, quite accurately. "It takes you into the exotic, and intentionally so."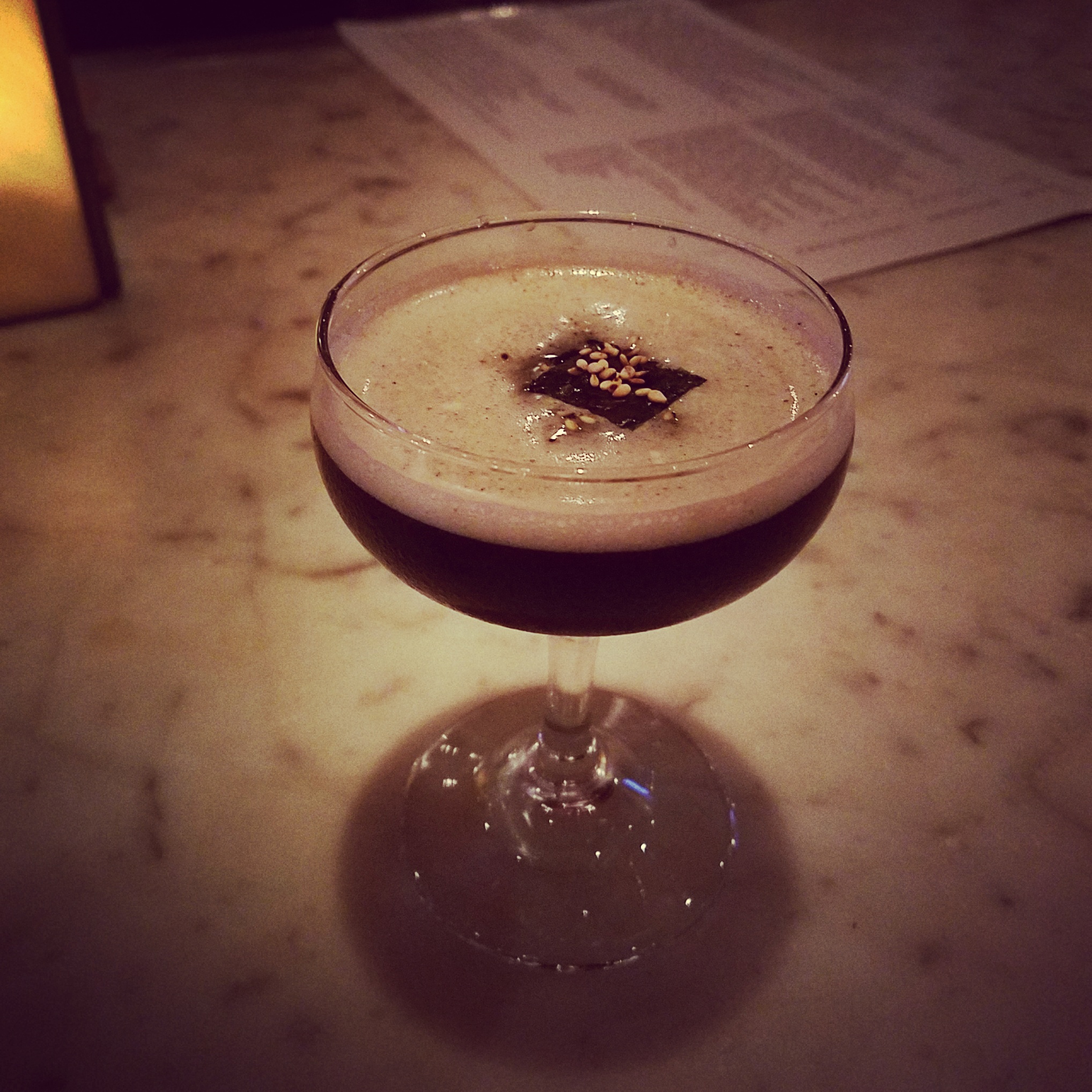 2. SEPPUKU REALE (Andrew Stofko, Victor Tangos)
Amaro Montenegro, Gran Classico, furikake syrup, lemon, nori, furikake
Amaro Montenegro may be my favorite of the Italian bitter liqueurs; it leans toward sweet and herbal with the bitter only evident in tow. Stofko won a local Montenegro contest with this bold cocktail, crafting an unexpected taste detour to create one of the more interesting drinks I've ever enjoyed. Aiming to subdue Montenegro's sweetness with an umami-ness he knew he'd like, Stofko crafted a syrup from furikake, a Japanese spice mix of sesame seed, seaweed (nori), sea salt and bonito flakes; upped the bitter component with Gran Classico; then added some lemon to round it out. The citrus, however, made the drink unpleasantly dark, so Stofko went all-in and added a bit of squid ink to turn it Guinness-black. The garnish was his piece-de-resistance – a sprinkling of roasted sesame seeds on a skiff of seaweed, floating atop the sea of dark; bring it to your nose and the aroma portended savory Japanese. "It just wakes up your palate," Stofko says. Instead, you got something completely different: A bewitching bittersweet taste tempered with savory nuttiness. "That's umami in a glass," Stofko says. "I'm just glad (former GM) Matt (Ragan) let me put it on the menu."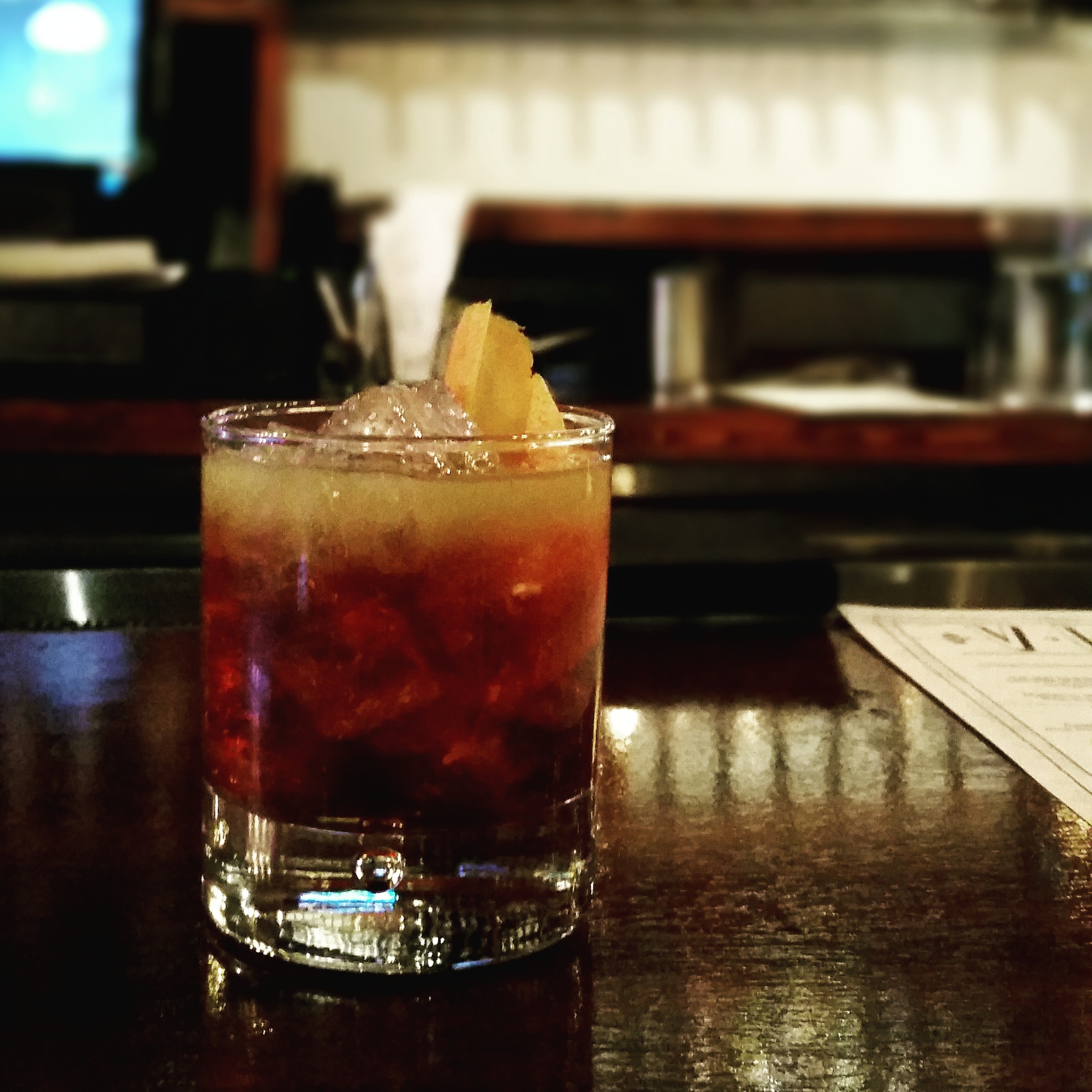 1. ROME IS BURNING (Robbie Call, Vicini)
China-China, mezcal, Meletti, Herbsaint
Ah, Vicini. We were just getting to know you. The Frisco-based Italian restaurant's all-too-brief run may have been a flash in the risotto pan, but it was long enough for Call to have some fun behind the stick. One slow Sunday, the lanky Tate's veteran, who now heads the bar at Oak Lawn's Madrina, answered the call for something bitter and smoky. This was the luscious result – a rush of French and Italian bitter liqueurs anchored by mezcal and a rounding touch of Herbsaint, bitter orange and chocolate-caramel grounded in depths of smoke and anise. Simply garnished with an orange peel, it was everything I wanted in a glass, a mirepoix of worldly influences. "I'm a big fan of letting amaro drive the car and having the mezcal creep in," Call says. So am I, Robbie. So am I.