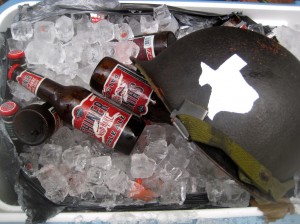 You could say that Texas did itself proud in New Orleans yesterday, but then again pride in Texas has never been in short supply. Anyone taking in Tuesday's festivities in front of the venerable Hotel Monteleone would have seen a state standing as one, with two dozen bartenders and liquor promoters firing a collective bar gun of Lone Star hospitality.
The "Texas Tailgate" — among the kickoff events for the 11th annual Tales of the Cocktail conference — served up a double-digit selection of punch-cooler cocktails, plus a handful of Texas distillers and brewers offering samples of their work. Breaking a sweat in the NOLA humidity, they poured: Charlie Papaceno of Windmill Lounge, Creighten Brown of the late Private/Social, Sean Conner of Plano's Whiskey Cake and a smattering of representatives from the Cedars Social and Bar Smyth.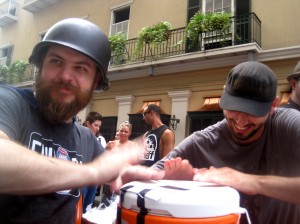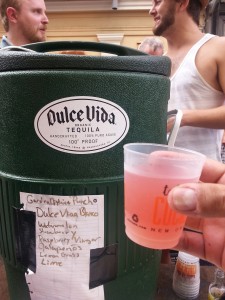 There was the bourbon-fired Leather Face Mask, from Bonnie Wilson of The Ranch in Las Colinas; the tiki-ish Paradise Dream from Republic Distributing's Chris Furtado, made with Mount Gay small-batch Black Barrel rum; and coolers of Shiner beer. Brisket was served. Austin's Treaty Oak distillery handed out sips of two limited-release products – Red Handed Bourbon and Antique Reserve Gin – scheduled to be available by year's end.
"Every good party needs a good kickoff before the festivities," said Standard Pour's Brian McCullough, president of the North Texas chapter of the U.S. Bartenders Guild. "We're just celebrating what we do in Texas."
And apparently, that's good times and drinks: McCullough's Garden District Punch was among the day's best concoctions, a tart and refreshing burst of Dulce Vida tequila blanco, watermelon, raspberry, strawberry, lemongrass, jalapeno and red wine vinegar.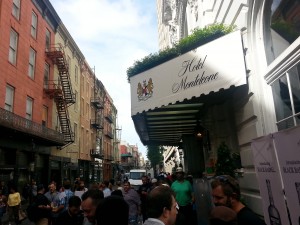 Suddenly, Papaceno's voice boomed, as if over a megaphone: "WE HAVE EIGHT MINUTES UNTIL THESE COCKTAILS SHUT DOWN, SO PLEASE, DRINK HEARTILY WITHIN THOSE EIGHT MINUTES."
The able and willing complied. After all, it was barely 4 p.m.
"Yeah!" someone shouted. "Texas!"
"Texas has four little gems," said Juan Pablo DeLoera, the state's rep for Milagro Tequila, referring to the cities of Dallas, Austin, Houston and San Antonio. "There's a lot of talent and passion. It has the right to show what it's made of."