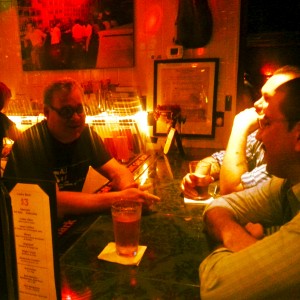 Oh, 2013. You hater. You tried so hard to suck. In the summer, just days after influential bar man Jason Kosmas announced he was taking his talents to Austin, you pulled the plug on my beloved Private/Social, where bar manager Rocco Milano had overseen one of the best cocktail programs in town. Then, last month, you shocked us with the sudden exit of Michael Martensen and his crew of highly talented bartenders from Bar Smyth and The Cedars Social, the two brightest stars in DFW's craft-cocktail culture. With the unfolding of The Great Unpleasantness, a scene that had solidly come of age at last lost its innocence.
But hey, that's part of growing up. And despite assertions to the contrary, craft cocktails as we head toward 2014 are alive and swell, showing no signs of peaking: Milano has resurfaced in a major way; Eddie "Lucky" Campbell is preparing to launch Parliament; Asian-Latin fusion restaurant Chino Chinatown has opened in Trinity Groves with Ian Reilly at the bar-program helm; Origin has restyled itself in Knox-Henderson with a promising drink lineup; and the Smyth/Cedars Social diaspora is sprinkling its goodies all over town.
Are you not entertained? To what do we owe this good fortune? It's because we, my thirsty friends, have proven ourselves worthy. We're a smarter bunch now when it comes to craft cocktails; our palates now welcome more flavor, complexity and originality. We like menus that mirror the season, varied but not overwhelming, with options both accessible and challenging. We want bartenders steeped in history and craft and eager to command the palettes of flavor at their disposal, ready to improvise when able. Is that asking too much?
No. And DFW has answered the call. Here are my top 10 spots as we head into 2014, in alphabetical order, BECAUSE.
ABACUS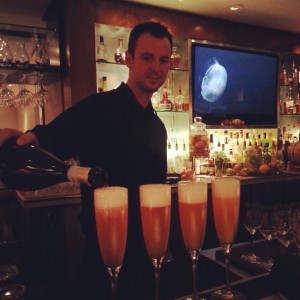 OK, I'll admit: I hadn't set foot into Abacus since I first moved to Dallas three years ago – at least not until chef Ken Rathbun lured Lucky Campbell away from The Standard Pour in Uptown. Campbell, whose bumpy road has taken him from The Mansion at Turtle Creek to renown at Bolsa to the short, chaotic life of The Chesterfield and then to TSP, set about infusing Abacus' solid martini-and-bubbly-focused menu with the Pacific Rim sensibilities that inform the five-star restaurant's kitchen. The result: a boost of energy and derring-do behind the bar that have given Abacus' Men in Black new street cred.
BARTER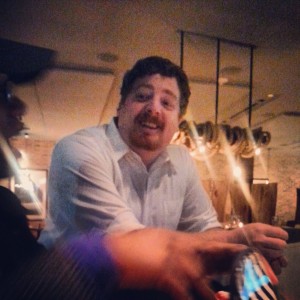 Where Rocco Milano goes, magic follows. The execution of Private/Social paved the way for a makeover of the Uptown space, and the results are terrific: The vibe is warm and woodsy, and the bar has been opened up to give Milano and his top-notch staff room to move more freely. The house cocktails are unsurprisingly great, but it's the added features that really set Barter apart: Milano's "book-of-the-month" set will feature selected drinks from different classic cocktail tomes every month; first up is David Embury's 1948 classic, "The Fine Art Of Mixing Drinks." Add to that a mix of high-end choose-your-poison flights and an innovative series of pours that illustrate liqueurs in various stages, and you'll see why Milano is the cocktail geek's cocktail geek.
BLACK SWAN SALOON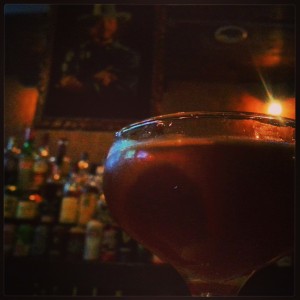 Gabe Sanchez' one-ring circus in Deep Ellum has a cult following, and with good reason: He's been quietly cranking out some of Dallas' more original concoctions at this dimly lighted, low-key speakeasy with the badass vibe you'd expect from a bar in the city's tattoo epicenter. The Swan's staff now walk the tightrope without the net of a cocktail menu, playing to tastes and whatever Sanchez has cooked up that day. Smoked fig jam with rye? You'll find that here.
CENTRAL 214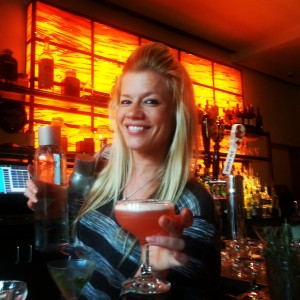 Bar manager Amber West has been among the city's under-sung cocktail heroes, avidly and expertly using seasonal ingredients in her creations. Example: The gin-based, garden-in-a-glass First Course, like so many of her cocktails, is as beautiful to behold as it is to imbibe, with flecks of Tom Spicer's arugula dotting its translucent surface; her Honeysuckle Gimlet is another standout. Though she's moving into more of a consulting role to focus on gardening, the cocktails at Central 214 — located inside Hotel Palomar off the Central Expressway — will continue to carry her imprint.
FIVE SIXTY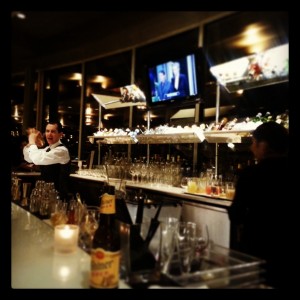 The spinning modern-Asian-themed Wolfgang Puck restaurant at the top of Reunion Tower has more to offer than a fantastic view. Yes, you'll have to endure a 45-second elevator ride and the beastly $16 price tag per cocktail, but the drinks are a journey in themselves. They're part of a rotating series of libations designed by the chain's Lee Hefter — bold, original and artfully presented, mirroring the restaurant's sophisticated vibe. Try the gorgeous Fog Rolling Over Mount Fuji or the Locked and Loaded, both among my top cocktails of 2012.
HIBISCUS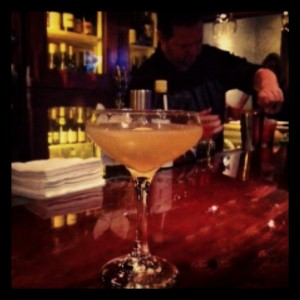 Seats at the bar are few at this Henderson Avenue mainstay, but they're worth the wait to gain an audience with bar manager Grant Parker, whose behind-the-bar expertise continues to steadily lift Hibiscus to new mixology heights. Parker hopes to gradually expand the drink menu with more adventurous offerings, but for now try his play on the lesser-known classic Emerson (also among my top-rated  drinks of 2012) or the luscious, rye-based Brown and Stirred.
LARK ON THE PARK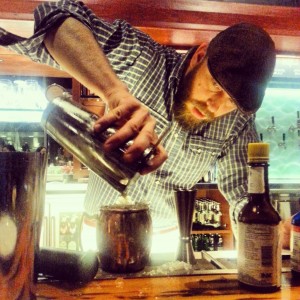 This Klyde Warren Park newcomer is a solid playa in the craft-cocktail game, excelling at wintery drinks in particular, so now's the time to go and warm up your belly. Bar manager Matt Orth and his crew respect seasonality and do nice spins on the classics, too; if you're into Sazeracs or Negronis, ask for one of their variations and you won't be disappointed.
THE STANDARD POUR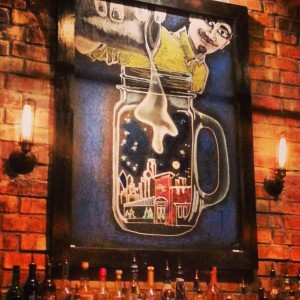 Stacked at Ground Zero of the madhouse Uptown scene, barman Brian McCullough's strong crew is primed to feed the weekend's party-minded mainstream tastes, armed with what must be the largest arsenal of Moscow Mule mugs outside of wherever it is Moscow Mule mugs come from. But take a closer look at the bar's wide-ranging, Prohibition-Era-themed menu and you'll find lots more than vodka. It also doesn't hurt that the dark, vintage-lounge-style space exudes fun, or that its chalk-mural-adorned bar is often a refuge for displaced craft bartenders (see Abacus, Bar Smyth, The Cedars Social above).
THE USUAL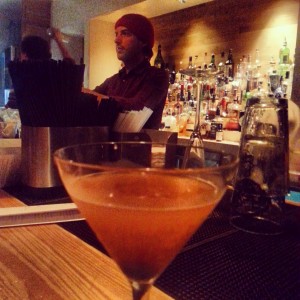 I love this place, from its wry, respectable menu on up to its sleek, chill vibe and a team of able bartenders who never seem to be in short supply. The modest house drink list is nice – try the gin and apricot liqueur-fueled Parlor – but it's the off-road adventures that are really fun; a spin on the classic Hanky Panky, for instance, or something using the most recent bottle on the shelf.
WINDMILL LOUNGE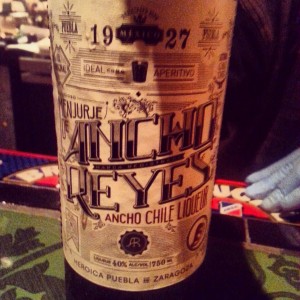 The godfather of them all. Charlie Papaceno and Louise Owens have been crafting cocktails since 2008 in this dive-y spot off a remote stretch of Maple Avenue. Jason Kosmas – the co-owner of New York City's Employees Only and spirit line The 86 Co. – did time here after moving to Texas, and early adopters Campbell and Martensen threw down in friendly competition back when as well. It's still a bartender's bar; you'll find a number of mixers bellied up here, drawn by the Windmill's unpretentious atmosphere and the staff's easygoing approach. But there's skill here, too, and innovation; it was Charlie who introduced me recently to Ancho Reyes, a recently released ancho-chile liqueur, and the bar was listed among Esquire Magazine's top bars of America earlier this year.
Looking forward to what 2014 may bring!
Honorable mentions: Bolsa, Victor Tango's, Boulevardier
Ones to watch: Chino, Parliament, The Cedars Social