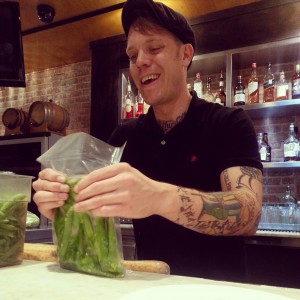 The sugar peas were looking exceedingly delicious this spring, and right away Alex Fletcher knew it was time to take a stab at the idea that had been percolating inside for a year.
Fletcher, bar manager at Victor Tango's in Knox-Henderson, had in mind a sugar-pea-infused gin, but he also knew that green vegetables tended to wilt in booze. "Like cucumbers — they'll be good one day and then the next day, it's like they're pickled," he says. "That's gross. I learned that the hard way."
Instead, he turned to one of the culinary world's more modern trends: sous-vide (French for "under vacuum"), a vacuum-sealing method industrialized in the 1960s and then increasingly adopted by chefs like Thomas Keller, Grant Achatz, Ferran Adria and Dallas' John Tesar as part of the molecular gastronomy movement.
Fletcher is among a handful of Dallas bartenders experimenting with the technique – in which ingredients are usually vacuum-sealed in a plastic bag – or its variations to create infusions or to enhance other cocktail ingredients, further fogging the lines between bar and kitchen.
Chefs typically cook ingredients in the bag, often at low heat for long periods of time, to juice up flavor and moistness. Bartenders do the same using bags or even mason jars kept in a water bath temperature-controlled with a sous-vide circulator. There's also "Cryovacking," as some call it, playing off the brand-name airtight plastic-bag manufacturer, which can be used to quickly infuse pressurized contents with added flavors or heighten flavors already present.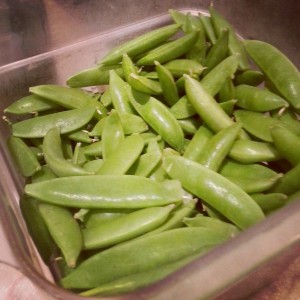 That's what Jacob Boger, lead barman at Knox-Henderson's Origin Kitchen + Bar, was doing with lemons and limes and hoping to echo with strawberries earlier this month. He figured five minutes' worth of pressure could help siphon sweetness from the not-quite-ripe strawberries. "Just the fact that they're in their own juices, you know…. Maybe I'll put some raw sugar in there to really draw it out. It's an easy enough thing you can do to make a better drink."
At Driftwood in Oak Cliff, bar manager Ryan Sumner is eyeing the method to create infused simple syrups, while Ian Reilly at Trinity Groves' Chino Chinatown has made oleo saccharums, or sugared citrus oils, the same way. Meanwhile, at Barter, the wheels are always spinning. "We're basically just playing the game, `Can we sous-vide it? Yes, we can,'" says the Uptown bar's Stephen Halpin.
Hey, we're all busy these days. So for bartenders, one of sous-vide's advantages is the speed with which such ingredients can be ready for use depending on the desired flavor potency. Barter's deliciously fruity Singapore Sling is made with gin heated at 62.5 degrees Centigrade along with pineapple, cucumber, white peppercorns and orange peel. But where a typical infusion might take 30 days of thumb-twiddling, Barter's gin preparation, once bagged and sealed, can be ready in 90 minutes.
Put that in your agave pit and smoke it.
Barter's Halpin also does a sous-vide gin infused with blood orange for an hour; the process allows him to incorporate the fruit's flavorful zest, which wouldn't work in a traditional infusion. "You can't leave in too long," he says. "It gets too bitter. You can't dial that back." The piquant mix shines in the bar's off-menu Please Give Gin Another Chance, which Halpin offers to those who've felt burned by gin in the past.
As Nonstop Honolulu reported early last year, bartender Dave Newman of Honolulu's Pint + Jigger has used sous-vide to evoke the effects of barrel aging, replacing the typical weeks-long oak-cask soak with bourbon and barrel wood chips sealed in mason jars kept in a 120-degree bath for two days. Does it work? The author thought so: "The sous vide cocktail was much smoother with an added oaky complexity that would normally require several weeks of barrel aging to achieve," he concluded.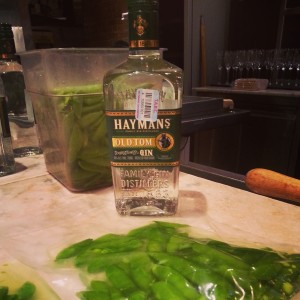 In recent years, sous-vide or Cryovac cocktails have appeared elsewhere across the U.S. – at Seattle's Tavern Law, San Diego's Grant Grill, The Aviary in Chicago and Atlanta's Seven Lamps, where bartender Arianne Fielder "hypothesized that slowly cooking the sugars in alcohol but not allowing the vapors to escape would make colors darker and flavors more intense," according to an Eater Atlanta article. And three years ago, during his brief reign at Bailey's Prime, Dallas' Eddie "Lucky" Campbell featured cantaloupe-infused tequila made Cryovac-style in a cocktail called High Maintenance.
The more heat, the faster the infusion – but don't get too excited yet: As Oregon bartender Ricky Gomez cautions, ingredients can give off different flavors at different temps. Other variables may also affect potency or longevity. Tweaking may be required.
When Fletcher became bar manager at Victor Tango's, he suddenly had access to a vacuum sealer at a neighboring restaurant. "My grandmother used to make English peas all the time, so I sometimes have a craving for them," he says. "And whenever I have a craving for something, I try to make a cocktail out of it."
He mixed a quarter-pound of slightly crushed peas with a half-bottle of gin. He chose Hayman's Old Tom gin – the sweeter style of gin popular in 18th-century England before today's more prevalent London Dry came along – for its more subtle botanicals. Into the bag they went, sealed tight – pooosh – with a Vac Master machine. "That's the big boy of Cryovac machines," he says. "It sucks all the air out of the bag."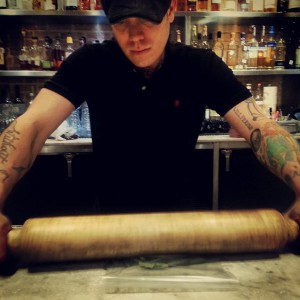 Two hours later, the pea-infused, light-green gin was ready to go. And if peas in liquid form make you think of split-pea soup, then we're all on the same page: The soup is usually boosted with pork flavor, so Fletcher made a genius move to complete the cocktail. He gathered up some tapioca maltodextrin, a light-as-air, fat-soluble starch that absorbs flavors but has no odor or flavor of its own. He then threw some of that into a food processor along with a little bacon fat and a pinch of salt… and out came a unicorn. Okay, not exactly, but if you can imagine bacon-flavored confectioner's sugar, this was it.
His tasty Swee'Pea cocktail, now on Victor Tango's' spring menu, mixes the gin with lemon and demerara syrup, served up in a coupe rimmed with the bacon powder and garnished with a sugar pea.
Fletcher would eventually find his vacuum-sealer access limited, so for the time being he's using extracted pea juice instead, not introducing it to the gin until ordered. Unfortunately, it lacks the vibrancy of his sous-vide version. But sometime this week, he says, he plans to get Victor Tango's a vacuum-sealer of its own. When and if that happens, I'd highly recommend the Swee'Pea as a great way to round out your daily vegetable requirement.