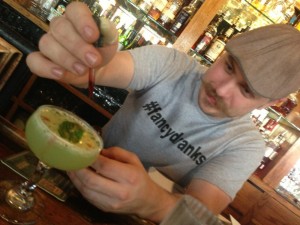 I'm sitting with another right now and all I can think about is you. Your curves: finer. Your colors: brighter. Tucked into every pocket of a memory, some drop of precious time holding echoes of so many bright moments. Warmth and comfort lined with intrigue and amazement, there is no inch of you that has not sat silent vigil to the chaotic magic of a serendipitous night. Some light up a room when they walk into it, but you, you are the room. You have seen me in the most revealing moments of the triumph of gravity over a single stubborn object more times than I would wish. You have also watched me stand many times my height with steel in my gaze and lead in my feet. I have watched over you as you gave warmth to many in a dim cold haze and I have seen you let the wind wildly shake tail over every curve and dimension. The days you cracked, tore and buckled – but never fell – charged me with the same will. You showed me the pain of compassion in the witness of true loss. Truly there is no light I have not seen you in but always in the most intimate of proximity. Soon that will become distance; familiarity, perspective; and responsibility, pride. I can't say goodbye because you will be the object of my many thousand-yard gazes. Hopefully tomorrow we will have the perspective to see how much we were for each other yesterday.
Your barman true, Máté Hartai
You'll have to forgive Máté Hartai if he's got some strong feelings about the Libertine, the Lower Greenville institution whose bar program he's headed for the last several years. In that time, disguised as merely a popular neighborhood bar, the Libertine has instead been the Trojan Horse in our midst: Under Hartai's stewardship, both its beer and cocktail selections have emerged as among the most daring and erudite in DFW, and yet its subtle bearing, modest location and reluctance to promote itself as much more than a community servant conspired to curb it off the star-bar radar.
Cellared beers, morel-mushroom-infused rye, beer- and cocktail-paired dinners – Hartai had them all underway before they were trendy around these parts.
But the moment has come, Hartai says, to – well, he can't even say the words. Not to move on – no, to move in a different direction. The Cold Standard, the nascent ice enterprise he's been nurturing for several years is demanding more and more of his attention, as are other projects he's got in the works, so…
"It's time to let the Libertine go," says the Hungarian-born Hartai, who joined the Libertine as a bar-back in 2009. "I've trained that baby to where it can run on its own."
Tuesday, May 27, will be Hartai's final day at the Libertine (his final day behind the bar will be Sunday the 25th), and fittingly his stint will end with one of the bar's signature dinners – this one a Utah-themed event featuring both of his passions, beer and spirits.(Click the link above, then the box to the right.) It's also his birthday, and Hartai is letting it all out, planning to unveil some of his rarest cellar keepsakes.
"It's the bridging of two things I'm passionate about," he says. "The beer is going to be out of this world."
Hartai, whose family came to the U.S. when he was a middle-schooler – "just young enough to lose my accent," he says – is among the most knowledgeable of bartenders, quirky and wonkish, with a nerdy, scientific approach to his work. When Bar Smyth, the Knox-Henderson speakeasy to which Hartai was briefly attached, was invited to compete against other bars at a national cocktail-industry convention last year, it was he who devised the ingenious backpack keg with which he waded through the crowds with his Texas-stamped helmet, pouring cocktail shots.
In an industry where mobility is a constant, Hartai was a mark of steadiness and community involvement, even as he shunned social media — he had to be goaded into joining Facebook — and self-promotion.  Within bartending circles, his grasp of the craft is well known.
"Everybody on this side knows what Máté has been doing," said Eddie Eakin, bar manager at Oak Cliff's Boulevardier. "He's intelligent, he's cutting edge. Definitely among the upper crust in Dallas."
Yet some still scoff when Eakin directs them to the Libertine for cocktails, deceived by the bar's unassuming presence. By excelling in all areas – including its solid kitchen – it couldn't be pegged as making its "thing" any single one of them.
"It's one of the most well-rounded bars in the city," says bar manager Ryan Sumner of Driftwood. "If you open up a neighborhood bar – that's what it should be."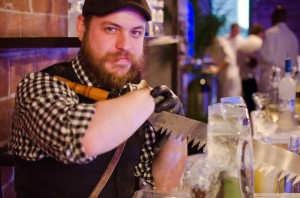 As the Dallas cocktail scene exponentially matured behind names like Michael Martensen, Brian McCullough and Charlie Papaceno, Hartai always viewed the Libertine, with its homey, den-like atmosphere, as a place to feel comfortable enough to take those first few steps into a much deeper pool of alcohol knowledge. Co-owners Simon McDonald and Michael Smith trusted his oddball seasonal menu inspirations, with experiments like the cocktails named after Smiths song titles; you wouldn't know what you got until you actually ordered the drink.
Libertine's classic cocktail menu has stayed the course since Hartai instituted it, but that's since been supplemented by bar favorites and other rotating theme menus like "By Friends, For All," a tribute lineup with cocktails designed by fellow craft-cocktail bartenders like Trina Nishimura and Julian Pagan. "The Brave, The Bold" featured Hartai creations named the Coburn, the Bronson, the McQueen and the Brynner with ingredients like pulled-pork-infused tequila and five-spice rum. "All it is, is a liquid kitchen to me," he says.
He's loved his job, he says – and why shouldn't he? He gets to throw a party every day. But in moving on, Hartai will leave behind a consummate bar – not a great beer bar, not a great cocktail bar, but a great all-around hangout. He's eager to see the Libertine continue to develop without him, supported by a training program he willfully built over time. "There's a lot of talent in that house," he says.
Co-owner McDonald wishes Hartai the best, knowing that he helped build the bar into what it is today. "He's a really smart guy who just worked his way into knowing everything about everything," McDonald said. "But he's so humble about it."
No matter where he lands, Hartai says, it won't be for long. "I like being behind the bar too much," he says. "It's like when you cut down Obi-Wan: I'm going from being the old man in the robe to being the blue glowie."
The May 27 dinner begins at 7 p.m. and seating is limited. The price is $60 a person – more than worth the opportunity to wish Hartai a happy birthday and see the Jedi in his temple one last time.
"It's the culmination of everything I've been working for," he says. "It's gonna be a magical night for me."
LIBERTINE BAR, 2101 Greenville Avenue. 214-824-7900.