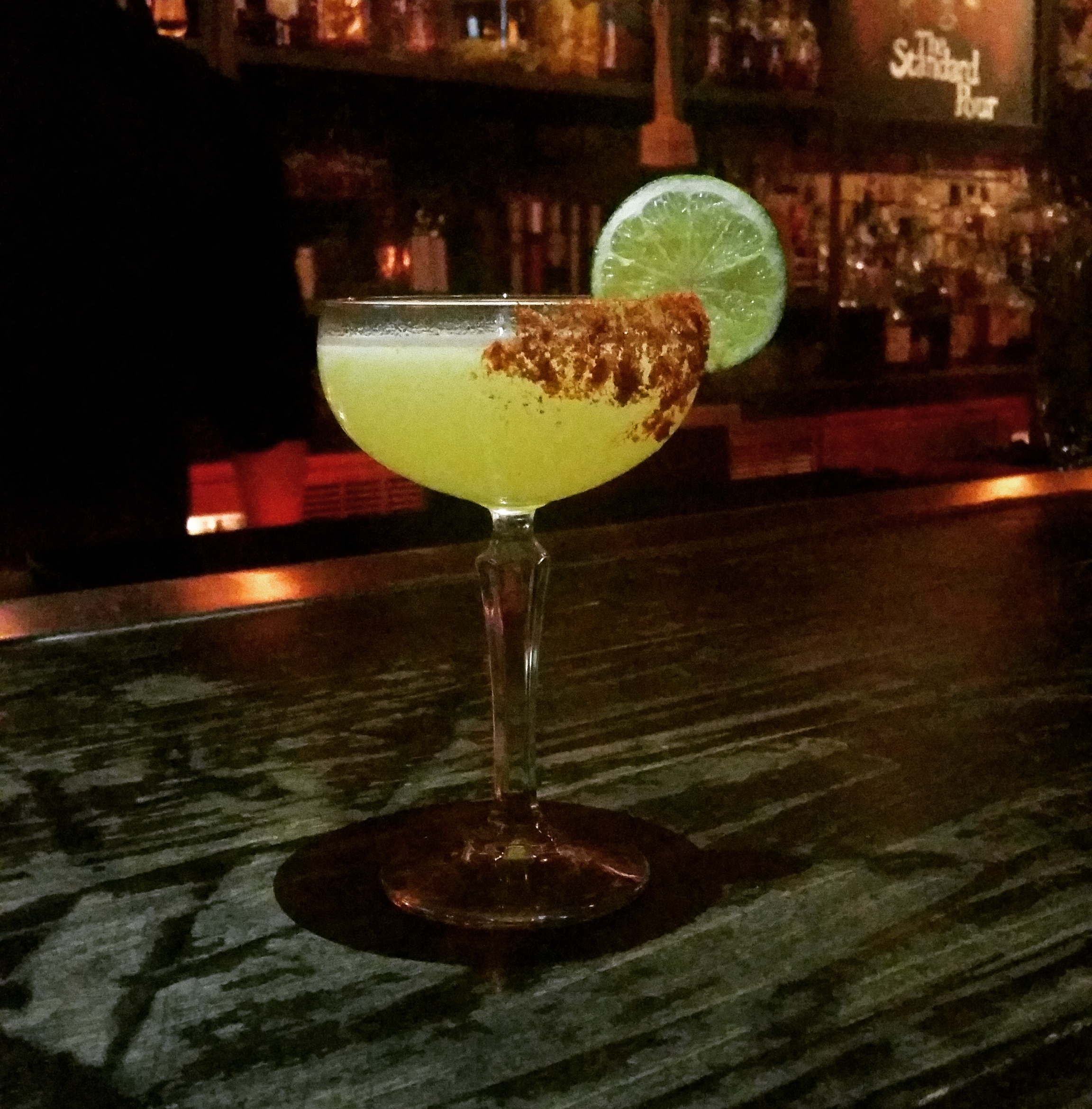 The all-around craft-cocktail chops at The Standard Pour can be lost in the timid tastes of the partying Uptown throngs that fill its McKinney Avenue environs every weekend. But delve deep into the drink menu and you'll find a solid lineup of classics and bar originals both – including this one from Armando Guillen.
Guillen, who heads TSP"s bar program, has been a longtime stalwart of Dallas' craft-cocktail scene, a frequent competition winner and, most recently, is among CultureMap's nominees for its bartender-of-the-year award. He designed this drink, he says, at the behest of San Diego's renowned Polite Provisions for an event sponsored by El Silencio mezcal.
NAME: The Whisperer
KEY CHARACTERISTIC: Fiery citrus
WHAT'S IN IT: El Silencio mezcal, peach liqueur, honey, lime, salt, Scrappy's "Firewater" bitters, spiced rim.
WHY IT WORKS: The Whisperer is a smoky play on the classic Margarita, capped with a spicy supernova kick. Bartender Armando Guillen, who manages The Standard Pour's bar program, aimed to create a Trojan horse of mezcal, another agave-based spirit that, while on the rise, many have yet to embrace. He dipped into the bartender's crowd-pleasing arsenal of friendly flavors – "peach, strawberry and pineapple; that's the trifecta," he says – and chose peach because it pairs well with mezcal's earthy, smoky qualities.
To sweeten it up, he chose honey over simple syrup for its earthier flavor and added a pinch of salt to round it out. A dash of habanero-based Firewater bitters lends a not-so-subtle scorch of heat. "You've got smoke, earth, spice and fruit, everything mezcal needs to have," Guillen says. And it's true: In Mexico, mezcal is usually sipped straight, with accompaniments of orange slice and sal de gusano – a blend of chile powder, sea salt and the ground remains of roasted moth larvae that feed on agave plants – that offer a similar combination of flavor.
Guillen serves the Whisperer in a coupe, half-coating it with an appropriately smoky-spicy mix of cayenne powder, sea salt, chili powder and smoked paprika. With a final lime-wheel garnish, the result is a visually striking bouquet of lemon yellow, lime green and rusty red. On the tongue, its spicy edge suddenly slashes through its citrus-y sweetness, planting a lasting burn on the lips that leaves you wanting more.
The name? Yes, a nod to the El Silencio brand name – but really a reflection of Guillen's sly intentions. "It's like," he says, a cupped hand covering his lips as he slips into a whisper, " `Hey – you should drink mezcal.' "