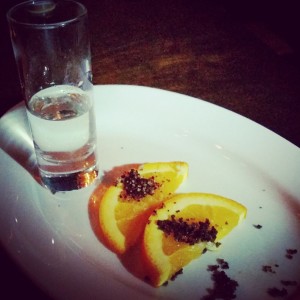 So, you've wowed your Fireball-drinking buddies with your superior knowledge of mezcal, tequila's smoky and more exotic cousin. You've earned serious props for your appreciation of mezcal's Scotch-like acquired taste. But dude: if you really want to prove yourself mas macho, try drinking mezcal the way it's done in Oaxaca – with worm salt.
Among the benefits of the ongoing craft-cocktail renaissance has been the rising availability of mezcal, distilled from Mexico's native maguey plant, a form of agave. Generations-old methods of artisan production  – in which the plants' hearts are roasted in pit ovens before the fermentation process, giving the spirit its distinctive smoky flavor – have spawned hundreds of choices, many of which you can now find in the U.S.
Typically it's imbibed straight. Picture a tiny cup or shot of your beloved mezcal, served alongside a small plate of orange slices. Garnish those slices with a sprinkling of sal de gusano – a rust-colored powder of sea salt, ground chilies and the crushed remains of agave worms. Better yet, dip a slice into a bowl of the powder itself.
While you grimace, consider this: Despite the name, the worms aren't actually worms. They're the larvae of moths that start feeding on the hearts and leaves of the agave plant as soon as they're born. In other words, they are living the life. Their brief and blissfully unaware existence comes to an end in late summer, when – in accordance with centuries-old tradition – they're gathered up, dried in the sun and toasted, then pulverized along with sea salt and chilies to become the magical mix now before you.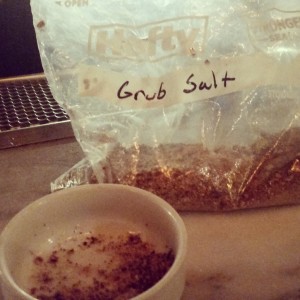 Back to your plate. Take a bite of powdered orange and your mouth explodes with sweet citrus, faint heat and a wallop of salt. It's a zesty complement to the swig of smoky mezcal you're about to inhale. But wait: There's another flavor there, too, almost paprika-esque. It's lovely and rounds out the mezcal perfectly.
"It's savory," says bartender Hector Zavala of Dallas' Henry's Majestic. "It has that flavor of umami."
Yes, a bit of the worm-salt experience and you might just be calling for your mommy. But insect consumption is a longtime tradition in resource-challenged Oaxaca, where critters like grubs and crickets provide a cheap and plentiful source of protein. (I once sampled a plate of not-so-bad dried crickets at a Oaxacan hole-in-the-wall in Phoenix, sautéed with lime and chili and served with a side of tortillas. The biggest issue – the little legs that get caught between your teeth.)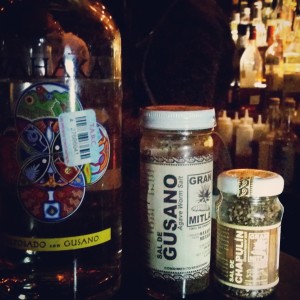 A few weeks ago, Zavala scored a shipment of sal de gusano from Mexican producer Gran Mitla; he's now dishing it up Oaxaca-style at Henry's Majestic and its speakeasy sidekick, Atwater Alley. (Appropriately, he serves it with Wahaka's reposado mezcal, which incorporates the same agave worm.) At Uptown's upscale Mexican place Komali, bar manager Leann Berry is pondering serving her recently obtained sal de gusano with mezcal flights, while you can also find it at Proof + Pantry in the Arts District, socked away in a Hefty bag labeled "grub salt."
Zavala, of Henry's Majestic, comes from the same small town in Mexico as fellow bartender Luis Sifuentes; they lived two miles apart but never met until they came to Dallas. Now both are among the badass bar crew assembled at Henry's by beverage director Alex Fletcher. "Alex has a lot of trust in us," says Zavala, who along with sal de gusano also procured a milder, sweeter powder of ground-up grasshoppers called sal de chapulin. "He lets us experiment and come up with our own ideas."
Fletcher finds the whole thing intriguing. "(Hector) brought those in to play with," he says, wheels already turning. "I think doing a worm-salt, citrus-based mezcal cocktail would be fantastic."
That's what a post on the site Mezcalistas.com suggests. In fact, its play on the classic Margarita is basically the orange-slice tradition rolled into a drink, replacing tequila and lime with mezcal and orange juice and then serving it in a worm-salt-rimmed glass.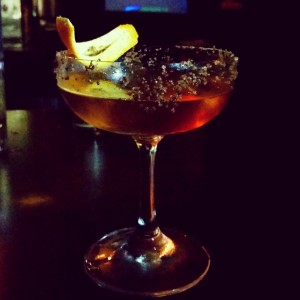 At Atwater Alley, Sifuentes gave the cocktail concept a go, too, mixing mild Wahaka mezcal with Carpano Antica sweet vermouth and a bit of bitter Averna. Worm salt lined the glass. It was a respectable blend, but it could just be that the spices' jaw-punch of salinity is too aggressive to play well in cocktails, at least in significant quantity. Still, there's nothing wrong with having it the traditional way. Sometimes simplicity is best.
Maybe food is the most logical complement of all. In Austin, you'll find worm-salt-accompanied mezcal at Takoba, along with slices of Oaxacan cheese. And at The Pastry War in Houston, you can get mezcal with a straight-up side of toasted grasshoppers. If that makes you shudder, start slow – with a bit of worm salt.
"Psychologically, that's a hump I had to get over," said Proof + Pantry bartender Mike Steele. "But it's pretty good stuff."