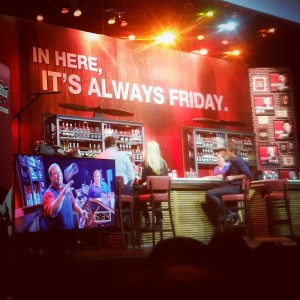 They bounced shakers off forearms, caught glasses behind their backs and tossed liquor bottles around like jugglers' pins. By night's end, one of them had been crowned the best bartender of all — at least, that is, within the extensive, red-and-white-striped family of TGI Fridays, which held its 24th annual World Bartender Championship Thursday night at Dallas' House of Blues. More than 8,000 TGI Fridays bartenders around the world had vied for the chance to be one of the night's 10 finalists with a shot at the $10,000 top prize. The title-round air was abuzz, with the faces and names of the finalists plastered on walls, video screens and waveable flags for a wall-to-wall, cowbell-shaking crowd.
TGI Fridays' horde-pleasing drinks – the global chain sells 3 million Long Island Teas a year – are well-known, but the Carrollton-based chain can also be credited with (or blamed for, depending) popularizing flair – the kind of theatrics associated with the Tom Cruise film Cocktail – when it started holding flair bartender contests in the mid-1980s.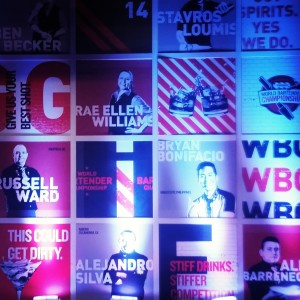 While the World Bartender Championship, which started in 1991, emphasizes things like customer engagement, service and bartender knowledge (some of which had already been evaluated in a previous compulsory round) the practice of flair perseveres. Bryan Bonafacio of the Philippines sent a lime wedge airborne and caught it in a shaker behind his back before sliding it into a waiting cocktail. Fernando Soto of Illinois poured a drink into a glass that he'd perched on his forehead. Others pulled off moves too complicated to explain.
Along with lively banter (to that end, Peru's Alexander Barrenechea was my favorite for his easy humor and likeability), some kept the bar-side judges entertained by putting them to work as drink shakers while they tended to other tasks, trying to stay within the given time limits. Each bartender had eight minutes to make five different drinks ordered from the company's inventory of 100-plus cocktails, working to the sizzling guitars or thumpity-thump beats of their chosen playlists.
"It takes incredible discipline, focus and passion," said Matt Durbin, the contest's 1994 champ who is now TGI Fridays' vice president of brand strategy and menu innovation. "We like to think that Fridays is the bedrock of bars. This allows us to recognize and celebrate our bartenders."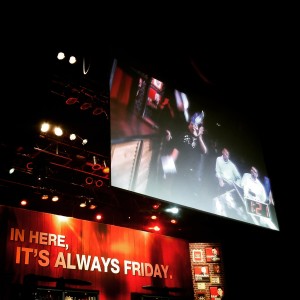 While flair is among the techniques bartenders can use to interact with guests, Durbin said judges prioritize "working flair," moves that a bartender could actually incorporate into a busy shift rather than those unveiled for competition's sake. The U.K.'s Russell Ward, for example, last year's runner-up, was relatively no-frills compared to some but cranked out his drinks with smooth confidence, "You have to look like you do it every day," he'd told me earlier. "Not like it's just something you just practiced to do here."
Where New Jersey's Ram Ong fell on the spectrum was unclear. Like Ward, he was in the final round for the third time, and aside from bringing his own pineapple juice – in a pineapple, of course – he pulled off my favorite move of the night, catching a bottle of Grand Marnier tossed overhead on one forearm while balancing a second Grand Marnier bottle on the other forearm. But Ong's theatrics undermined him in the end, his time elapsing before he could finish building his final cocktail.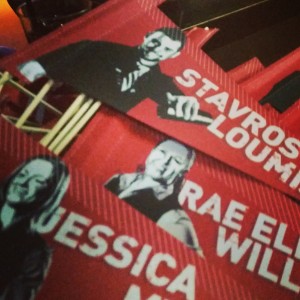 Meanwhile, Stavros Loumis of Cyprus, another third-timer who entered the evening in first place after a stellar effort in the compulsory round, saved a Cuba Libre order for last, starting the drink with just over a minute left in his session. Earlier, he'd told how a twist of lime elevated a simple rum and Coke into the classic cocktail, and now, as the seconds ticked away, he dared to position an ice-filled glass atop the flat end of a bar spoon, balancing the spoon's other end on his forearm before pouring rum into the glass and finishing with time to spare.
In the end, third place went to the energetic, engaging Bonafacio, who may have coined the phrase "Don't you panic; it's organic;" while second again went to the U.K.'s Ward, who was also voted the fan favorite. Stavros was named champ, taking home a propeller-shaped trophy in addition to the prize money.
The annual competition also raises money for hunger-relief agency Feeding America, and TGI Fridays presented the organization with a $200,000 check midway through the final round.