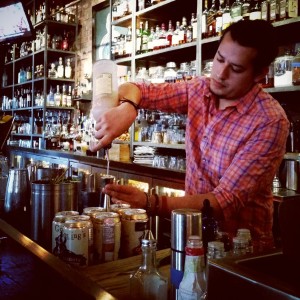 If you've ever seen bartender Christian Armando Guillen in action, you know how passionate he is about his craft – confident in manner, slightly intense with a burnish of flair. As lead barman at The Standard Pour in Uptown, he's largely learned the ropes through observation and curiosity, with a particular talent for reining in sweeter flavors.
That has served him well, as he now has his first chance to compete on the national stage. Guillen, a 25-year-old native of Peru who came to Dallas 10 years ago (along with brother Daniel, another accomplished Dallas bartender), is headed to New York City today as the South Central regional winner of Disaronno's Mixing Star International competition.
Guillen's "Latino's Legacy" cocktail was named the best submission among the region encompassing Texas, Oklahoma, Louisiana, Arkansas, Kansas and Missouri. He'll go up against a half-dozen other regional champs for the chance to represent the U.S. in global competition — and to attend this summer's Tales of the Cocktail festival in New Orleans.
Produced in Saronno, Italy (hence the name), Disaronno's recipe is said to trace back to 1525, but it's not an ingredient typically found on craft-cocktail menus. "It's kind of the underdog of Italian liqueurs," Guillen says.
The Mixing Star competition asks bartenders to create their version of the Disaronno Sour, a simple mix of Disaronno, simple syrup and lemon wildly popular in the 1970s (when simple and lemon would most likely have been some sort of sweet-and-sour mix). But the classic Amaretto Sour – which famed Portland mixologist Jeffrey Morgenthaler effectively fancies up with egg white and a bit of bourbon – has fallen by the wayside in today's craft-cocktail renaissance, with bartenders generally shying away from sweeter liqueurs.
Some of that is reputation, since amaretto is known for its almond-sweet character. As a result, Disaronno is in the midst of a purposeful reinvention, attempting to shed its amaretto associations in hopes of reaching a more youthful audience. Sweet it is, though, with a syrupy texture: Britain's Whiskey Exchange describes it as "showing marzipan or Battenburg cake flavors on the palate… This is definitely for anyone with a sweet tooth."
However, Guillen is skilled at taming sweeter flavors and has found a way to harness Disaronno's nutty properties toward good use. His winning drink merges Morgenthaler's Amaretto Sour with the classic Godfather (basically Scotch and amaretto), outfitting a base of Cutty Sark Scotch whiskey with a healthy layer of Disaronno, lemon, orgeat, egg white, an apricot-vanilla-clove tincture and ornately applied Angostura bitters.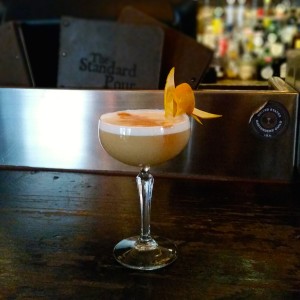 Scotch is another ingredient fairly absent from cocktail menus, its smoky or peaty flavors often too strong for American drinkers. "That was a challenge on my part," Guillen says. "I wanted to use something bartenders aren't comfortable using."
In his native Peru, his father always had a bottle of Scotch around the house that would appear at Christmas or birthday gatherings. Cutty Sark's toffee and maple notes, he says, work well with the Disaronno, which in turn enhances the whiskey: The drink is sweet, but in an endearing and not saccharine way, with a pleasant texture and smooth, slightly nutty flavor.
As Guillen conceived his cocktail, his father was undergoing some major health issues in Peru that have weighed heavy on his son 3,000 miles away. That partly influenced the cocktail's name: While it refers partly to the drink's Italian influences, it also reflects Guillen's Spanish European origins – and his father's influence on his own life. "I am his heritage, his legacy," he says. "Whatever I'm doing, I wouldn't be here without him."
Wednesday evening, Guillen will make three of his cocktails in 10 minutes for the New York judges at bar No. 8, presenting each with a very European board of Mascarpone cheese, Marcona almonds, prosciutto and orange blossom honey.
"I'm proud of what I've accomplished," he says. "It's been more vision and passion than ambition. Everything follows. You're going to deliver if you're passionate enough."
Guillen left for New York City today. "What a better opportunity than making my debut representing the place that saw me become who I am now doing what I love doing the most, bartending," he said of his first-ever visit to the Big Apple. "Not gonna lie, I'm a bit nervous (weird right?) on how things will turn out in this national competition. I am sure of one thing though, I will do everything in my power to bring that victory home!"