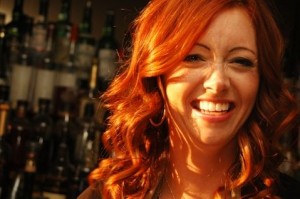 Sometimes all it takes is a pinch – a pinch of this or a drop or a float of that – to turn a drink around. Heading into this summer's Bombay Sapphire-sponsored "GQ's Most Imaginative Bartender" competition in Dallas, Bonnie Wilson aimed to put a different spin on the gin.
Wilson, director of independent bar programs for Addison-based Front Burner Restaurants, was one of 10 finalists competing in the national contest's Dallas-Fort Worth regional at Uptown's Nickel & Rye. The victor would head to Las Vegas to face winners from 27 other U.S. markets in the finals, vying for a cover feature in GQ magazine.
One by one, the gin variations appeared before the judges – a drink inspired by Taiwanese bubble tea, another served up alongside a Venus flytrap, another with a smoked stalk of lemongrass for garnish. But when it was all over, it was Wilson's so-called "Axl Rose" – a bouquet of Bombay Sapphire, Brut Rosé, strawberry syrup, lemon and rose water – that had taken top prize. (Full disclosure: I was among the event's three judges.)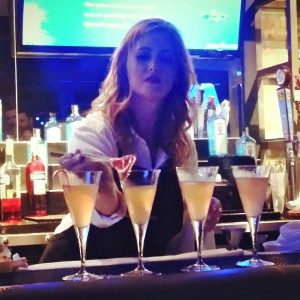 This week, Wilson is Vegas-bound to compete in the finals, the first woman to have that honor for the DFW area. "I'm a little nervous," she said. "I just want to make sure I represent our city well, that I represent myself and our brand and women well, all of those things. Most of all I just want to have fun."
This was Wilson's third attempt at the prestigious contest: Bartenders submit a recipe and a short essay, and a national panel whittles each market's field down to 10. With her winning cocktail, she aimed for simplicity. "I've been obsessed with rosé lately," she says, "so I wanted to do something around that."
Citrus was a common flavor in the gin to play off of, but Sapphire's floral aspects were often forgotten. That's where the rose water came in, plus a self-made strawberry syrup to echo the flavors of the wine. The topper was the garnish: She worked with Front Burner's pastry chef to produce a sugar-candy rose petal tinted with pomegranate juice. "We made about 60 of them over the course of two weeks to get the consistency I was happy with," she says. "I think it came out really good."
The national contest runs Monday through Thursday in three stages. After the 28 competitors present the cocktails that got them there, the field is whittled to about half. The survivors then face off in two further rounds, crafting entirely new cocktails featuring an ingredient to be specified by the judges.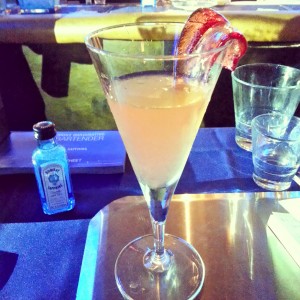 Last year, DFW was represented by La Duni's Daniel Guillen, who made it to the second round. Wilson has been prodding him for tips based on his experience. As far as being DFW's first female representative in the nationals, she says, "we've just got to continue to elevate our diversity."
That's a priority for her at Front Burner, where she oversees bar operations for the corporation's independent brands, including Whiskey Cake, Mexican Sugar and The Ranch at Las Colinas.  Menu development, special events and training are among her duties, but it's the latter that lets her tap into her first love, customer interaction. "I can get behind the bar and make drinks for people," she says.
Hospitality-minded people are the ones who catch her interest and attention. "You can teach somebody how to bartend and teach them about spirits, but you can't teach the heart of it, the love of that interaction with the guest," she says.
Others cite her dedication to cultivating talent and encouraging other women to pursue similar paths. "She's moving up, but she's not forgetting us," says Alexandrea Rivera, a bartender at The Ranch at Las Colinas. Adds fellow Ranch bartender Gabrielle Murray: "Everything Bonnie says, we just sponge up."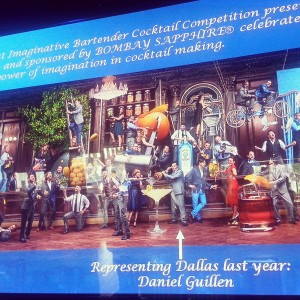 Now, after winning the local Bombay Sapphire contest, Wilson says: "I've actually had women come to me who want to work for me. That's super flattering, and inspiring."
It was people like Sean Conner – whose Pie 314 pizzeria recently opened in Lewisville – and The Standard Pour's Brian McCullough who helped on her own learning path. And in particular, she credits Angel's Envy bourbon rep Trina Nishimura with showing her how as a woman to negotiate a male-dominated world. Brands like Bacardi and Heaven Hill have given her valuable educational opportunities, but it's her own company, she says, that has really challenged her recently. "Sometimes we have these amazing weeks, and we want to rest on our laurels and celebrate," she says. "They always say, `Great job. How do we make it better?' Everybody has pushed and encouraged me."
Not bad for someone who never planned to make craft cocktails. But negative environments in previous workplaces spurred her to move onward, and she landed behind the bar with Conner at Whiskey Cake. "It was like a fated spiritual thing," she says. "That's exactly where I was supposed to be. It started me on this career that was like a dream. It's been such a great ride and it keeps getting better and better."
Sometimes all it takes is a pinch – to be reminded that it's not a dream at all.