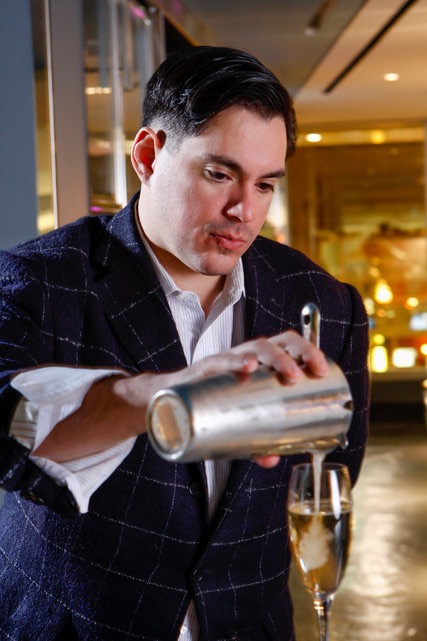 Milk & Honey appeared on New York's Lower East Side in 1999, when today's rocketing craft cocktail renaissance was practically still on the launchpad. The proprietor was a debonair young gent named Sasha Petraske, who in deference to his mostly residential-area neighbors instituted a number of features that would be copied by other cocktail spots in years to come: A speakeasy-style unmarked location and entrance (to be inconspicuous). A reservations-only policy (to avoid lines of people outside). A no-standing policy at the bar (to quell hooliganism). And because Petraske was a decorum-minded soul, rules of behavior to maintain civility (for instance, asking men to remove their hats and not hit on women).
Other practices would follow, also to become cocktail-bar staples – things like hand-carved ice, an adherence to jiggers and water served with cucumber slices. "If he didn't outright originate (those practices), he was the most successful champion of them early on," said Chad Solomon, who along with fellow New York ex-pat Christy Pope now runs Midnight Rambler in downtown Dallas.
And so it was with much sadness that the craft-cocktail world absorbed the news that Petraske had died Friday of unknown causes in Hudson, N.Y., as reported by The New York Times. He was just 42.
Both Solomon and Pope got to know Petraske well, having worked at Milk & Honey in the early 2000s; both bartended and worked as servers in the intimate, 34-seat, candle-lit venue to which customers had to be buzzed in. Petraske had flown in for Midnight Rambler's grand opening in October 2014, and the two were among the attendees' at Petraske's recent wedding.
"Shock doesn't even cover it," Solomon said Friday. "It's a very sad day."
Even more than his contribution to cocktail culture, Solomon said, Petraske stood out for his generosity and decency. "He was always self-aware, always about becoming a better man," he said.
Petraske helped launch a number of prominent bars and, in partnership with others, created stalwart spots like Greenwich Village's Little Branch, Queens' Dutch Kills and Varnish in Los Angeles. Such was his sway that when San Antonio's Bohanan's Prime Steaks & Seafood sought to overhaul its bar in hopes of revitalizing the city's Riverwalk area, Petraske was brought in to train the staff. He would go on to become a co-founder of the San Antonio Cocktail Conference and was among the New York City bartenders featured in the 2013 documentary Hey Bartender.
His reservations-only and no-standing policies would be adopted by places like Dallas' Bar Smyth (now closed), while Denver's Green Russell has been among the bars that similarly posted rules of decorum for their customers. Meanwhile, speakeasy-style entrances, hand-carved ice and cucumber water are everywhere.
While the original Milk & Honey had closed, Petraske was planning to reopen at a new location.
"He was never content to leave things static," Solomon said. "He was always looking to improve. His influence cannot be overstated."