Hey, Chefs For Farmers: You can tell everybody this is your song, because last weekend I was reminded like a big slap in the face how wonderful life is when you're in the world. Or in Dallas, anyway.
Yep: Four days later, I'm still recovering from the Elton-John-esque epicness that was Chefs For Farmers 2013, which brought more than a thousand of my fellow food and drink aficionados to Dallas' Robert E. Lee Park to basically form obstacles between my appetite and all the tasty consumables that were there to be had.
Not that it mattered. I realized that by the end of the all-afternoon event that I had partaken of cow, pig, bison, duck, rabbit and boar, not to mention a bit of chicken liver spread. (Thanks to a late dinner at Nora, I managed to add lamb to the day's lineup, too.) As CraveDFW's Steven Doyle put it, there were a lot of critters in my belly.
Little of the fare could be called average. Far more of it ranged from very good to outstanding, from Parigi's wild boar Bolognese (my personal fave) to the short-rib soup from The Mansion At Turtle Creek (fab) to the euphoria-inducing maple-pecan-bacon ice cream (!!!) from Jack Perkins of Maple and Motor and Slow Bone BBQ. Dude, Sweet Chocolate's drinking chocolate with carrot-lemon foam was a standout, too.
But there were drinks, too, which is what had initially drawn your intrepid cocktails scribe to the picnic-blanket-and-revelry-covered scene. Boulevardier's Eddie Eakin, High West Distillery's Chris Furtado and Ten Bells Tavern's Greg Matthews cranked out Maker's 46 magic – including Eakin's Steep Buzz, which married the Kentucky bourbon with  Earl Grey honey syrup, ginger liqueur, lemon and apple bitters. "I've never made a thousand cocktails at once before," Eakin said, managing not to seem overwhelmed.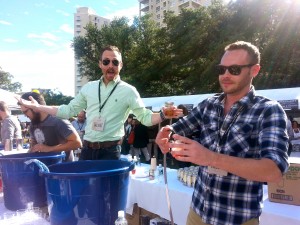 The drinks poured forth from nearby fellow libationists, including Cedars Social's Julian Pagan and Ryan Sumner, Central 214's Amber West, Abacus' Lucky Campbell and The People's Last Stand's Brad Bowden. I had to give my nod to the Autumn's Apple cocktail from The Standard Pour's Christian Armando and Brian McCullough, a spicy medley of Patron Reposado, cinnamon syrup, lemon, apple cider and Angostura bitters.
Until next year, Chefs For Farmers, when I'm counting on one of those excellent chefs to bring some goat to the party. Don't go breakin' my heart.