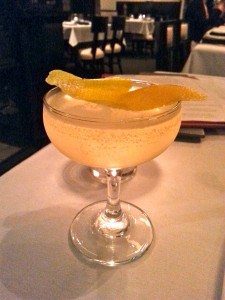 DENVER – Whenever I travel to a new city, I like to immerse myself in the customs and culture of the local inhabitants, and by that of course you know I am talking cocktails. I've endured the ennui of countless connecting flights at Denver's airport through the years, but it wasn't until early this month, prompted by friends, that I visited the actual city for the first time and found that, if you head into Denver's growing cocktail scene in search of a guy named Brian Smith, you can't go wrong.
I wasn't sure what I'd find in Denver besides, possibly, the head of John Elway carved into the side of a mountain, so I was mildly surprised to discover the modest buffet of fine libations thriving in this scenic, famously Mile High City. With its progressive atmosphere, outdoorsy vibe and beautiful setting, it recalled grunge-era Seattle — my former home — before the city was overrun with nouveau riche. The best part is that the half-dozen or so craft cocktail sites I visited were within a couple miles of each other: Downtown Denver and its nearby vibrant, hipster 'hoods are highly walkable, or at least within reach of a quick cab ride – one foundation of a prime imbibing culture.
In downtown's hotspot LoDo neighborhood, artisanal-beer-focused Euclid Hall offered a short list of quality beer cocktails – including the excellent Montezuma, in which Peach Street bourbon, Leopold's orange liqueur and Campari played gracious hosts for Tank 7 Farmhouse Ale. Not far away, dark and thinly veiled behind a basement-level pie shop, Green Russell mined a strict speakeasy vibe, though I found its cleverly named drinks overly complex. The cool thing, though, was they actually had great pie.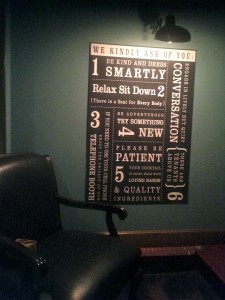 Farther away, in trendy Highland, the bar crew at acclaimed restaurant Old Major ("seafood, swine and wine") kept the throngs awaiting dinner tables ably supplied with solid drinks — including a top-notch Negroni, honestly one of the best I've ever had.
A friend and I enjoyed some lamb chops and octopus while awaiting entry to Williams & Graham, another popular speakeasy-style bar down the street. Concealed behind a moving bookcase, W&G's formidable leather-bound menu had a welcome twist I hadn't seen before: The pages following its basic house cocktail list not only named its spirits by type (gin, rum, agave, etc.) but offered lively, impressively pedigreed descriptions and a few classic cocktails built around each. For example, W&G's list of Cognac, Brandy and Eau de Vie was preceded by a backgrounder penned by Esquire's David Wondrich, then followed by related classic cocktails that a curious and/or inspired drinker might consider ordering – the Brandy Crusta, the Pisco Sour, the applejack-driven Jack Rose. In short, a nifty way to be enlightened and linked to cocktail history while sipping a tasty drink.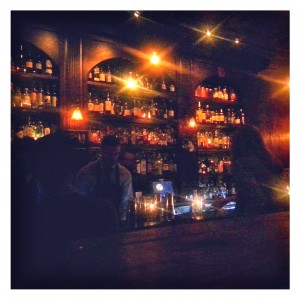 Retro-themed restaurant Squeaky Bean may have been my favorite of the bunch. There we found Brian Smith No. 1, the bar manager whose fanciful menu included a trio of cocktails prepared liquid-nitrogen style – a century-old cold-freeze technique that has recently caught some heat – but with some method to his madness.
Smith, who took over Squeaky Bean's bar program in August, uses liquid nitrogen to plunge the temperature of the glass to a point where even alcohol freezes once poured in. At 40 degrees below zero, the liquid nitrogen boils and evaporates, priming the glass for Smith's pre-made concoctions, which turn ice-solid before gradually thawing.
"It's not exactly a slushy," he says. "It's not alcohol with little chunks of ice in it. It's literally crystallized. It's frozen."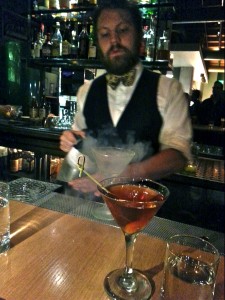 He 's not just making any drinks: Smith purposely chose cocktails he says were corrupted from their original form by being turned into frozen slushes over the years: The Hurricane, the Daiquiri and the Margarita. (Though Smith has modified and renamed them Gypsy, Tom Servo and Crow T. Robot, after characters from the show Mystery Science Theater 3000.)
Smith's liquid-nitrogen process allows the imbiber to essentially have two cocktails in one: A frozen one – and the original, once the drink has thawed.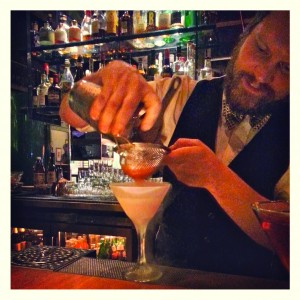 Drinking actual liquid nitrogen, by the way, would be an error. Hence the outcry that arose last year when a British bartender failed to remove the substance from a cocktail he served to a young woman celebrating her 18th birthday; she was rushed to the hospital with a perforated stomach. Smith properly ensures all the liquid nitrogen has boiled away, or pours out the residue, before adding the cocktail to the glass. It's a matter of caution, he says – the same caution he'd take when adding a flamed element to a drink.
The cocktails he pours in are ready to drink as-is. "A good strawberry daiquiri is still a good strawberry daiquiri," he says. "The cerebral part for me it to turn it, literally, into a frozen cocktail… It's sort of being playful and saying: 'This is both.' It starts as liquid but then freezes into the bastard son of what it originally was."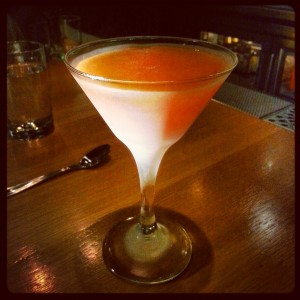 The next day brought brunch at Linger, a globally themed "eatuary" with a sweet view of downtown. The site was once Olinger Mortuary; after its extreme makeover, the new owners lopped the "O" off the huge sign atop the place and then proceeded to pour amazing coconut gin fizzes.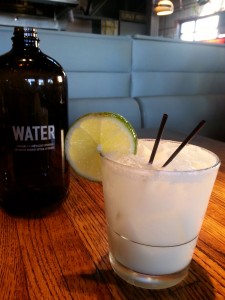 Denver is also home to the original Savory Spice Shop, a bartenders' favorite for its primo extracts such as lavender, vanilla and black walnut. Even Dallas' Mike Martensen, of Cedars Social and Bar Smyth, swears by the place. "They make the best," he says.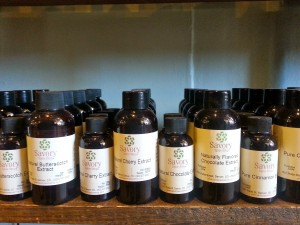 One more night, one more spot: Back in Highland, we had chile-rubbed quail at Colt & Gray – and then closed down the joint with Brian Smith No. 2, the restaurant's bar manager who scored immediate points by, instead of kicking us out, bringing us a nicely blended Fernet and Campari: A Ferrari.  While his cocktails had made a mighty impression – including the Huge Mistake: W.L. Weller 107 bourbon, lemon, Strega, tiki bitters – it was his accommodating manner and generosity that won us over. The best touch of all: the NFL shirt, once I declared myself a longtime Seattle Seahawks fan, that lay hidden like a speakeasy beneath Brian Smith No. 2's presentable attire – just one more thing that made me feel at home.