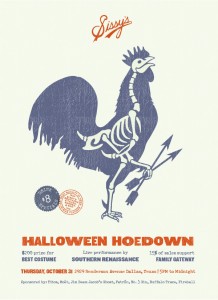 I don't usually need a good reason to wear gingham and overalls, but now I have one: Sissy's Southern Kitchen in Knox-Henderson is throwing its second annual Halloween Hoedown, with a $200 prize for best hillbilly-themed costume – possibly enough cash to get that Dodge Charger off the concrete blocks.
Halloween-themed $8 cocktails will abound, incorporating the bar's heavy hitter spirits – from the Tito's vodka Slaughtered Mule to the Moet-powered Voodoo Blues. Also, there are now drinks called the Witch Doctor and Zombie Handshake, to which I say: It's about time.
Arrive in costume and you'll get a raffle ticket for numerous prizes given throughout the occasion, which runs from 5 pm to midnight with live music from Southern Renaissance. And you can even feel good about the whole thing since 15 percent of the proceeds support Family Gateway, an organization fighting child homelessness.
Interested in staying for dinner? Reservations are recommended. Word is there'll be fried chicken.
SISSY'S SOUTHERN KITCHEN, 2929 N. Henderson, Dallas. 214-827-9900.