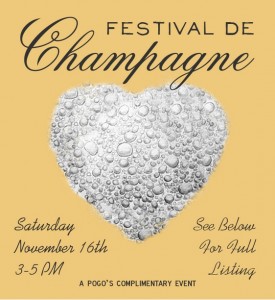 Champagne. Say it one way and it conjures thoughts of the holidays. Say it another and it's all Christopher Walken. Chaam-PAAN-yuh. But we're not going to worry about that one right now, because Pogo's Wine & Spirits is out to make our holiday Champagne selection a little bit easier – and our afternoon a little bit happier – with its second annual Champagne Festival on Saturday.
The event features 30 Champagnes ready for sampling, from Bollinger and Delamotte to Piper Heidsieck and Dom Perignon. There'll be nibbles, too. And best of all, it's free.
These two hours of bubbly merriment start at 3 pm Saturday. For more information about Pogo's, check out their web site at https://pogoswine.com/. That's Pogo's Wine, not to be confused with Pog o'Swine or anything else Christopher Walken might say while wearing a bathrobe.
POGO'S WINE AND SPIRITS, 5360 West Lovers Lane, Dallas. 214-350-8989.