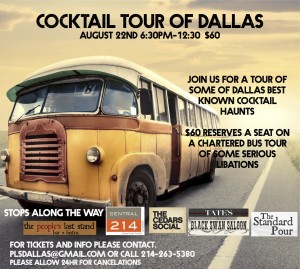 These cocktail bars. They're all over Dallas. But odds are you've never hit six of them in one night.  What if there was… a cocktail tour bus? Why doesn't somebody make one of those?
Well, now someone has. The enrichment gets rolling at 6:30 p.m. on Thursday, Aug. 22, and for that you can thank general manager Alex Fletcher of The People's Last Stand. "Cocktail culture has grown here at such a rapid pace," he says. "We've all solidified our businesses, we have extremely high-end ingredients…. It's time to show that off a little bit."
In addition to the Mockingbird Station second-floor lounge, the estimated six-hour, "chartered bus tour of some serious libations" will make stops at nearby Central 214, Uptown's Standard Pour and Tate's, and further south, The Cedars Social and Black Swan Saloon.
Price is $60 and includes a cocktail at each stop, which despite the lack of cookies is a deal not even DART can beat. It's also a chance to get people out of their cocktail comfort zones, both culinarily and geographically speaking. "A lot of people who come (to People's Last Stand) never go to Black Swan, and vice versa," Fletcher says. "And a lot of people probably haven't been to all six of them, so why not get a handful and take everybody out for a night?"
Capacity will be limited to 40, because who wants to be the bus that shows up to a bar on Thursday night with 100 people all wanting drinks at the same time? No, you don't want to be that bus. "We're trying not to throw anybody in the weeds," Fletcher says.
Good call.
To reserve your seat or for more information, call 263-5380 or email plsdallas@gmail.com.