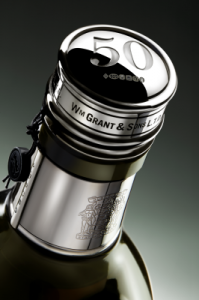 When you've got an extra $1,500 bumping out of your pants pocket, it's always nice to consider buying a new suit, or paying off the loan sharks, or maybe taking that long-threatened trip to Buenos Aires. Now, life has suddenly become more complicated: Glenfiddich is offering tastes of its 50 Year Old Single Malt Whisky (and more) for $1,500 a pop.
Only 50 bottles of the precious, half-century-old elixir are available worldwide, so don't be thinking you're just going to run down to your local Goody Goody and grab one off the shelves. (Besides, just one of these limited-edition bottles runs between $25,000 and $27,000.)
Instead, consider this exclusive tasting. And then mark your calendars for Wednesday, Sept. 4, and head down to San Antonio's hidden-away, whiskey-rich Bar 1919.  The 7 p.m. event will also feature a five-course meal from Stefan Bowers, executive chef at nearby Feast (where, by the way, I recently had the pleasure of having the best breakfast sandwich ever), and a sampling of other collectible single malts like the Glenfiddich 30 Year Old and 1974 Vintage.
"This whisky is the jewel in Glenfiddich's crown and amongst the most valuable whiskies ever released," says Glenfiddich ambassador David Allardice, who will host the event.
The taste is described as initially sweet with a zesty orange marmalade and vanilla toffee, followed by a series of layers: aromatic herbs, floral and soft fruits, oak tannin and hints of smoke. Being a man of modest means, I will have to take their word for it, but those of you equipped to take this plunge will (purportedly) experience an exceptionally long finish with a touch of dry oak and a trace of peat. Zesty, oaky, smoky, fruity, peaty: There's $1,500 worth of adjectives going on here, my fancy friends.
Bar 1919 is located in a lower level of the Blue Star Arts Complex at 1420 South Alamo, Suite 001, San Antonio. Attendance is limited, and reservations can be made at (210) 227-1420.