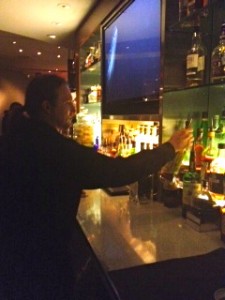 Don't look now, but The Man in the Fedora is on the move again. And apparently, so is his fedora. After five months at Uptown's Standard Pour, Lucky Campbell has taken his crafty talents to The Bar at Abacus, the five-star Kent Rathbun restaurant in Knox-Henderson.
It's a significant move for the elegant, Pacific-Rim-themed restaurant, which is looking to ramp up its bar program as Dallas cocktail culture continues its rapid maturation beyond hipster bar territory. "We've always had a great wine program, but we wanted to give a little more attention to our mixology and cocktails," says Abacus manager Robert Hall.
It's also a big step for the gifted, gravelly-voiced Campbell, who's swapped his trademark fedora for the clean-cut, all-black duds of the Abacus bar corps. Though that might sound a bit like Superman doffing his cape, Campbell was giddy in his third day on the job, riotous hair tamed back into a ponytail as he roamed his posh, dimly lit new surroundings Saturday night like a youthful Steven Seagal.
"I've never worked with a kitchen of this caliber," he says. "It's good to be around people who understand what you want to do."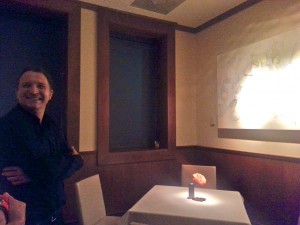 Campbell, whose resume includes the Mansion at Turtle Creek, Bolsa and the ill-fated Chesterfield, is now flexing his frenetic, creative energies alongside barmen Jason Long and Jordan Gantenbein, and he hopes to eventually have some influence on Abacus' evolving drink menu and bottle selection, which typically trends toward martini spins and classic variations.
The kitchen, he says, has a Zen feel to it, a sort of flowing, if regimented, rhythm that the bar staff hope to instill as well. That means more efficient use of space and time. It could also mean barrel-aged cocktails. "Nobody here is waiting for a drink," Campbell says.
"I miss my boys (at Standard Pour)," he says. "But I am loving the new gig."
In a place where creativity is nourished, where the pastry chef and other staff are responsible for the gorgeous artwork gracing the walls, you get the sense that Lucky is feeling very lucky indeed.