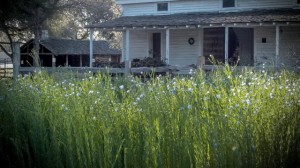 So. You've been looking to unleash your inner Bonnie or Clyde. Minus the bank robberies, and especially minus the fatal ambush. Really, it's about the threads. And the giggle juice.
Well, now's your chance, pal: History With a Twist is returning to Dallas Heritage Village on April 26. Be a wisehead and get over there.
The second annual event celebrates classic American cocktails and the style of the Prohibition Era. Vintage early 20th-century fashion is encouraged, so break out your jazz suits, your cloche hats and your fedoras, and take a stroll down the village's throwback Main Street while tipping a few fancydranks from big-cheese bartenders Michael Martensen and Brian McCullough.
Hors d'oeuvres will be on hand, as will tunes from the Singapore Slingers, a small orchestra specializing in pre-swing American dance music. I've never heard them, but they sound swell. Also expect a silent auction, photo booth and vintage car show.
Tickets – available here – are $75 or $125 a couple, with proceeds benefiting the village's historical education activities. The event runs from 7 to 11 p.m. It's going to be hotsy-totsy.
DALLAS HERITAGE VILLAGE, 1515 S. Harwood, Dallas. 214-421-5141.