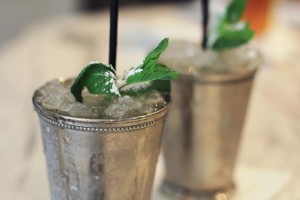 For those of you who like to drink in costume, it's the most wonderful time of the year. Barely a few days have gone by since we told you about History With A Twist, the Prohibition-Era vintage-cocktail-station benefit hitting Dallas Heritage Village later this month.
Now, on Saturday, May 3, comes Sissy's Southern Kitchen's third annual Jockeys and Juleps party, where you and your sophisticated self can sip $8 Mint Juleps while watching the horses run the track onscreen at the venerable Kentucky Derby.
Churchill Downs fashion is encouraged, and a $200 prize awaits the house's best outfit. If this all sounds to you like a winning place to show (see what we did there?), grab your gaudy hats, your bow ties and blazers; settle your sockless feet into those horsebit loafers and join Sissy's from 3 to 6 p.m. for the big race and all its pre- and post-hoopla.
The day's drink specials – starting with brunch at 11 a.m. – will also include a Grapefruit Julep, Kentucky Punch and Presbyterian Bourbon Press. Reservations are available.
SISSY'S SOUTHERN KITCHEN & BAR, 2929 Henderson Ave., Dallas. 214-827-9900.