A few days before St. Patrick's Day weekend, Maurice "Mossie" Power bounced around the private dining room at Barter in light-footed stutter steps, sort of a cross between a ballroom dancer and R2D2. "I am the ultimate cliché for this week," the Irish-born Texas ambassador for Tullamore DEW whiskey quipped, acknowledging his accent and ginger-colored hair for a modest audience gathered for the restaurant's special four-course Tullamore DEW-paired dinner.
The night's purpose was to push not only Power's product, but Irish whiskey in general, which in case you hadn't noticed is enjoying a major resurgence: According to The Wall Street Journal, the category that brought you bar-shot standards like Jameson and Bushmills is now the fastest growing portion of the U.S. spirits market, up 400 percent since 2002.
If it seems odd to call it a resurgence, consider this: Before Scotch and American bourbons ruled the scene, Irish whiskey was king. In the 1830s, Ireland fielded more than a hundred distilleries, making what was then considered the premium of whiskeys.
But the industry was stunted by a temperance movement, then walloped by the notorious famine of 1840; when Ireland kicked out the British (its number-two market) to gain independence and then lost its number-one market (the U.S.) to Prohibition, the Irish whiskey reign was officially over.
Now, Irish whiskeys have found new life, with micro-distilleries sprouting throughout Ireland and attempting to lift the category beyond its mere infantry status: Midleton, Connemara and Kilbeggan are earning space on bar shelves, whether it's because clever marketers have seized on a humbled genre's untapped potential or because consumers truly do appreciate a generally triple-distilled product that on the whole is smoother, fruitier and less peaty than other whiskeys.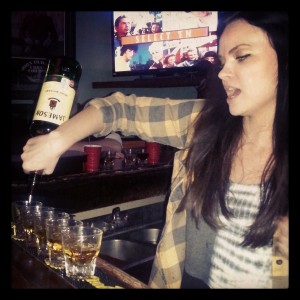 "For someone who's used to bourbon, Irish whiskey is easier to adapt to," said Izzy Delgado, bar manager at Mockingbird Station's Trinity Hall. "It's lighter, sweeter and easier to drink." The Irish pub and restaurant has one of the largest selections of Irish whiskey around, which makes any resurgence hard to notice. "Pretty much when something is available, we go ahead and get it," Delgado said.
Except for Tullamore DEW, Brian McCullough of The Standard Pour said he hasn't seen much interest in Irish whiskey beyond Jameson, the world's most popular brand. The resurgence is also not evident at Tate's, whose solid whiskey lineup does include Ireland's heavily promoted 2 Gingers but leans more toward Scotch and gems such as Indian-produced Amrut.
"I'm not the biggest Irish whiskey fan," said Tate's general manager Robbie Christian. "We haven't really jumped on that bandwagon. There's just so much better stuff out there."
Nevertheless, the figures from the Distilled Spirits Council of the United States speak for themselves, and Plano's Whiskey Cake has gradually added several Irish whiskeys to its stock. "That is a market that is fixing to blow up," said Sean Conner, the restaurant's former bar manager.
Power, of Tullamore DEW — the capital letters are the initials of one of the whiskey's early influential managers — says the category is still growing more than 20 percent annually. "Irish whiskey is definitely a category that everyone is revisiting," he said.
It may say a lot that Barter certainly is, with the restaurant's spring cocktails menu set to feature exclusively Irish whiskeys. "I completely buy into Irish whiskey coming back in a big way," said Rocco Milano, Barter's beverage director.
Milano poured a succession of barrel-aged Tipperary cocktails to kick off the restaurant's Tullamore DEW dinner this week, which pleased Power to no end. "This is my favorite cocktail," Power said. "When I go out, that's what I order." Typically the drink is two ounces of Irish whiskey plus a healthy bit of sweet vermouth and a splash of Green Chartreuse, but Milano subbed Dolin's deliciously herbal Genepy des Alpes for the Chartreuse, with marvelous results.
The four-course dinner was paired with Tullamore DEW's four variants – the original, the nutty 10-year, the toffee-ish 12-year and the spicy, 110-proof Phoenix special edition. Barter chef Andrew Dilda had asked Power what he would eat if he were out on the town in Ireland, and naturally the answer was pub food; that inspired the chef's hearty and rustic menu, which included lamb potpie and a lamb-sausage stuffed rabbit wrapped in bacon.
With pop singers like Rihanna and Lady Gaga referencing Jameson in their lyrics and shows, the Irish whiskey comeback may be a young-professional-driven movement. In Uptown, the heart of that demographic for Dallas, whiskey-centric bar Nickel & Rye is pushing 2 Gingers specials as St. Patrick's Day draws nigh. Just the same, bar manager Mike Hamilton said, "I don't expect to sell much more than Jameson."