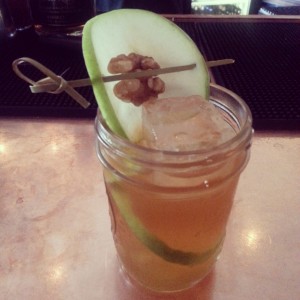 "We're kind of scrunched for space, but I'm doing the best I can," Ryan Sumner said as he kicked off the Clyde May's Whiskey Old-Fashioned competition at The People's Last Stand with a version featuring apple bitters, demerara syrup and the French bitter Suze.
Consider this post Old-Fashionably late: It's been a couple of weeks since 16 bartenders vied for the top prize of $500, each with up to six minutes to make and present their drink for the judges. Clyde May's was the vehicle here, an apple-ish, bordering-on-caustic whiskey with some colorful moonshine roots, and each contestant spun a different version of the cocktail stalwart while adhering to its traditional mix of whiskey, sweetener, bitters and water.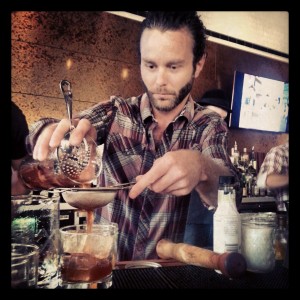 Cinnamon, vanilla, peach and, of course, apple were popular flavors. One of my favorite versions came from Greg Matthews of Oak Cliff's Ten Bells Tavern, who froze Mudsmith Coffee's steeped coffee into cubes and punctuated his whiskey concoction with a vanilla sugar made with Mexican vanilla beans, hazelnut bitters and a vanilla/hazelnut garnish.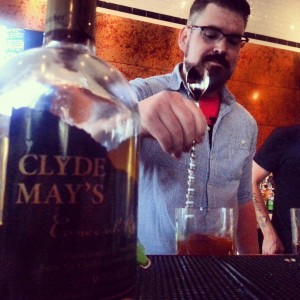 La Duni's Daniel Guillen shone, too, gussying up his Old Fashioned with sherry, Campari and a roasted red pepper and pecan jam. And Smyth's Charlie Tips Ferrin, like his compatriot Sumner, served his summery green apple/walnut drink in little mason jars – "in the spirit of the moonshine that it came from," he said.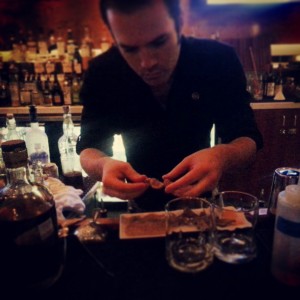 Brad Bowden of The People's Last Stand infused his whiskey with smoked peaches, while Ryan Fussell of Ruth's Chris Steak House strived to use ingredients that would have been available in the 1800s, when the classic cocktail was born. He topped it with a warm fig garnish. ("Figs are badass," pronounced photographer Mary Szefcyk, clearly impressed with the choice.)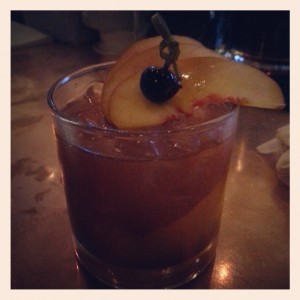 In the end it was Smyth's Omar YeeFoon who walked away with top honors, flavoring his version with Plantation 5-year-old rum, Angostura and tiki bitters, cane syrup and a light dash of orange oils.  With Ferrin placing second and Sumner taking third, it was a Smyth sweep, which if nothing else proved the speakeasy boys could come through in scrunch time.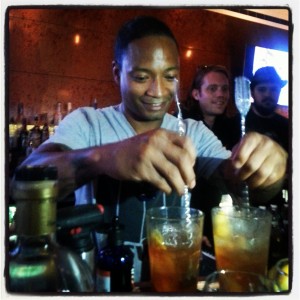 And if you'd like to see Smyth's Ryan Sumner explain the method behind his Old Fashioned twist, here's a link to my YouTube video: