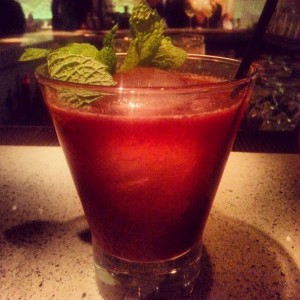 AND JUST LIKE THAT, sweet things are already happening behind the bar at Abacus, the five-star fancypants restaurant that has long wowed critics with its Pacific Rim cuisine. The recent addition of bartender-slash-apothecary Lucky Campbell to its staff of able libationists was a sign that the Knox-Henderson landmark was ready to boost its bar program too.
Hint one that change is afoot: The barrel flanking one end of the swanky bar's bottle stash. Mid-afternoon last Friday, that barrel was filled with Old Fashioneds and presumably destined to age, but by 10 p.m. Campbell was already positing that the bar had sold more Old Fashioneds in one night than in the past two months. By weekend's end, he said, the barrel was nearly empty.
This is Abacus, people. Wine, Martinis and Champagne cocktails are the rule, right?
But witness the new, Asian-flavored menu (priced from $12-$14), set to roll out today: A deliciously gorgeous Blackberry Smash made with Maker's Mark bourbon. A Brandy Stinger featuring Tempus Fugit's top-notch crème de menthe. And preparing to float lava-lamp-style in the extremely dry, Champagne-driven Femme Fatale: pearls of effing Violette.
That's right: little spheres of lavender-y Creme de Violette, one of Campbell's lab projects. A jasmine-tea cordial and five-spice tincture are already bubbling in a back room, and even the Martini menu has been primped, with one knockout version offering Islay-Scotch-and-cracked-pepper blue cheese olives, stuffed in-house.
Said bartender Jordan Gantenbein: "I've been waiting three years to do this."
The sensibilities that guide Abacus' renowned kitchen are seeping into the dimly lit bar.  So it wasn't surprising to find Chef de Cuisine Daniel Burr himself on a stool late one night, helping the black-clad bar samurai as they brainstormed an Asian-themed Margarita variation and suggesting matcha green tea powder as a component.
There are some real curiosities on the new menu, like the clever Banksy with "spray-paint spices," a Yuzu Collins with Bing Cherry soda and the "Ninja Rita," with its foam of Togarashi, a Japanese spice powder.
Abacus is having some fun now. This is a place worth keeping an eye on.