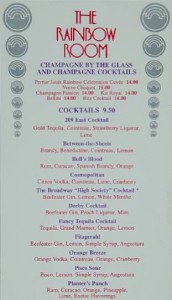 The craft-cocktail revival is in full swing, with its attention to classic recipes, seasonal ingredients and fresh-squeezed juices. If there's one man you could credit for relaunching the mixology movement, it's Dale DeGroff, who presided over New York City's Rainbow Room starting in the late 1980s.
Tonight, Dallas' Smyth will honor "King Cocktail" — now author, consultant and founder of New Orleans' Museum of the American Cocktail — by recreating one of his original Rainbow Room menus for the evening. From the Derby cocktail to the Orange Breeze, you'll have a chance to be transported back in time, and if Smyth's Ryan Sumner has his way, 1980s tunes will be on the playlist will help you get there. Let's hope that doesn't mean any Huey Lewis and the News.
Don't forget to make — and keep — your reservations.
SMYTH, 4513 Travis Street, Dallas. 214-520-0900