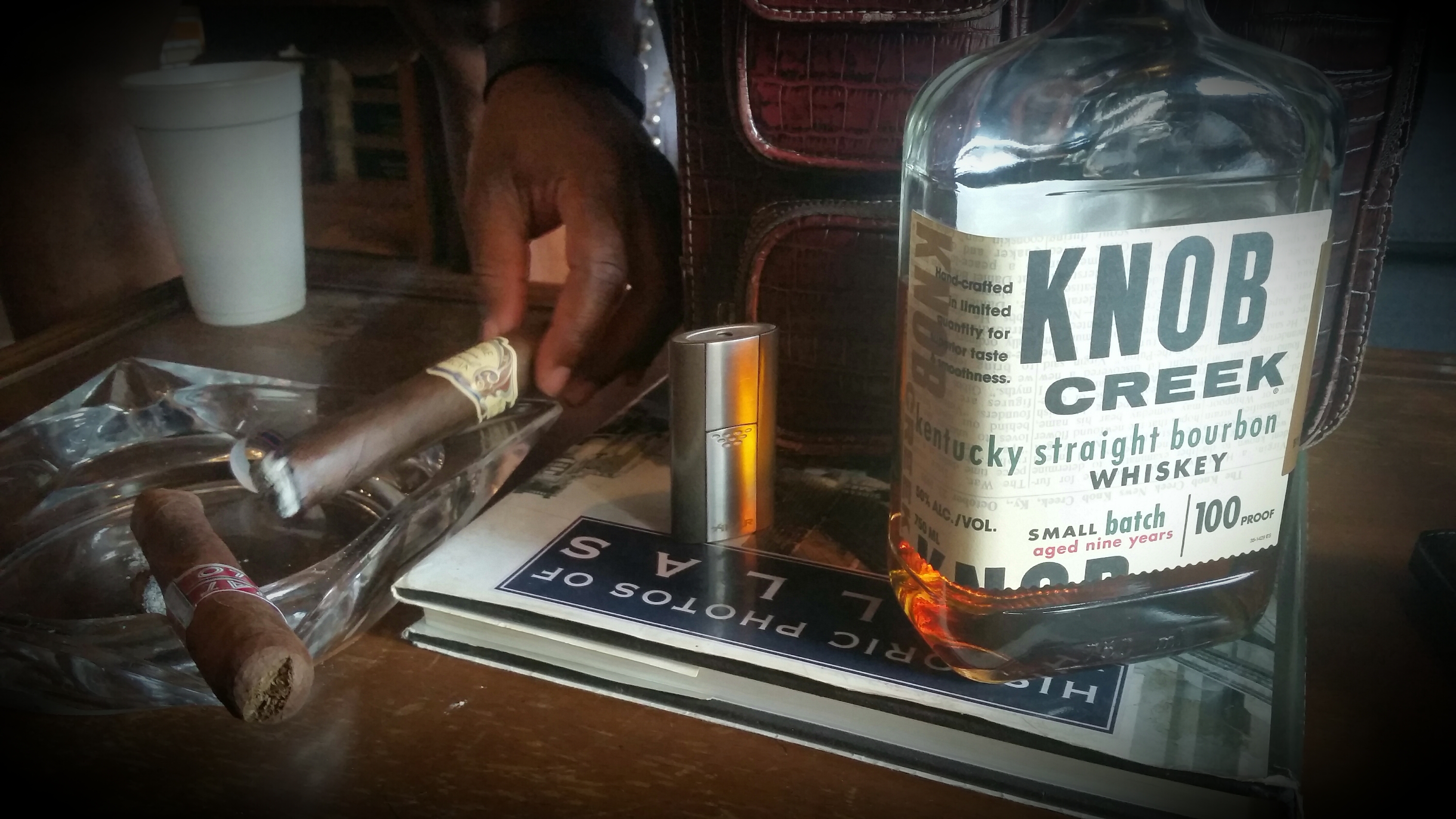 Sometimes a cigar is just a cigar, Freud said, but then again he probably never paired one with Scotch. The two were practically made to go together, and increasingly they actually are: The smokes in C&C's four-edition Dram line, for example, are each designed to pair with specified whiskey profiles.
As the spread of craft cocktails has given rise to more and better spirits, cigar enthusiasts find themselves awash in options when it comes to enhancing their puffery. It's not as simple, though, as blindly picking something off the shelf or menu – too strong a spirit or cocktail and it might stomp all over your stogie goodness; too mild and it won't stand up at all.
"A lot of people think they need to pair cigars with a really robust Scotch, and then they just pick any cigar," says John Pullo, managing editor of online magazine Cigar Advisor, which has published guides on the subject. "And then the flavors of the drink completely wash out whatever they got out of the cigar."
Delicia Silva, the so-called "Cigar Vixen" who presented on the topic at the 2015 Tales of the Cocktail festival in New Orleans, says it's all about flavors. "You want to match the body of the cigar with the body of the spirit," she says. "You want it to be like a marriage. You want them to complement each other."
Tobacco is enhanced by flavors in the wrapping paper, just as spirits are enhanced by flavors in the barrel or a cocktail itself. As the Tales seminar description put it: "There are parallels in the production of cigars that align with the creations of spirits and cocktails… The potent flavors of smoke and spirit, in combination, can create a truly unique experience."
Pairing cigars with booze has been around since your great-grandfather's grandfather, but Cigar Advisor copywriter Jonathan Detore says the tradition really thrived in the Roaring Twenties, when high rollers smoked cigars wrapped in $100 bills. With time, that nonsense subsided and cigars fell out of popularity, not to rise again until the 1990s.
Their profile has been rising ever since, helped along by the spirits explosion and the continued rise of craft beers. In addition to C&C's whiskey-ready line, major cigar maker Perdomo earlier this year debuted smokes meant to pair with craft brew.
"What we're seeing in the industry now is a deep dive into the pairing world," Detore says. "In the last five years, makers have even started aging cigars in used whiskey barrels to make sure they go well with that particular liquor."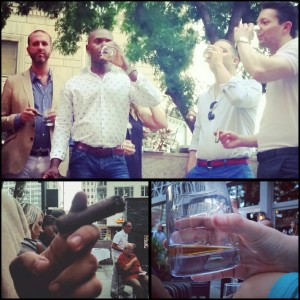 C&C's Dram Cask #1, according to Cigars International, is designed to go with a milder, lighter whiskey "with notes of citrus and wood." But absent paint-by-numbers instruction, how's a cigar smoker supposed to know what to do? While it's really a matter of personal taste, there are some basic principles one can follow. Generally speaking, the darker the cigar, the darker the spirit or beer best suited for the occasion.
Say, for example, you were smoking a Connecticut cigar, says Cigar Advisor's Detore from the magazine's offices in Pennsylvania, where he and Pullo are, of course, smoking cigars. You'd likely want a lighter beer, something like a nice, crisp Harpoon Saison.
"Right now," Pullo says, "Jonathan is smoking a Partagas 1845 Extra Oscuro, from Honduras. The wrapper is extra fermented to get that dark color. There's a mix of Nicaraguan, Honduran and Dominican tobacco in there. If I was a beer guy, I would put that with a stout or a porter; I wouldn't think twice about putting a Guinness with it. That's the nice thing about a cigar – it shows you the color."
As far as spirits, Detore says, the cigar's spicy, woody, leather notes, would probably go best with an aged rum or maybe the spicy bite of Bulleit Bourbon.
In Dallas, Brandon Fields of DeSoto likes complementing his smokes with Knob Creek. "The spirits that have the most age pair well," he says as he and friends share a bottle at Cigar Art, in Oak Cliff's Bishop Arts District. "They have different characters, like oak, dark plum, or chocolate or coffee. It's almost parallel to what the cigar rollers are trying to show you."
Cigar Art managing partner Russell Hargraves says it's similar to how you might pair wines – for instance, not expecting a Riesling or Pinot Grigio to hold up against a big, bold Maduro or Jericho Hill cigar. "With some cigars, whiskey cocktails aren't a terrible choice," Hargraves says. "Like a Sazerac, or an Old Fashioned."
While cigar smokers have long complemented their smoky puffs with solid pours, typically from bottles of Scotch and cognac, aged tequilas and rums are coming into their own, too. The goal is to bring out the flavors and character of each, by complement or contrast. Detore suggests aiming to complement your cigar first, and then, as you learn how each works with the other, to go for more complex, contrasting pairings.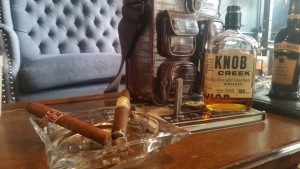 Silva, the "Cigar Vixen," says you have to decide what you want from the experience. Do you want the cigar, or the spirit, to stand out? Once she decides, her approach is to start smoking the cigar, and then to introduce the spirit, typically aged rum, about a third of the way in. "Zacapa 23 goes with just about any cigar on the market," she says. "It especially goes well with a Maduro.
"You're creating a memory, an experience," she says. "It's becoming more popular, especially for people who aren't necessarily that into cigars."
With a low barrier to entry, it's also a trend that doesn't appear ready to go up in smoke anytime soon. "You can pick up a cigar for five or six bucks," Pullo says. "It's cheaper than a movie ticket. And, it lasts longer than the flick."