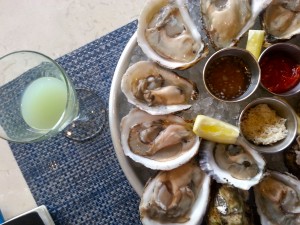 True oyster lovers know there's no better way to enjoy nature's briny gift to humankind than to slurp them right out of the half-shell. Well, not unless you're at Driftwood, the Oak Cliff seafood oasis that has possibly invented the perfect way to love our luscious little friends – slurped right out of the half-shell and then followed by excellent half-shell shots.
Imagine yourself sitting at Driftwood's newly expanded absinthe bar. Imagine it's Tuesday, Wednesday or Thursday, because those are currently the only days when this is available. Suddenly – because you've ordered the oyster shell shooter special – four delicious Blue Point oysters appear in front of you, gleaming in their little half-shell boats. Of course you're ready to pounce, but wait: Here come four glorious bottles, a beckoning backdrop to your bivalve bonanza.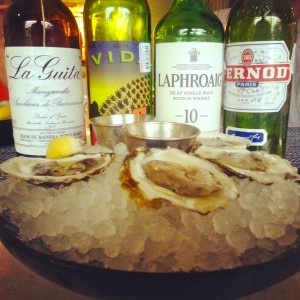 Now, then: You may proceed. Oyster No. 1, down the hatch. Your friendly bartender raises the first bottle – mild, sweet La Guita Manzanilla sherry – and fills your still-briny oyster shell with a mini shot. You drink. Above you, clouds part and a sunbeam envelops you in a heavenly glow. (Your mileage may vary.) Each bottle gets its turn in a half-shell as you finish off oysters two through four: Del Maguey Vida mezcal. Laphroig single malt whiskey. And finally, sweet licorice-y Pernod.
The order is deliberate, explains Dallas bar man extraordinaire Michael Martensen, who hatched the concept in collaboration with UrbanDaddy Dallas editor Kevin Gray. (Gray had been eating oysters in New York once when he was suddenly inspired to have the barkeep top off one of nature's cups with Laphroig.) "The sherry is soft," says Martensen, co-founder of Misery Loves Co., which owns and operates Driftwood. "The mezcal is the next softest, but introduces smokiness. The Laphroig has a burn; it's a smoke bomb in your face. And the Pernod is a whole other flavor – it's got a dessert quality, so you want to finish with it."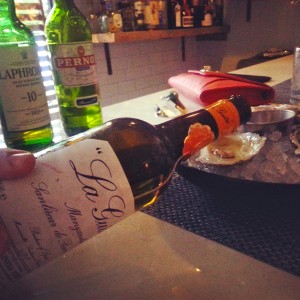 For those who haven't ventured beyond more basic spirits, the four liquids might present a challenge, as several are generally acquired tastes. It's a fine way to measure a companion's taste for derring-do. But look, if you're willing to put a raw oyster in your mouth, it's not that much of a leap to consider accenting it with an intriguing alcoholic beverage, right?
The whole experience runs a reasonable 20 bucks. And just in time for National Oyster Day.
DRIFTWOOD, 642 W. Davis, Dallas., 214-942-2530.