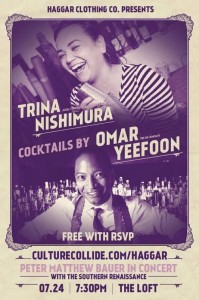 Drink and song have long gone together, from them good ole boys drinkin' whiskey and rye to Jimmy Buffett wasting away in you-know-where. So why not pair up some indie music with some craft cocktails? Or put another way: Some rock and roll with some shaken and stirred?
Spune, the promotions peeps who brought you the Untapped music-and-beer festival and Deep Ellum's Index Fest, have another mix up their sleeve Thursday when the Walkmen's Peter Matthew Bauer plays an all-ages show at The Loft: Local craft bartenders Trina Nishimura and Omar YeeFoon will be slinging cocktails, and if your worldly experience has introduced you to either one you know that their libations are exactly like music to your mouth.
The show, which starts at 7:30 p.m., is sponsored by Haggar Clothing Co. and Culture Collide. Southern Renaissance will open. Admission is free, but you must RSVP here. And then maybe VSOP there. Just get on it ASAP.
THE LOFT, 1135 S. Lamar, Dallas.