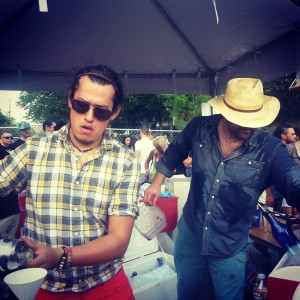 They came to do battle with guava and chili, with basil and peppers and passionfruit puree. Slinging their drinks in shot-sized portions, they implored the parched and perspiring throngs to cast votes in their favor, each angling for the $1,000 crown of Margarita Meltdown 2013.
The third annual event pitched its tents in Oak Cliff's Bishop Arts District Sunday, and if you came to knock down a little tequila, it did not disappoint: Around 30 restaurants offered their own spin on the classic Margarita, cranking out mini-cocktails dressed oh so many different ways — punched up with pineapple, couched in horchata, spiced with serrano chile.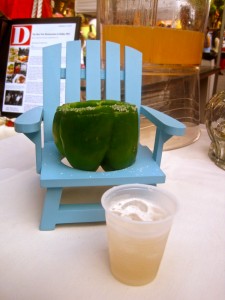 Everybody started with a common ingredient: Milagro tequila blanco. Plano's Whiskey Cake, which took last year's title with bartender Bonnie Wilson's frozen "Push-Up" Margarita, made another strong push this year with a drink served not in a glass but in a plastic squirt gun. They ran out within two hours.
Here's how it all worked: Checklists were distributed. Have a mini-Margarita, cross the place off your list. Then vote – via text – for your favorite four. The machinations were a mystery, and voting continued for an hour past its scheduled cut-off point. Then again, the queues moved slowly; I still managed to sample 18 Margaritas in all, from Oak Cliff Social Club's grapefruit and Squirt-splashed version to the tasty peach margarita pitched up by Cyclone Anaya's of Oak Lawn.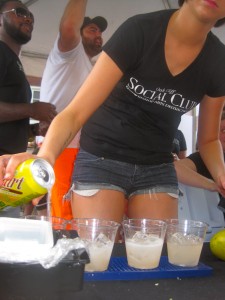 Sunset Lounge embraced the tiki with a "Zombie-rita" partied up with Bacardi 151 rum, Sailor Jerry spiced rum, Solerno blood orange liqueur, Velvet Falernum, Angostura bitters, cinnamon syrup and lime, grapefruit and pineapple juice.
"This is the longest line I've had to wait in," a girl complained as she waited to try the Standard Pour booth, where bartender Armando Guillen shook up batches of his special Margarita blend in real time. "It'd better be f-ing worth it."
And it was: Guillen's drink featured orange-tea-infused tequila, ginger and passionfruit purees, blood orange bitters and a five-chili balsamic reduction – sweetly alluring with lots of character.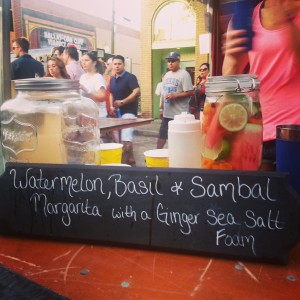 La Duni's Daniel Guillen – Armando's brother – also scored with his Bohemia Margarita, flavored with Becherovka (a Czech herbal liqueur), lime and a house-made cordial of cucumber, pepper and star anise, finished off with a Tajin chile-lime powder rim.
So did Asador, whose fruity watermelon and basil version shone with subtle heat, making use of sambal (a Southeast Asian chili sauce) and a ginger/sea salt foam. Another stand-out: The Lucky One, from the just-opened Mutts Canine Cantina, dolled up with a strawberry, cucumber and rosemary shrub for some balsamic beauty. (Though my companion Rachel cleverly suggested sprucing it up even more with a Pop-Rock rim.)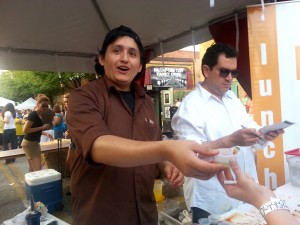 DaLat came prepared to serve up 2,300 of its spectacular "Vietnamese Margaritas," which were really not Margaritas at all, but with their prune-candy and chili-flaked lime one-two punch kept the booth's lines long and lingering.
The best of the bunch? For one, Mesomaya's avocado-pineapple Margarita made with Cointreau – always a plus in my book – and laced with Tajin. "It's mellow and yellow," my worthy sidekick said.
My favorite, though, was "The People's Last Pequin," from The People's Last Stand, a complex punch incorporating smoked strawberries, honey agave and two infused tequilas – one with chile pequin, the other with vanilla bean – and, naturally, Cointreau. The rim was a mix of lime zest, smoked sea salt and guajillo chili. All-around goodness.
So who won? Well, does it really matter? Suffice it to say that the victorious cocktail was the one drink that both my companion and I tossed away without finishing, so horrendous was its assault upon our palates. And in case we thought we were mistaken, the guy behind us practically spit his out. Who knows: Maybe we got a bad batch. But really, by the time the results were announced, spirits were high, and this small but populous stretch of Bishop Arts had gotten its club vibe on, with booming beats and dancing in the streets, so for all anyone cared – except for a contingent of disappointed bartenders – the Sonic down the street could have been named winner and the party would have gone on. And it did. Dallas, I salute you.