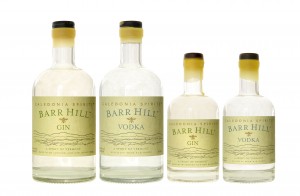 It's pumpkin-carving season and as long as you're going to handle a big knife, you may as well do it with cocktails – and for a good cause, besides.
Fort Worth's Pacific Table is teaming up with Caledonia Spirits to host a Halloween-themed happy hour and pumpkin-carving contest to benefit veteran-based farming programs, including Dallas' Eat The Yard, a veteran-owned urban farm that I profiled in The Dallas Morning News last year.
The Oct. 30 event runs from 5:30 to 7:30, with $6 Halloween-y libations from bartender Maria Ortiz showcasing Caledonia's Barr Hill vodka, gin and barrel-aged gin – for instance, the Pumpkin On A Hill, with vodka and house-made pumpkin-spice syrup. Vermont-based Caledonia, which made its Texas debut six months ago, incorporates raw honey in its distillation process.
For $12, you'll get a pumpkin and carving tools — with a cocktail included. Or bring your own pumpkin and pay just $6 to enter the contest. (Prizes include dinner for two at the Pacific Northwest-themed restaurant.) Not into carving? Just come and enjoy the spectacle along with $6 cocktails — and maybe drop a little donation in the "Cash-O-Lantern." So many options: The world is your pumpkin.
Reservations and Halloween costumes are encouraged but not required.
Oak Cliff-based Eat the Yard is a veteran-run urban farm that uses commercial properties, residential properties, community gardens and the occasional rooftop to sustainably grow organic produce.
PACIFIC TABLE, 1600 S. University #601, Fort Worth. 817-887-9995.