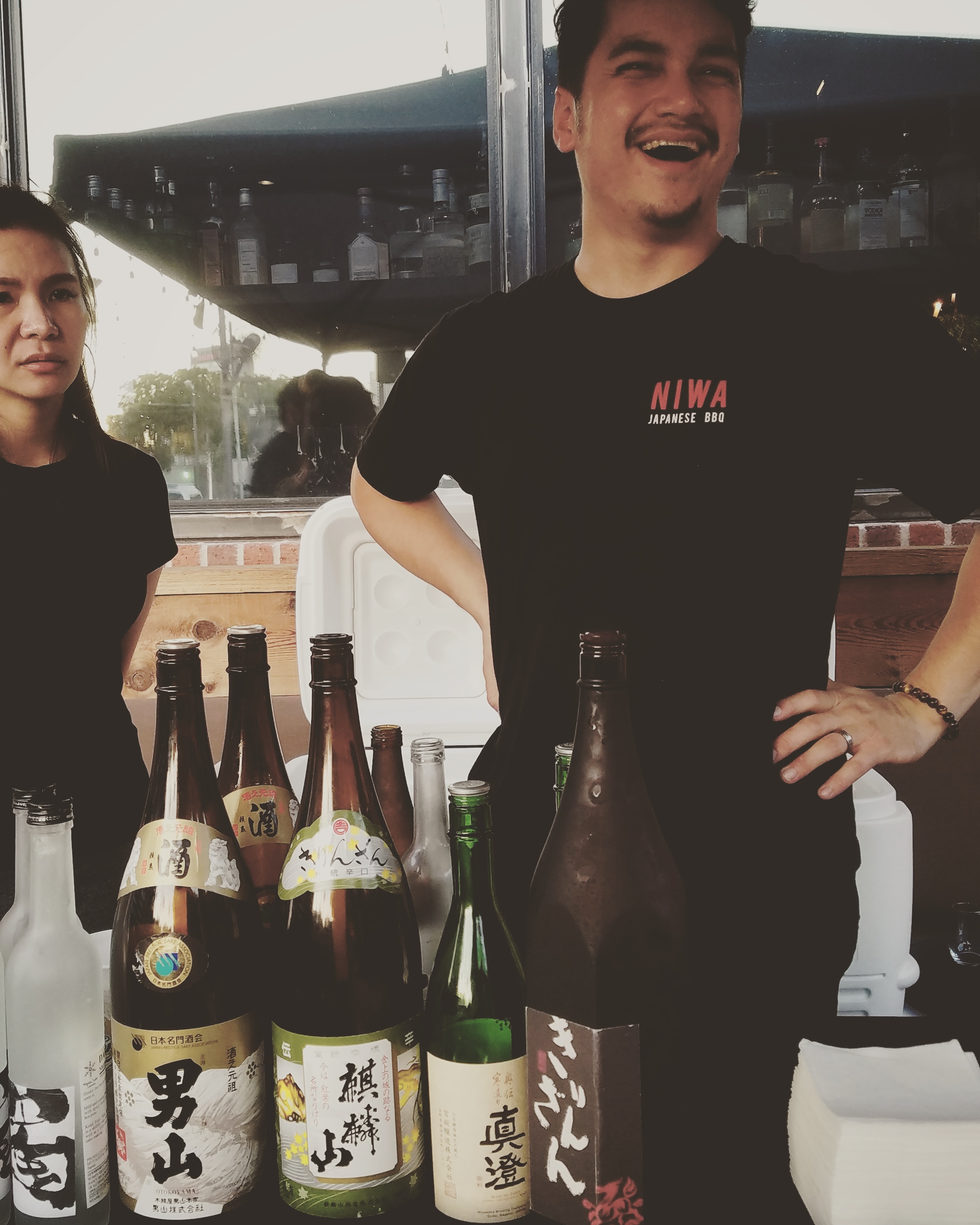 Let's say you are the type of diner who confidently fords a robata grill menu, stoutly navigating the fare only to break into a paralytic stupor at the sight of an extensive sake list. Faced with a noodle bowl of unfamiliar terms, you might very well leap into the abyss of a random choice or opt for a safer fallback ("Sapporo, please!") — but wouldn't life be one less mystery burdened if you knew what all those enigmatic terms meant?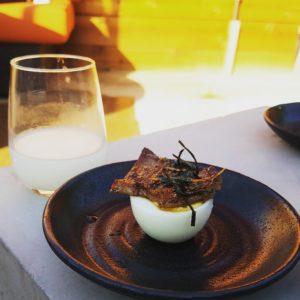 Fortunately for you, George Kaiho is here to help. The resident bar manager at mezcal/sherry bar Jettison in Oak Cliff, Kaiho has been moderating a series of sake tastings every other Sunday at Deep Ellum's Niwa Japanese BBQ, sharing his love and considerable knowledge of Japan's brewed, rice-based alcohol with anyone who will listen. (Niwa's next sake tasting will be Sunday, Aug. 6.)
This is the way to explore sake: In dribs and drabs, with an experienced tour guide leading the way. Niwa's tastings begin with a thin spiral-ring booklet called "A Guide To Tasting Sake." Inside is a detailed description of sake production along with a map of the 47 prefectures of Japan. And because one is never too old for sticker books, attendees also receive a baggie of stickers with photos of the five premium sakes to be sampled and background on each; these can be applied to pages in the booklet with space for notes about each sake's first impressions, tasting notes, pairing ideas and more.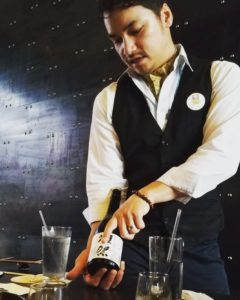 Each sake – all of them registering about 15 percent alcohol – is paired with a small bite. At Niwa's inaugural sake tasting in late June, first up was the Daku Nigori, nigori meaning a sake left partially unfiltered; with a milky, porridge-like texture, it's best served chilled. Offering notes of grape, berry, banana and pear, the Daku was paired with a Wagyu short rib deviled egg, a rich contrast to its viscous, syrupy sweetness.
Kaiho, who was born in Dallas but grew up in Japan, explained that while sake's quality and diversity are similar to wine, it 's better compared to beer, being less affected by climate than by the production process itself. "Wine is about what happens in the vineyard," he said. "This is more like a beer. It's about what happens along the way."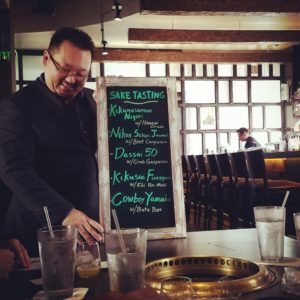 Cheap sakes abound, but it's premium sakes that are on the rise, one of the main characteristics being the degree to which the rice is polished, or washed, since the grains' exterior layers offer less desirable flavors to the final product. To be called premium, a sake's grains must have been polished down by at least 30 percent. "Ginjo" sake has been 40 percent polished, "Daiginjo" 50 percent.
Our second sake was Otokoyama's Tokubetsu (special) Junmai from Hokkaido prefecture, one of Japan's northernmost breweries, founded in 1661. While some producers add alcohol to sakes to bypass the lengthy fermentation process, a junmai sake is free of such chicanery; made with snowmelt well water, ours was dry with apple notes and it paired well with the starch of spicy fries and wasabi aioli.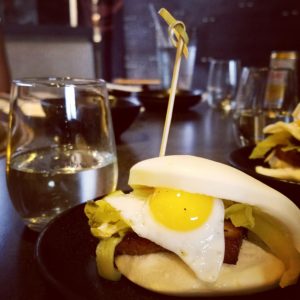 Next up, the Kirinzan Classic, immediately distinguished by a funky, yeasty aroma. Its watery, nearly flavorless taste blossomed into an apple/pear finish; Kaiho speculated that yeasts were likely added during production with a neutral spirit added to halt fermentation. (Trickery! See above paragraph.) It coupled nicely with a salty kara-age chicken.
Fourth up was Masumi's highly drinkable Karakuchi Kiippon, a junmai ginjo (no added alcohol, 40 percent polished) made with soft mountainous water from Japan's alpine Nagano region. (The Coors of Japan!) Kaiho said this particular sake, served with sashimi, was a favorite when he worked at Tei-An, where tables of buoyant imbibers would order bottle after bottle. Pleasantly refreshing with a clean, cucumber-y taste, our glass at Niwa was appropriately flanked by a crab cucumber roll.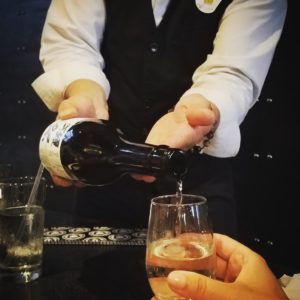 Our final pour was Kirinzan's Junmai Ginjo. The brewery, founded in 1843, gets both its water and rice from Niigata prefecture, and Kirinzan is a so-called zizake (local) sake consumed largely by local inhabitants. Sweet and clean with a lovely floral character, it was paired with sushi.
At the moment, Niwa offers the tastings for a generous $20-$25, a bargain compared to the pricey sake dinners Kaiho oversaw when he worked at Tei-An. The booklets have enough pages to accommodate multiple visits. "If you come to four or five, you'll end up with a good book of sakes you can keep to yourself," Kaiho said. (Actually, two tastings was enough to fill up my booklet, but I'll not quibble with a pleasant buzz and a good time, provided the math isn't torpedoing my wallet.)
And anyway, "the goal here is not to make money," said restaurant owner Jimmy Niwa. "It's to show people what sake is all about."
And that right there should be reason enough to give sake's goodness a try, for goodness' sake.
NIWA, 2939 Main Street, Dallas.  
SaveSaveSaveSave
SaveSave
SaveSave
SaveSave
SaveSave
SaveSave